If you're short on your favourite ingredients, we're here to help you through isolation with a little food inspo. 
From spiced rice to a warming stew and flapjack cookies, these three recipes are as indulgent as they come, but don't require many fresh ingredients and are really quick to make. We've also included substitute suggestions throughout, so don't worry if you're missing anything. Just give these a try, snap your plates and inspire your fellow Fiit Challengers to do the same.
Buttery spiced rice with squash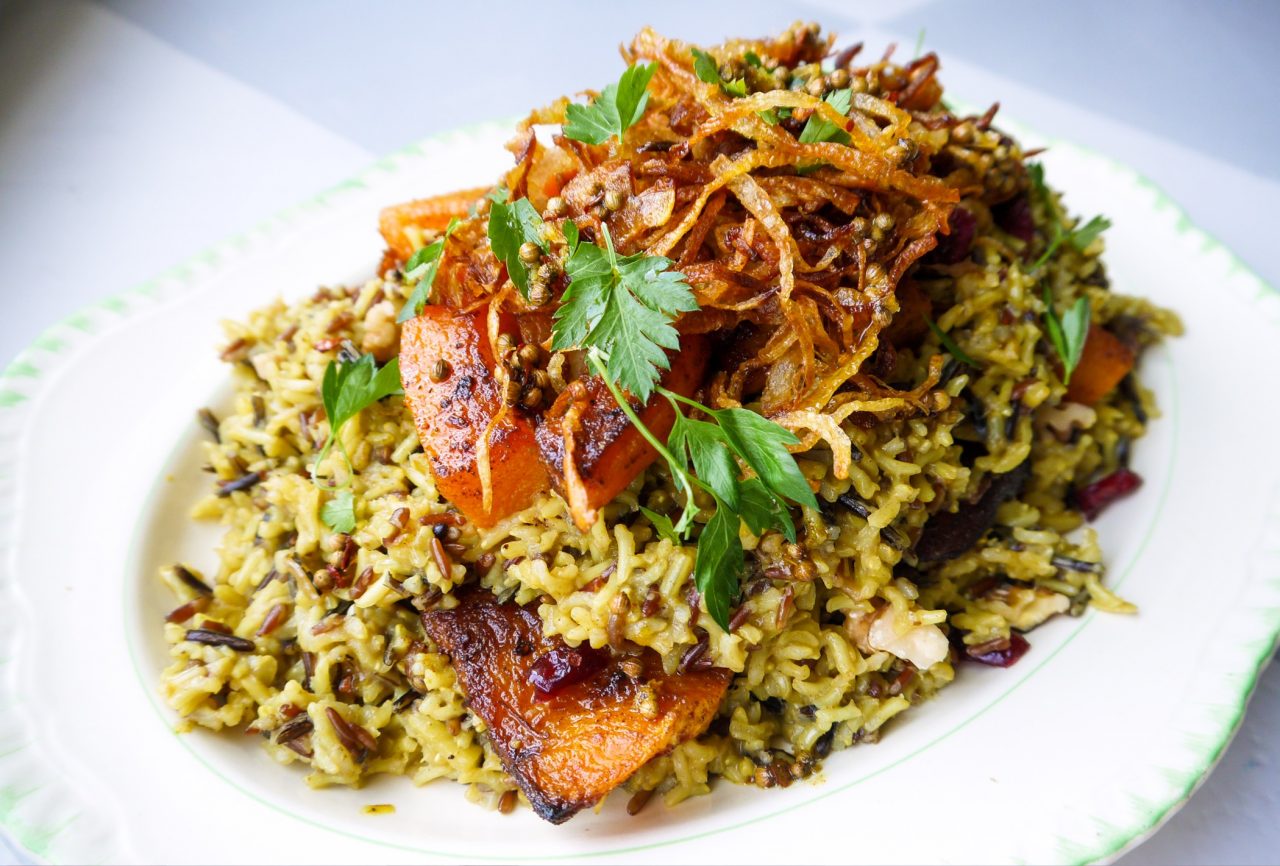 This opulent rice dish is a bit like an Indian version of a risotto. It's studded with dried fruit, nuts and squash, and cooked in a turmeric spiced butter. 
For this recipe you can use chicken instead of butternut squash. Just use the same buttering method and roast it in the oven at 200°c for 25 minutes (or until crispy skinned and cooked through). If you're vegetarian but can't get hold of butternut squash, any other root veg like sweet potato, carrots or parsnips will work well too. 
Ingredients (serves 4)
For the spiced butter
100g butter (or coconut oil if you're vegan)

1.5 tsp turmeric

1.5 tsp cumin

1.5 tsp coriander seeds

½ tsp chilli flakes
For the rice
1 onion

2 cloves garlic

½ inch piece ginger

320g brown and wild basmati rice (or whatever rice you have)

450ml chicken or vegetable stock

600g squash (peeled and sliced into 1cm)
To finish
1 onion

Olive oil

Yoghurt

Herbs — parsley, dill or coriander

(optional)

50g toasted nuts – walnuts and pistachios work well (optional)
50g raisins or dried cranberries (optional)
Method (Prep time: 30 minutes. Cooking time: 35 minutes)
1. Preheat the oven to 220°c and then slice the squash.
2. Melt the butter in a pan, and add in the spices and ½ tsp sea salt when it starts to froth. Cook on a medium heat for a minute or so, until fragrant. Set aside. 
3. Drizzle ⅓ of the spiced butter onto the squash. Toss to make sure it's all coated, put in the oven and roast for 30 minutes, until browned and cooked through.
4. Finely chop one onion, garlic and ginger.
5. Heat another third of the butter in a pan and add the onion. Soften on a medium heat for 5-7 minutes. Then add the garlic and ginger. Fry for another couple of minutes and set aside.
6. Rinse the rice in a sieve until the water runs clear. Let dry, then toss into the ginger and garlic mixture. Put back on the heat and stir until all grains are coated. Then, add the hot stock. Turn the heat down to low, cover the pot with a lid and leave to cook for 25 minutes (checking regularly that it hasn't dried out). Once cooked, turn off the heat, and put a tea towel on top. Leave to sit for 10 minutes, until the rice is fluffy and all liquid has absorbed.
7. Slice and fry the second onion in some oil until golden and crisp. Drain on paper towels.
8. Take half the rice and spread on a platter. Place half the squash on top, and sprinkle on some nuts and dried fruit. Repeat this process once more, topping with the crispy onions and a drizzle of spiced butter. Serve with the yoghurt and any soft herbs you like.
Chickpea Spinach and Chorizo Stew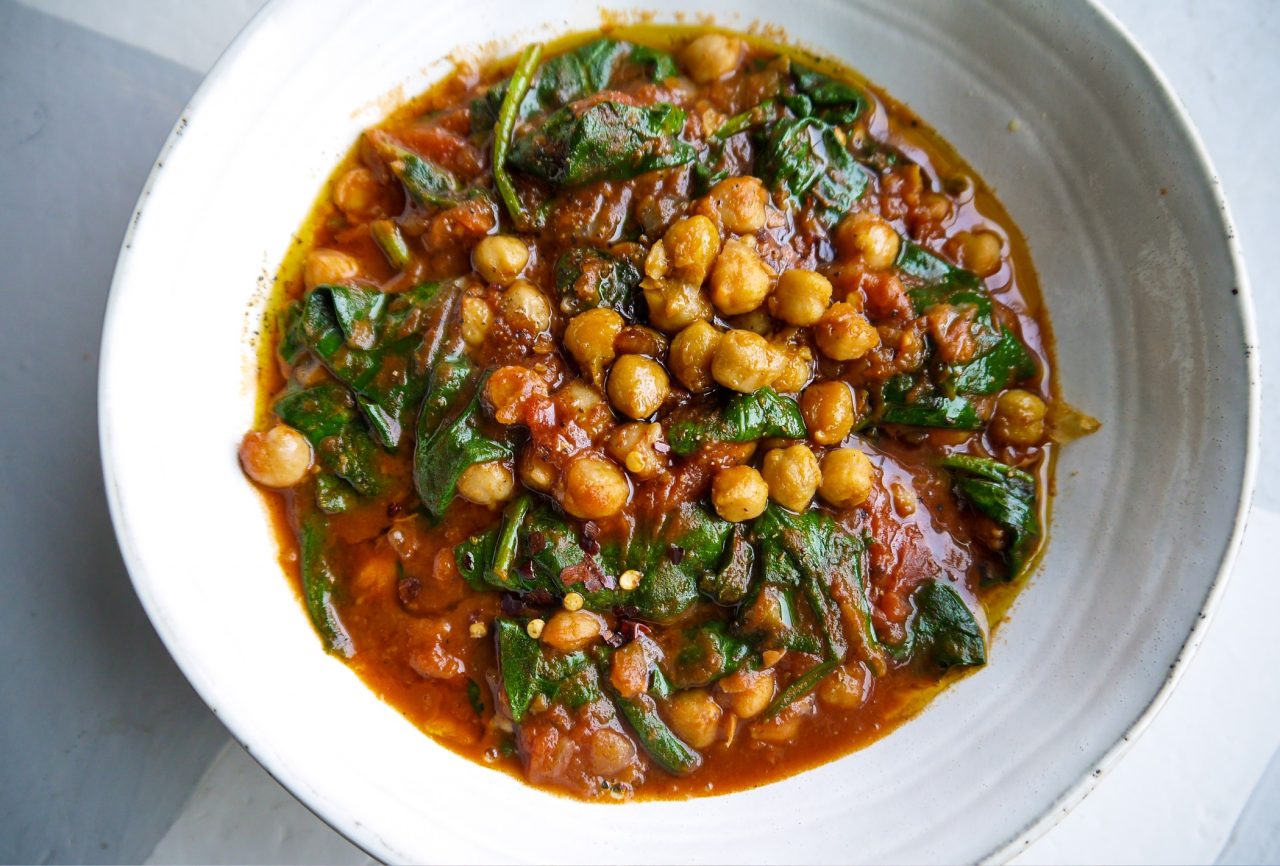 Warming Spanish flavours make this cozy soup/stew hybrid an easy weeknight recipe. Eat with crusty bread, drizzled with olive oil.
Ingredients (Serves 3-4)
2 shallots or 1 onion

100g chorizo sausage

1.5 tsp smoked paprika

1tsp harissa (or a pinch of chilli flakes)

2 large garlic cloves, finely chopped

2 tins chickpeas

100ml red wine 

500ml chicken or vegetable stock

2 tbsp tomato paste

250g spinach, washed

Extra virgin olive oil 

Crusty bread
Method (Prep time: 15 minutes. Cooking time: 35 minutes)
1. Peel the skin off the chorizo then dice into small cubes. Slice the shallots finely. 
2. Warm a small pan and toss in the chorizo and shallots (no need for extra oil). Stir regularly until the chorizo is browned and the shallots are golden brown.
3. Season with salt and pepper, and add the garlic and paprika. Stir for a couple of minutes until fragrant. Then add the drained and rinsed chickpeas, and fry for 5-8 minutes in the spicy mixture. Take out a spoonful of this mixture to use as garnish later on.
4. Pour in the red wine and let bubble before adding the hot stock and tomato paste. Leave to simmer, stirring occasionally for around half an hour, until glossy and thick. Taste for seasoning. Then add the spinach. Once wilted, serve in shallow bowls, with a drizzle of good extra virgin olive oil and serve with crusty bread.
Brown butter flapjack cookies
This cookie flapjack is fun to make and completely moreish. The browned butter adds a deep nutty flavour you'll love, so don't skip it!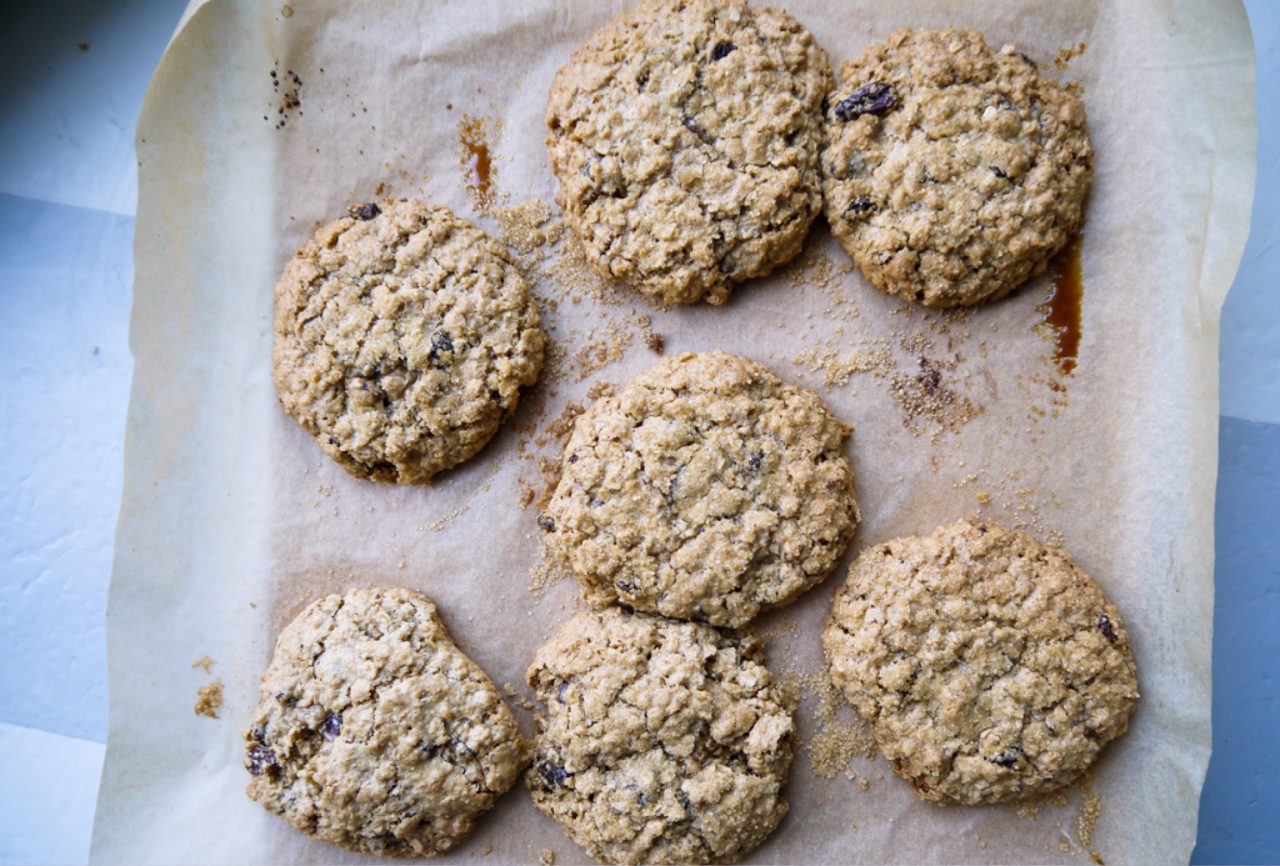 Ingredients (Makes 7 large cookies)
125g unsalted butter

50g caster sugar

100g light brown sugar

150g quick oats (not jumbo)

65g flour

1 egg

1.5 tsp cinnamon

¼ tsp fine sea salt

½ tsp baking powder

Demerara sugar for sprinkling

75g raisins, nuts or chocolate chips — you choose
Method (Prep time: 30 mins. Cooking time: 16 mins)
1. Preheat the oven to 180°c (or 170°c if you have a fan oven).
2. Heat the butter in a pan until it starts to brown and smell nutty (this can take 5-8 minutes). Take off the heat and leave to cool.
3. Once cool, whisk in the sugars and egg until light in colour. Stir in the flour, oats, baking powder, salt and cinnamon. Then add in your choice of fruit, chocolate and nuts. I used raisins.
4. Roll into balls, then sprinkle with Demerara sugar and a little salt (this adds crunch). Bake for 16 minutes, or until they're golden on the outside and soft in the middle.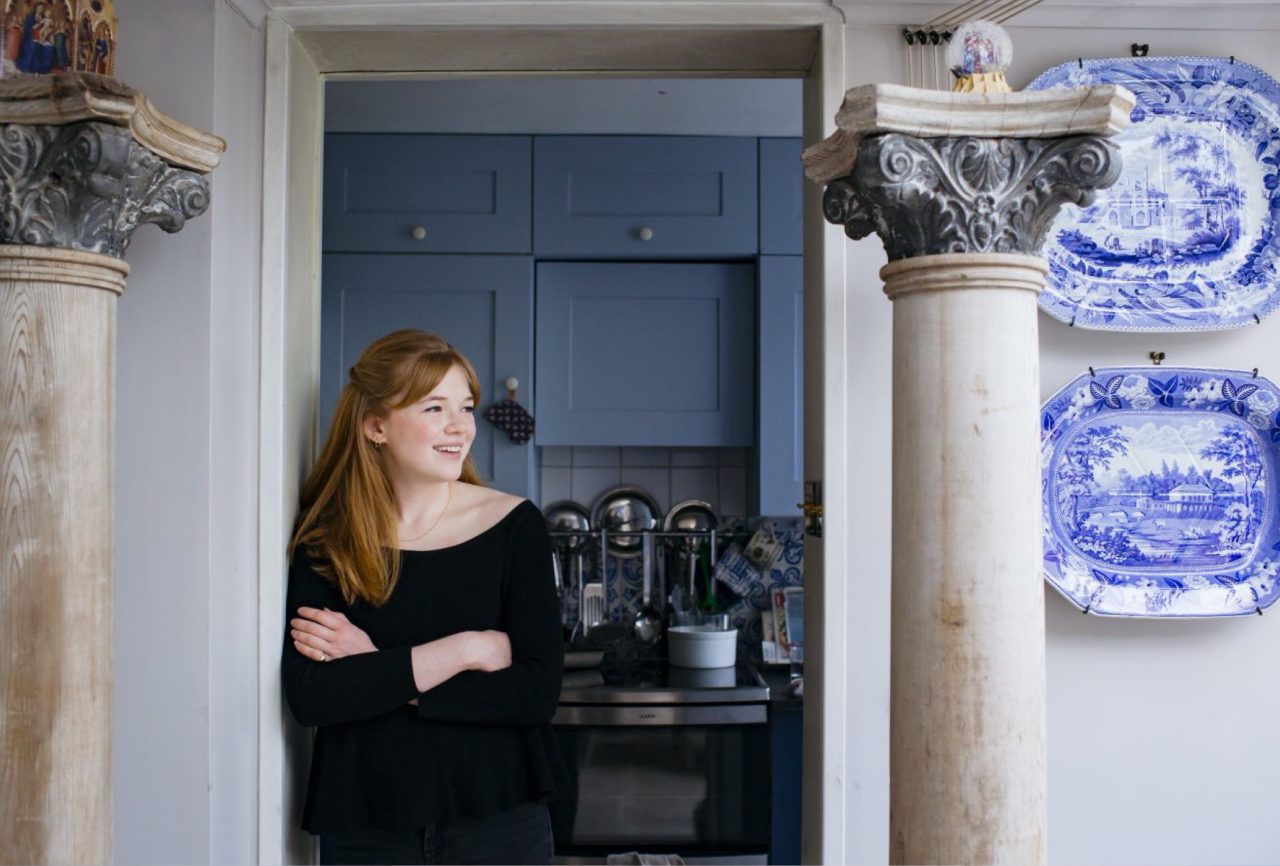 For more rad.ish, check out the perfect pancakes and the best pre and post-workout meals.  

Share article