Looking for the perfect pre and post-workout recipes? These are it.
We've brought in the big guns so you can fuel your body with optimum nutrition, without giving on taste. London-based Rad.ish is a food company that specialises in serving veg-centric foods (and caters to the likes of Stella Mccartney, Nike, Sotheby's — and Fiit). 
Whether you're a dab hand in the kitchen, or a total newbie with a knife, these two recipes are easy to make and mouth-wateringly good. So ditch the takeaway and start making friends with your cooker. You'll thank us later.
Pre-workout: Tahini Coconut Bites
Toasted nuts and seeds, baked into a bar with tahini (a sesame seed paste) honey and egg white. To speed up the cooking process, ditch the scales and use a measuring cup. Once the bars are baked, cut them into small slices and eat up to an hour before you workout to get that boost of slow-releasing energy. 
For reference, 1 cup is equal to 236 ml.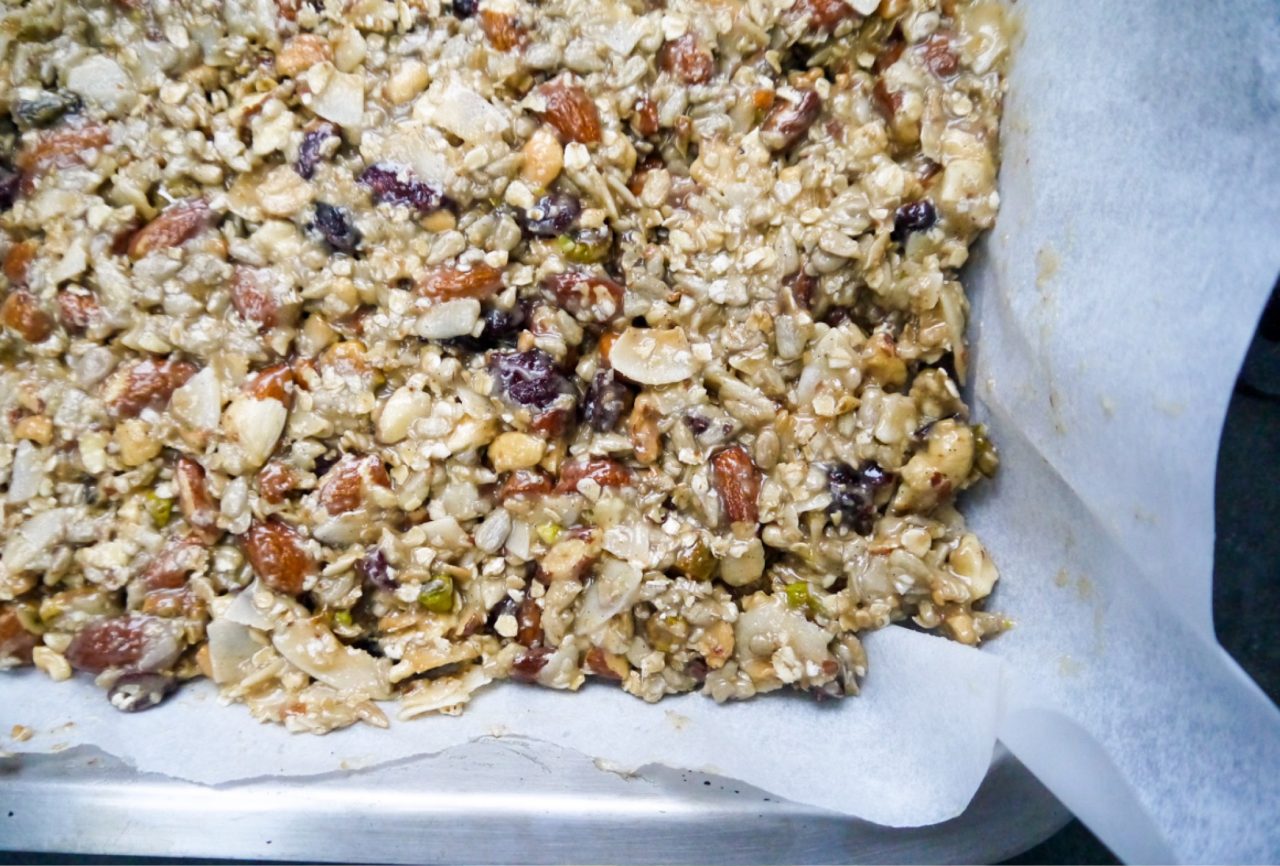 Ingredients (Makes 25)
1 cup rolled oats

1 cup toasted coconut flakes

1 cup pumpkin or sunflower seeds

2 cups raw nuts (cashew/almond/pistachio)

½ cup raisins or cranberries

¾ cup tahini

3 tbsp coconut oil

½ cup honey

1 tsp salt

1 tsp vanilla essence

1 egg white
Method (Prep time: 15 mins. Cooking time: 20 mins)
1. Preheat the oven to 180°C. Toast the nuts and seeds for around 8 minutes — until fragrant and just golden. Reduce the oven temperature to 150°C.
2. Add the nuts and oats to a food processor and pulse to break them up (you want them to be roughly, not finely chopped).
3. Heat the honey and coconut oil in a pan, then mix into the tahini with the salt, vanilla and egg white. Mix everything together. 
4. Press into a baking tray and bake for around 20-25 minutes, until golden.
Post-workout: Slow roast miso salmon with kale and sticky rice
This sticky salmon dish is perfect for a speedy dinner post-workout. By slow cooking the fish, you'll ensure it stays tender and full of flavour. 
For reference, we've used dessert spoons to measure the ingredients for the glaze, but a tablespoon works too.
Ingredients (Serves 2) 
500g side of salmon or trout

150g short grain brown rice or jasmine rice
For the glaze:
2 dsp miso paste

2 dsp honey

2 dsp soy

Zest and juice of 2 limes

3 spring onions, chopped

1 red chilli, de-seeded and finely chopped
For the kale:
100g cavolo nero or kale 

1 shallot, sliced

Small piece ginger, chopped
Method (Prep time: 20 mins. Cooking time: 30 mins)
1. Preheat the oven to 150°C. 
2. Cook the rice in a saucepan with salty, boiling water. 
3. Mix the ingredients for the glaze, set aside. Season the salmon with salt, and a little light olive oil. Cook in the oven for 10 minutes. 
4. Wash and remove the stems from your kale/cavolo. Add a dash of oil, the shallot and ginger to a pan and fry for a few minutes until the shallot has softened. Then add the greens in and cook until golden and wilted. Set aside.
5. When the salmon is partly cooked, take it out of the oven and pour the glaze over it. Cook for another 10-15 minutes until the fish flakes easily, but remains tender. Serve alongside the rice and greens, with the glaze drizzled over the top. 
Want more Rad.ish? Check out these three luscious salads you can eat all year round.
Share article