Drizzled with honey, smothered in chocolate or topped with tahini and avocado. Whether you're after a sweet breakfast or indulgent dinner, I've  got three pancake recipes that hit the spot. Whisks at the ready legends — pancake day is calling.
Chickpea pancakes with avocado and turmeric
These sunny yellow chickpea pancakes are so simple to make and accidentally vegan. They're great with all sorts of things, but I've chosen a fresh tomato and avocado salsa, olive oil and lemon. Then drizzled them with a simple tahini sauce and topped with some crispy chickpeas. A great post workout meal.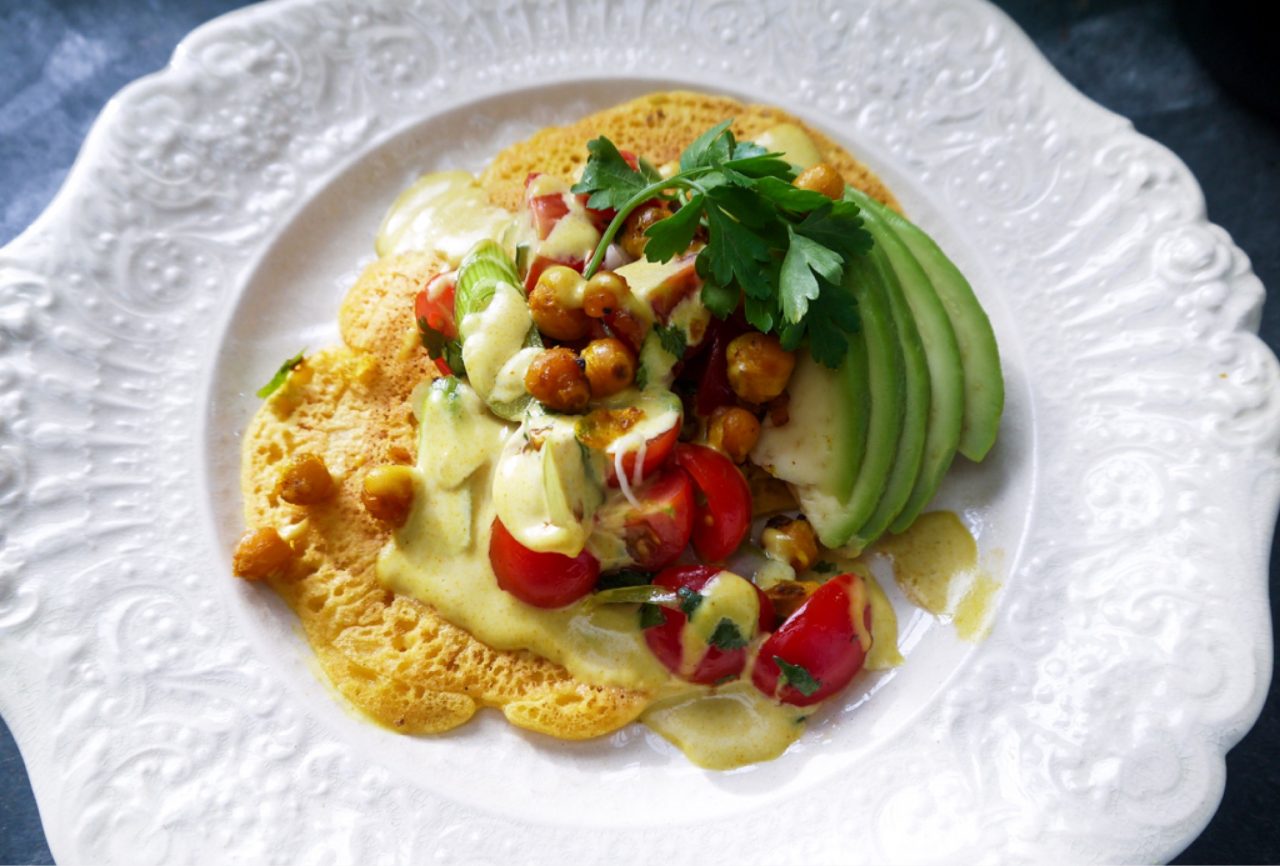 Ingredients (Serves 4)
For the pancakes
1 cup water

1 cup chickpea (gram) flour

1 tsp salt

Black pepper

1 tsp turmeric

1 tsp baking powder

2 tbsp olive oil

Coconut oil (for frying)
For the topping
250g cherry tomatoes

1 lemon

2 spring onions

15g coriander or parsley

1 avocado

Salt and pepper

1tbsp olive oil

Optional: tinned chickpeas & 1 clove garlic
For the sauce
2 tbsp tahini

2 tbsp water

1 dsp olive oil

Juice from half a lemon

Pinch turmeric

Pinch salt
Method (Prep time: 20 mins. Cooking time: 20 mins)
1. Mix the ingredients for the pancakes (except the coconut oil) and leave to sit while you make the topping.
2. Quarter the tomatoes and mix with the lemon juice, olive oil and a pinch of salt. Chop the spring onions and herbs, then mix into the tomatoes. Slice up the avocado. Set aside.
3. The sauce couldn't be easier — just mix all the ingredients together.
4. If you're going for the optional chickpea topper, heat some oil in a pan, add in a crushed clove of garlic and the drained chickpeas. Season and fry on a medium heat until golden and crisped up.
5. Heat a pan, then add a little coconut oil. Once melted, add a spoonful of pancake batter. Cook on medium heat, and once the batter has firmed and is bubbly on top (a few minutes), flip it over for another couple of minutes. Once all the batter has been used up, top with a spoonful of salsa, drizzle of tahini sauce (and the chickpeas if you made them). Yum.
Cheesecake pancakes with Nutella and caramelised banana
Want a blow-out pancake? Try this classic, thick, American pancake made with ricotta and filled with Nutella — then topped with crunchy caramelised banana. If you can't get hold of ricotta, try cream cheese.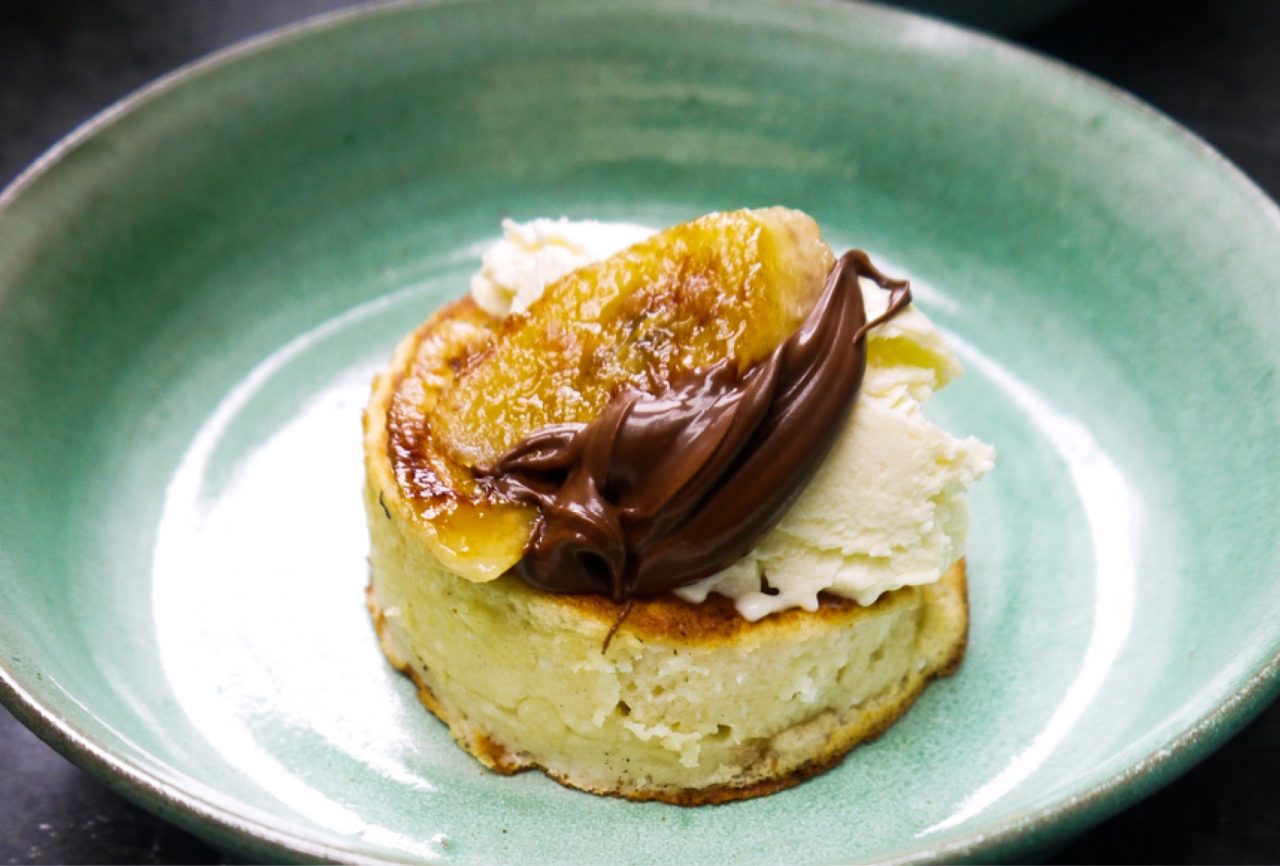 Ingredients (Serves 3-4) 
250g ricotta cheese

125ml milk

2 large eggs (separated)

100g plain flour

1tsp baking powder

1tsp caster sugar

pinch of salt

Butter (for frying)
For the topping:
250g mascarpone cheese

1 tsp vanilla bean paste

1 banana

1 tbsp sugar

Nutella
Method (Prep time: 20 mins. Cooking time: 20 mins)
1. Whisk the ricotta, egg yolks and milk until smooth. Sift in the flour baking powder and salt. Whisk the egg whites until they form light peaks and fold through. That's your batter — done!
2. Slice the banana diagonally. Sprinkle the caster sugar over the bottom of a heavy bottomed frying pan. Lay the slices over the top and cook on a medium heat until the sugar starts caramelising (just a few minutes). Flip the bananas and cook on the other side, then set aside.
3. Mix the vanilla paste into the mascarpone cheese. 
4. Heat a frying pan on a medium heat, and add a small knob of butter. Once melted and foaming slightly, ladle two spoonfuls of batter into the pan, then add one tsp Nutella in the middle, and top with a little more batter to cover it up. Once the pancake has risen slightly and looks firmer, flip it over, and cook out on the other side. 
5. Top with a spoonful of mascarpone and sliced bananas. 
Grain-free blueberry banana pancakes
These grain-free, sugar-free pancakes might sound too healthy to be good, but I promise you — they are worthy contenders on any pancake leaderboard. I've chosen to top them with some peanut butter from Pip & Nut, extra blueberries and a drizzle of honey, but lots of options would work so feel free to get creative.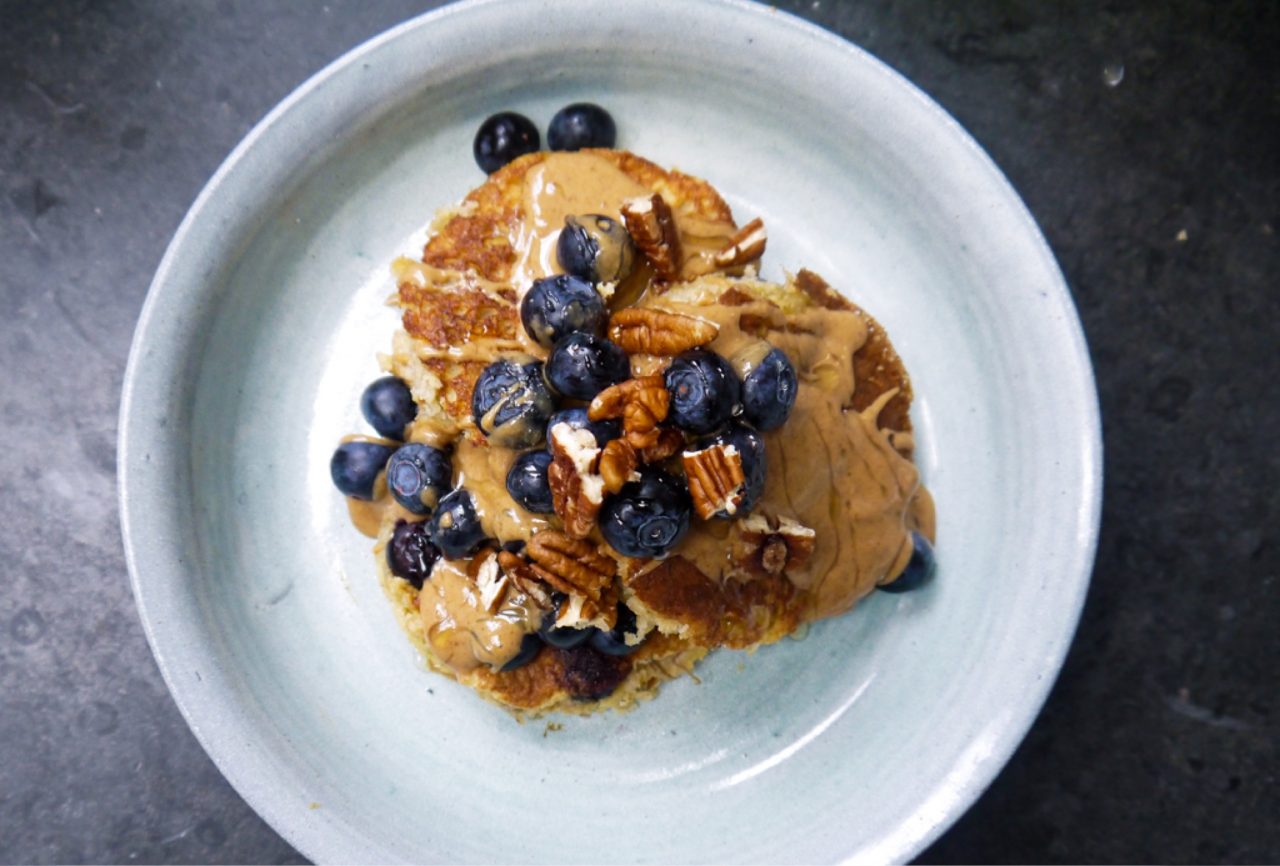 Ingredients (serves 3-4)
4tbsp ground almond

3 large eggs 

3 ripe bananas

Pinch salt

Tsp vanilla bean paste

Blueberries

Coconut oil (for frying)
Topping suggestions
Blueberries

Almond or peanut butter 

Honey

Pecans
Method (Prep time: 15 mins. Cooking time: 15 mins)
1. Mash the bananas and mix into the remaining ingredients until smooth.
2. Heat a pan, then add a little coconut oil. Once melted, add a spoonful of pancake batter, top with 4-5 blueberries. Then cook on low/medium heat. As these pancakes have no flour, they can be tricky to flip, so cook on a gentle heat and make sure the pancake is almost cooked before flipping. 
3. Top the pancakes with your choice of fruit, nut butter and chopped nuts. 
Want more Rad.ish? Check out their favourite pre and post-workout recipes. It's amazing how much you can achieve when your body is properly nourished.

Share article