Fiit crew. You've obviously noticed we're dropping air bike workouts. And you might be wondering, WTF? 
Well, let me explain. 
The list of why we love the AssaultBike is extensive. So I'll just focus on the best bits.

SOMETIMES MORE IS MORE               
Firstly, let's talk muscle groups. 
With its unique movement action, the air bike uses your upper and lower body simultaneously. This creates a full body workout like no other.
At any one time, one arm is pulling (back and bicep), one arm is pushing (chest and tricep) and each leg is driving the pedal (quads and glutes). Honestly, it's hard to name a muscle that isn't used during an air bike workout.
More muscles mean more oxygen. More oxygen means more calories burnt. And that means more opportunities to get fitter.
RESISTANCE IS NOT FUTILE
Secondly, the AssaultBike's method of applying resistance is a game-changer.
The genius is in its simplicity. Pedalling turns a fan. And resistance increases exponentially – so, the harder you pedal, the harder it gets. This means RPMs (revolutions per minute) are king and bike speed is everything. 
INFINITE GAINS
Lastly, the only limit on the bike's resistance is human potential. And this is enticing to anyone looking to seriously improve their performance. 
If the AssaultBike always answers the athlete's effort with more resistance, this begs the question: how much resistance can the machine give? The answer is somewhat dour, yet stands as a challenge to anyone who wants to dance to with the Devil's Tricycle.
In casinos, 'the house always wins.' In fitness, 'the air bike always wins'.
IT'S A PERFORMANCE MAXIMIZER
The air bike – and more specifically the AssaultBike – is revered in the functional fitness community for its ability to build the complete athlete. And is renowned for taking no prisoners. 
The bike is great for long, slow aerobic sessions and for painful anaerobic stints. But it's also an animal when it comes to strength and power development. 
Picture someone who's fast and powerful over short distances. Now, picture one who can work for long periods without rest. Finally, think of one who can do high amounts of work, over a medium timeframe, with minimal rest.
The air bike helps you become all 3 humans. Simultaneously. 
So, what will you name your multiple personalities?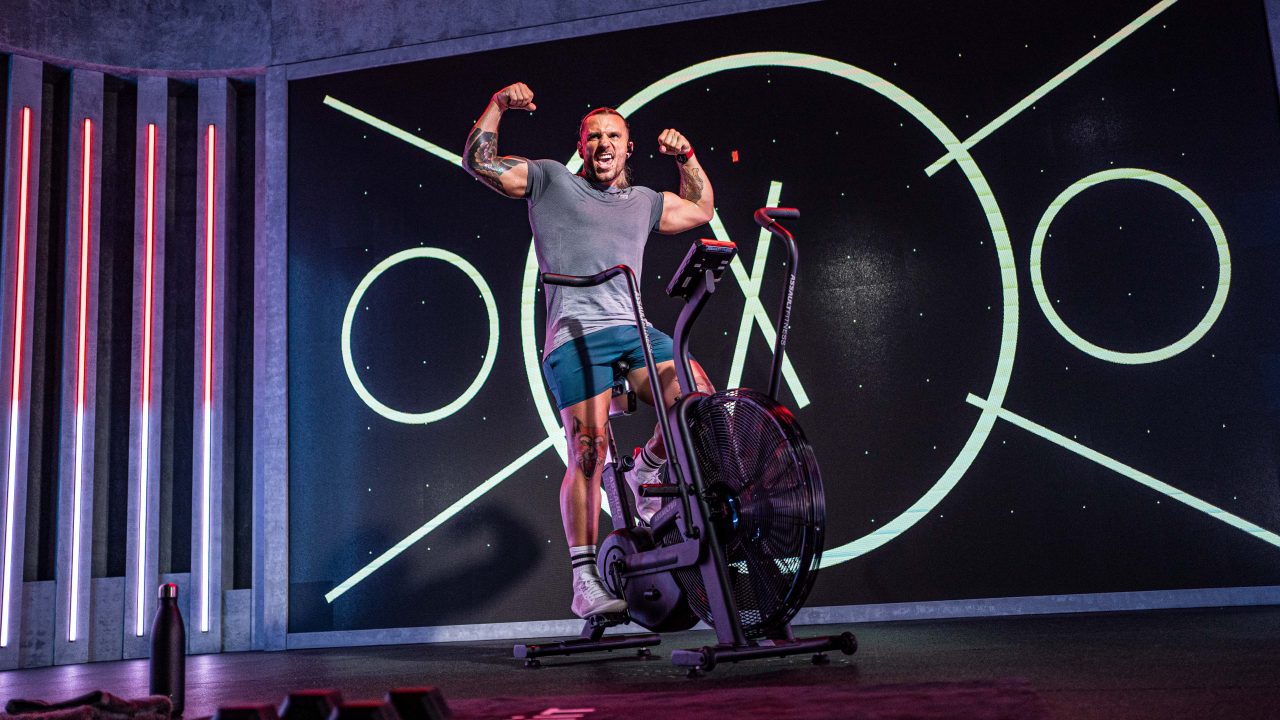 BE THE BEST. AT EVERYTHING
Purposeful time on the AssaultBike will carry over to all facets of life. 
The human body creates energy in one of three ways. And depending on what you're doing, your body will favour one of these systems.
At Fiit, we've created specialised air bike workouts to target these energy systems. Meaning, if you do them all, you'll cover all your bases. 
No matter what life throws at you, you've cultivated the energy system needed to tackle the situation. 
If you're AssaultBike ready, you're always ready.
THERE AIN'T NOTHING LIKE IT
The AssaultBike blows rowing out the water because it's so easy to use. Every gain made on the rower is crushed on the bike. It takes up less space. And time saved perfecting technique is better spent building an earth-shattering cardiovascular system.
The AssaultBike also dominates the spin bike. Neither machine requires expert skills to level up performance. But, the spin bike just isn't hard enough. At some point, the athlete will 'outgrow' their spin bike workouts. And that's when they're faced with an ultimatum: watch your fitness plateau to the tune of a Britney soundtrack? Or find something that'll always push you further – no matter how good you get.
In short, the AssaultBike is the Kobe Bryant of human performance. It's functional fitness' undisputed MVP. 

SO, WHAT'S THE DEAL WITH FUNCTIONAL FITNESS?
It all comes down to what we mean by 'fitness'. 
For years, 'fitness' has meant different things to different people. Some point to triathletes, or ultra distance runners. Others point to boxers or MMA stars. But where does a 100m sprinter fit in? And what about a cross country skier? 
All these athletes are fit. But they're different types of fit. Each athlete has specialised. They've become so good at one thing, it's come at the detriment of most others. For example, Sumos aren't good long distance runners. And long distance runners are bad Sumos. Specialisation has come at the death of overall fitness.
This is why functional fitness has become so popular. Broadly, it aims to improve work capacity across multiple activities for various lengths of time. 
This means we want you to improve everything, at the expense of nothing. We want you to create a robust armour with no chinks.
LAST POINT, PROMISE.
Picture a version of yourself that has improved every facet of fitness. You're quicker, stronger, and more flexible. You can run further, jump higher, and move easier. Now, picture a version of yourself that has improved one element, but has become worse at everything else?
Now ask yourself this question: which version is more likely to survive if they get stuck on a deserted island? Or – for something more applicable – which version is better equipped for anything life throws at you?
At Fiit, this is our thinking. Functional Fitness – which improves every facet of physical fitness simultaneously – improves lives. 
And it allows people to level up and keep levelling up for longer, and longer, and longer. And longer. 
And even longer after that.

Share article