There are many tell tale signs you're overtraining. 
You might be feeling sluggish and heavy. It might take more effort than normal to perform at your usual level. Your sleep might be taking a hit. Your mood might be up and down. You might even find it harder to recover post-workout.
So what takes you from being tired to chronically fatigued?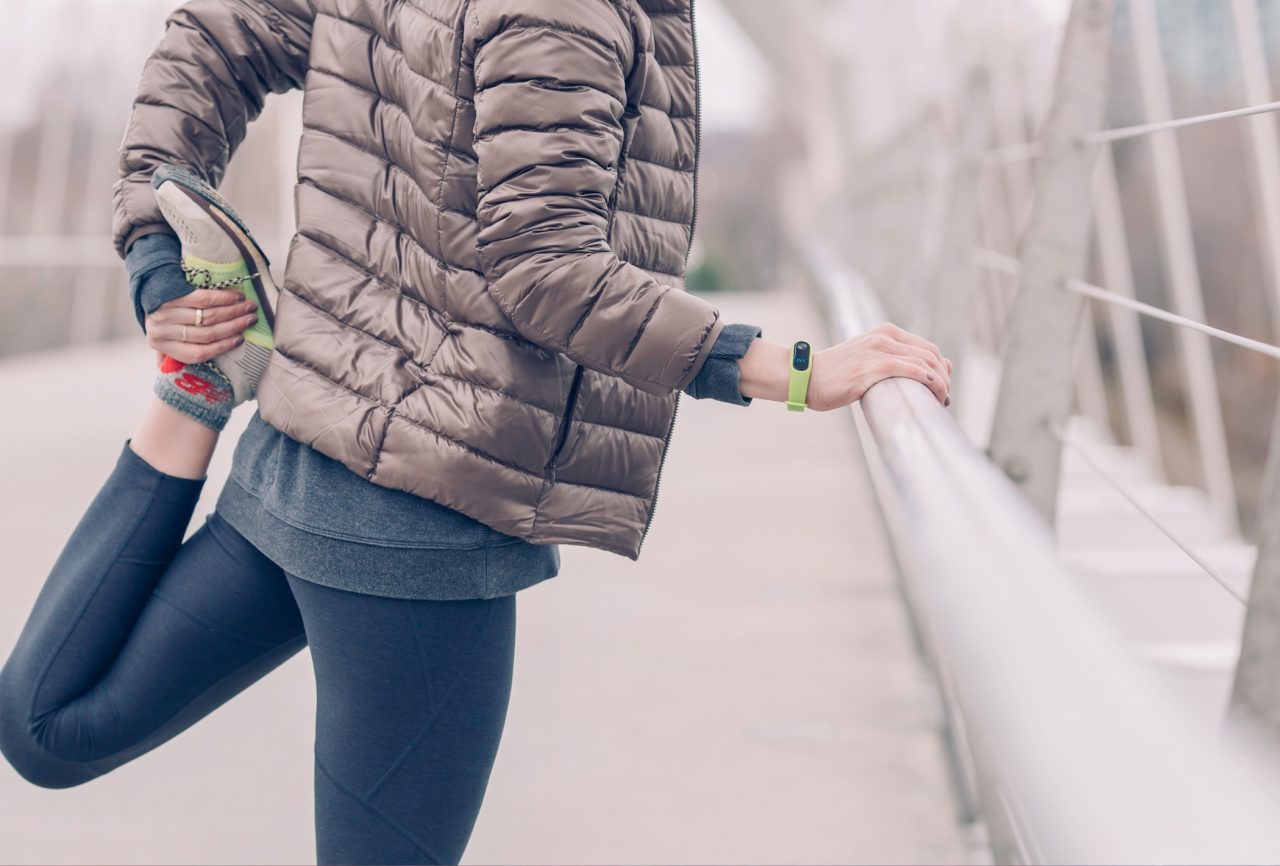 Going too hard. For too long. 
It's easy to recover when you're tired, but it'll be much harder when you've overtrained for a prolonged period of time.
Overtraining can lead to hormone imbalances over time. When we exercise, we stimulate the adrenal system and stress the body into releasing cortisol (which is completely normal and healthy). Cortisol is a steroid hormone, more commonly known as your 'stress hormone'. It plays a major role in the function of your metabolism, immune system and how your body responds to stress.  
When we over-exercise, we put our bodies through a constant state of stress, and the control centre in the brain releases signals to the adrenal glands to produce cortisol. This helps us survive short stressful periods, but when prolonged, can be harmful to our bodies (the same applies when you're under mental or emotional stress).
If the body doesn't recover between workouts, the negative feedback loop these hormones operate on, becomes desensitised. It continues to release cortisol and increases the amount coursing around your body. That's when you start feeling the effects mentally and physically, as your body goes into survival mode — or 'storage' mode.
This can often present itself as weight gain around the tummy, which even the best diet and exercise routine will fail to shift. Why? Because it's counterintuitive. You're pushing too hard, and forcing your body to protect itself against you.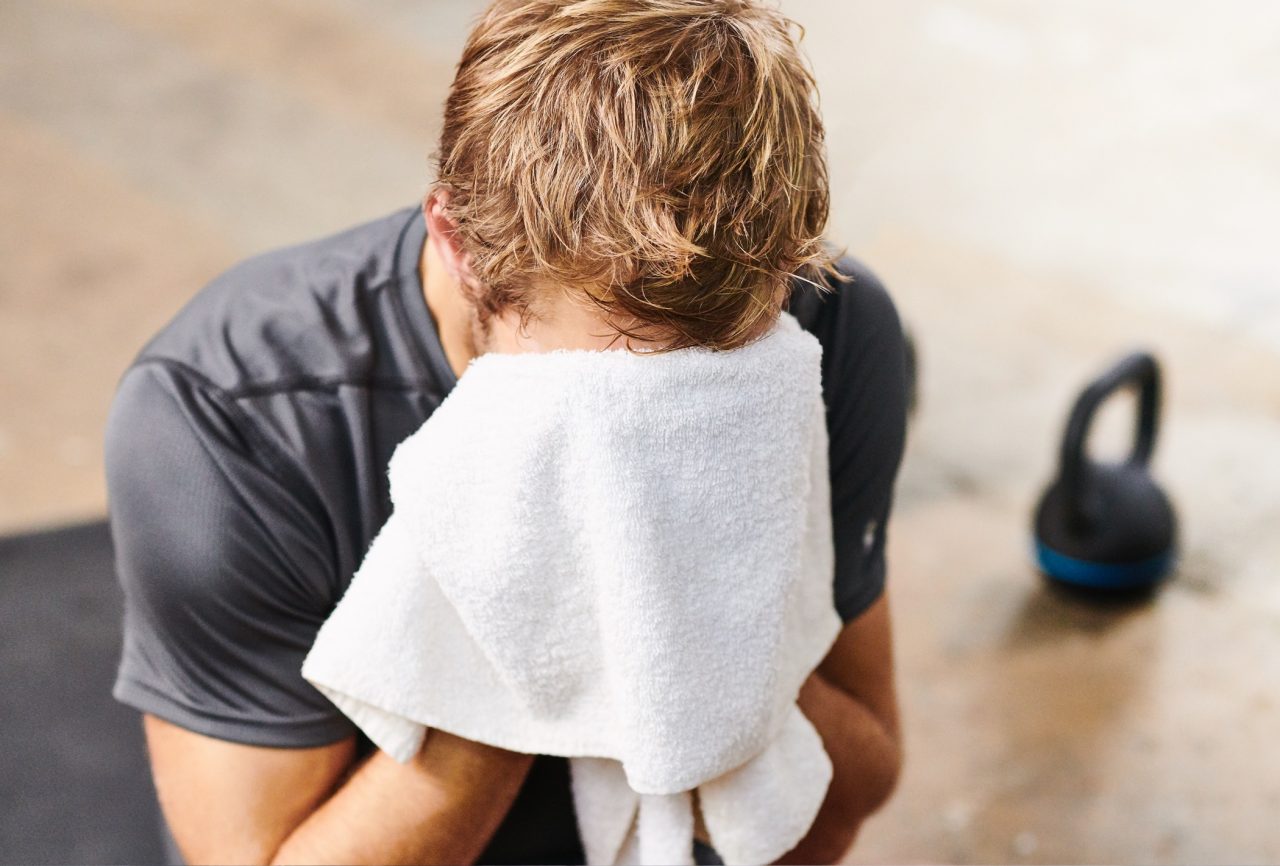 At this point, you might also experience: 
An increase in appetite (in particular high carb cravings)

Mood swings, anxiety or depression

Tiredness during the day

Disrupted sleep patterns (which can affect your mental and physical recovery, as well as your hormones)

Impaired cognitive function 

Lowered immunity (making you vulnerable to infections)

High blood pressure and blood sugar imbalances
The simplest way to check if you're chronically fatigued is by looking at your heart rate. If it takes you longer than usual to get your heart rate up at the start of a workout (and longer to recover once you're done), you might be experiencing fatigue.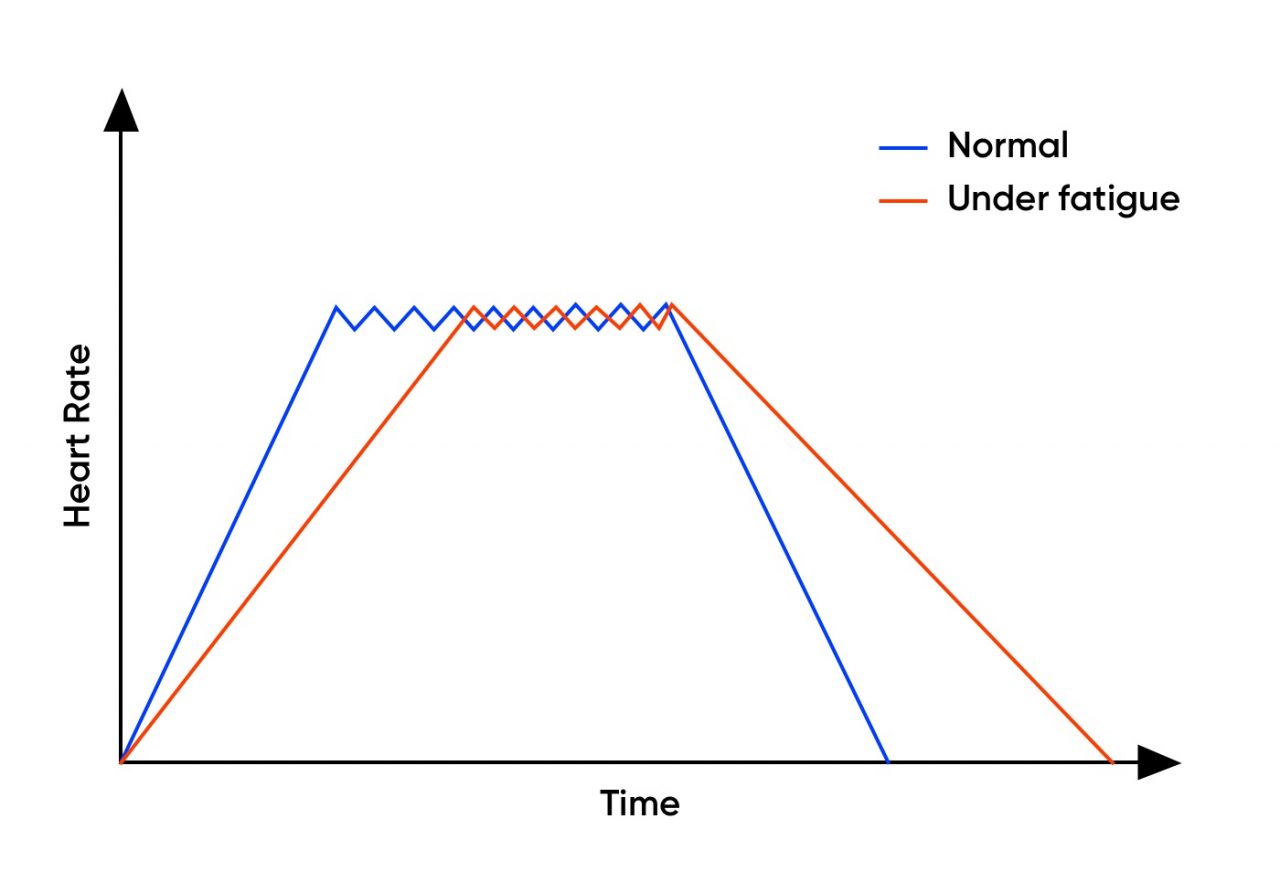 If you are experiencing fatigue (or any of the symptoms above), there are a few things you can do. 
1. Switch up your training schedule
Are you leaving enough time for your body to recover in between workouts? Are you balancing your training with strength, cardio and mobility classes?
Don't skip strength and interval training. The ratio between intense work and rest periods helps to activate the negative feedback loop. Short, intense, intervals release energising hormones like adrenaline and the growth hormone (GH), in order to free fat stores. So you're using energy, not storing it. In the long term, you'll have a better functioning fight-or-flight response system and your body will be able to regulate quicker.
2. Don't exercise for longer than an hour
A well designed HIIT workout will fatigue the central nervous system and your muscles in 60 minutes. If you keep going, your cortisol levels will continue to rise — making your muscles use amino acids for fuel and start preserving your carbohydrate stores. Over time, this amount of stress on the body will also affect your recovery rate.
3. Fuel yourself with nutrition-packed, fresh foods
If you eat foods that are high in sugar, your insulin levels will be jacked up. When this happens, your fat burning enzyme (hormone sensitive lipase) will 'turn off' and your fat storing enzyme (lipoprotein lipase) will 'turn on'. Instead, try to eat lower carb and high protein meals that promote cortisol balance and lower your insulin response.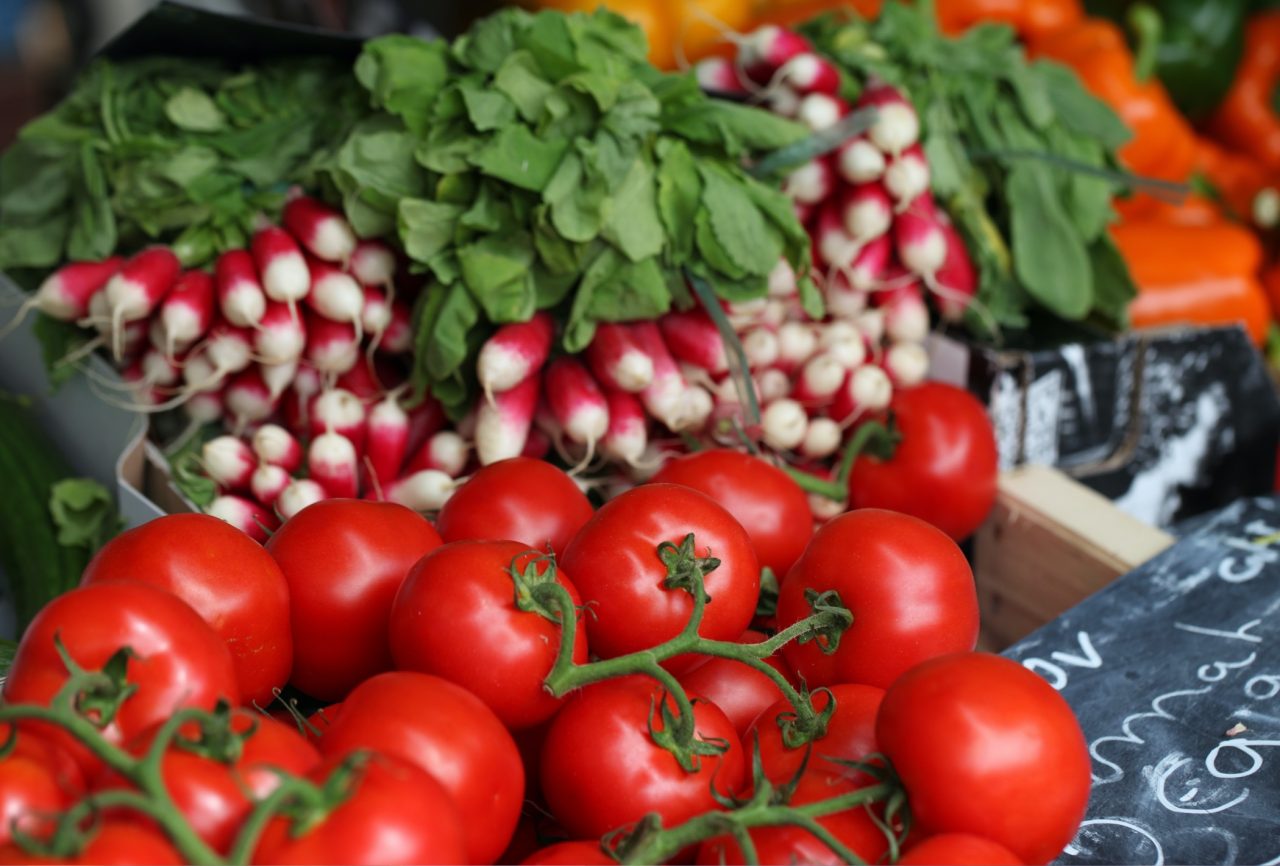 4.Meditate and breathe
 Meditation and breathwork can significantly improve your cortisol levels and hormone balance. They elevate opposing hormones such as testosterone and growth hormone. They improve the activity of the HPA-axis from which metabolic, stress, and reproductive hormones are released — and best of all, they also regulate your sleep patterns. 
Hot tip: Don't underestimate the power of binaural beats. They're proven to reduce stress and anxiety, increase focus and concentration as well as deepen your meditations. They significantly increase your age-resisting hormone (DHEA) and your melatonin (crucial for good sleep), while decreasing your cortisol levels. Playing them quietly as you work or when you're travelling can really help. Start with these.
5. Prioritise sleep
Sleep is such an important pillar of health, and often the first to be compromised when we're busy. 
If you make one single change to your routine after reading this — let it be to your sleep cycle. Rest is much more effective than carbs, creatine or coffee for enhancing physical and mental performance. It regulates your circadian rhythm as well as your food cravings. So limit bright lights in bed and try to get 7+ hours of sleep every night.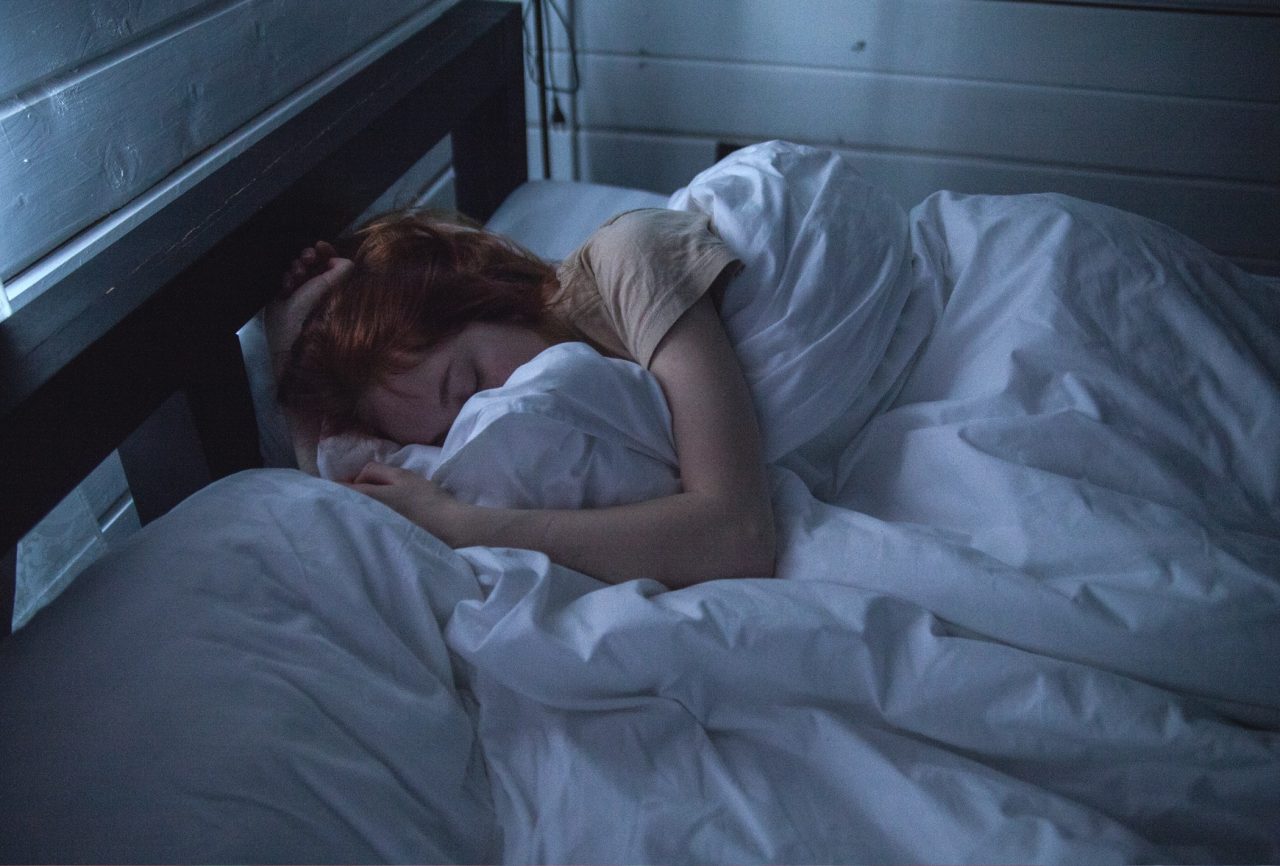 Above all, tune in to how your body is genuinely feeling and be honest with yourself. 
Got any questions? Head over to Fiit's facebook page and tag me in a post. I'll do my best to answer any of your questions. 
*Want to train smarter? Join Fiit for free with our 14 day trial and let our powerhouse Head of Fitness show you how it's done. Not hooked in two weeks? Cancel anytime.
Share article