85% of active people use technology to support their health and wellbeing. Research shows that tracking our stats helps us train more efficiently and motivates us to push ourselves harder.
That's why data is at the heart of what we do. Our team of data scientists and fitness experts have developed a sophisticated system, incorporating data from nearly 100,000 workouts, that predicts your optimal heart rate training zone, measures your effort and helps you take your workouts to the next level.
But how does it all work? Here are the answers to some of your most asked questions.
What are Fiit Points?
Fiit Points measure how hard you work — i.e. your effort — throughout a cardio class. Points are scored based on the time spent within your 'heart rate zone'. The higher up the zone you are, the more points you score.

How do you calculate my heart rate zone?
Your heart rate zone is based on your resting and max heart rate. The difference between your maximum and resting heart rate is known as your heart rate reserve (HRR). This is the range in which your heart rate can speed up with exercise. We use HRR because it's a proven metric that relates to fitness level.
Your zone is completely unique to you and starts part way through your heart rate reserve. It will be different to other members' zones. We learn your resting and max heart rate from your data in previous workouts. If you've not taken a Fiit workout before, we use a standard formula to calculate your max heart rate, which takes into account your age.
Your zone is dynamic and is constantly becoming more personalised to you, with every workout you take and as your fitness level changes. Because your zone is personal to you, if you have a lower resting and maximum heart rate, this scoring system does not put you at a disadvantage to those who have a higher resting or maximum heart rate.
Here's how two people could be working to the same percentage of their heart rate reserve but have different heart rates: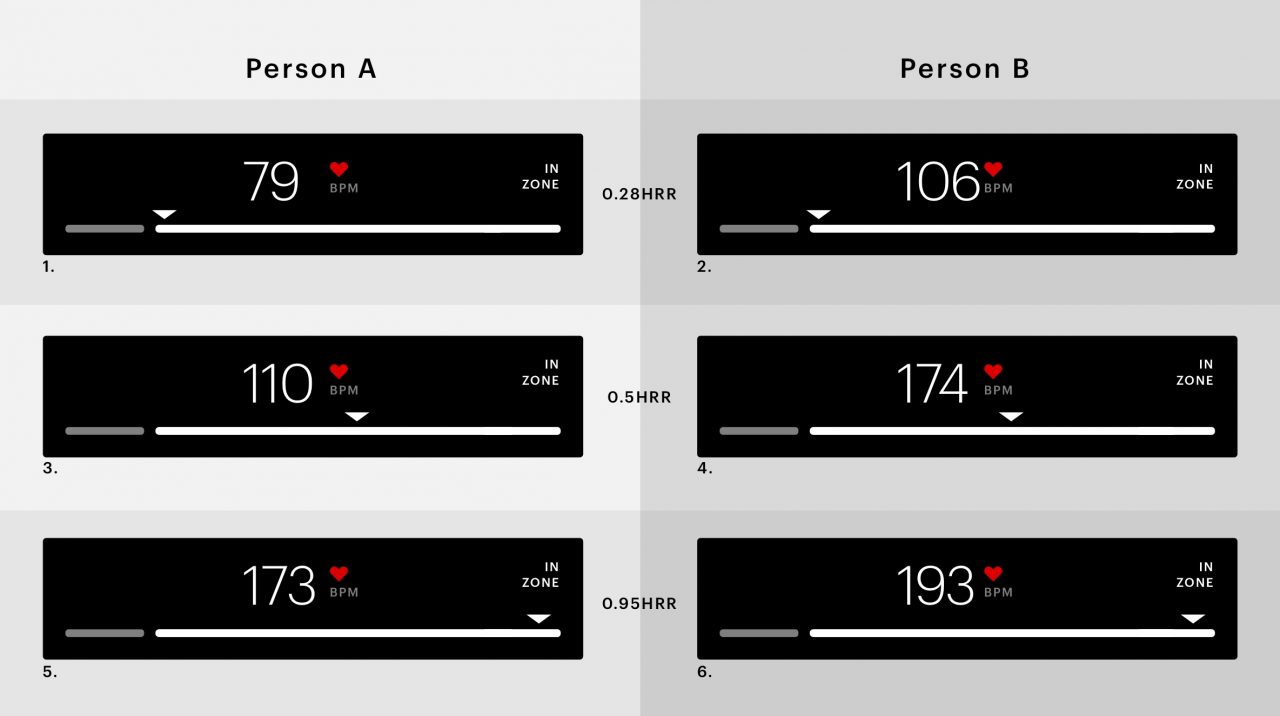 I was in the top end zone the entire class. Why didn't I win the leaderboard?
If you're in the top end zone throughout the class — nice work! Fiit Club classes are challenging, so if you are working constantly at the top end of the zone, that means you are pushing yourself and burning more calories. However, you won't be able to work at the peak of your zone throughout the entire class. Even the most competitive people won't go over the top end of the zone for more than a few seconds. Everyone has room to push harder and get more points. Those who win are more consistently higher up in the zone.
The competitive nature of the leaderboard means that you're training with others who are also in the top end of their zone — and where you finish on the leaderboard depends on who else is in the class with you. Every class is different!
I can't push my heart rate to the top of the zone
Pushing yourself harder can be difficult but the leaderboards are designed to motivate you. Just by being in a Fiit Club class, you're working harder than in a normal class. Here are stats from the first week of Fiit Club showing how much harder people work in leaderboard classes: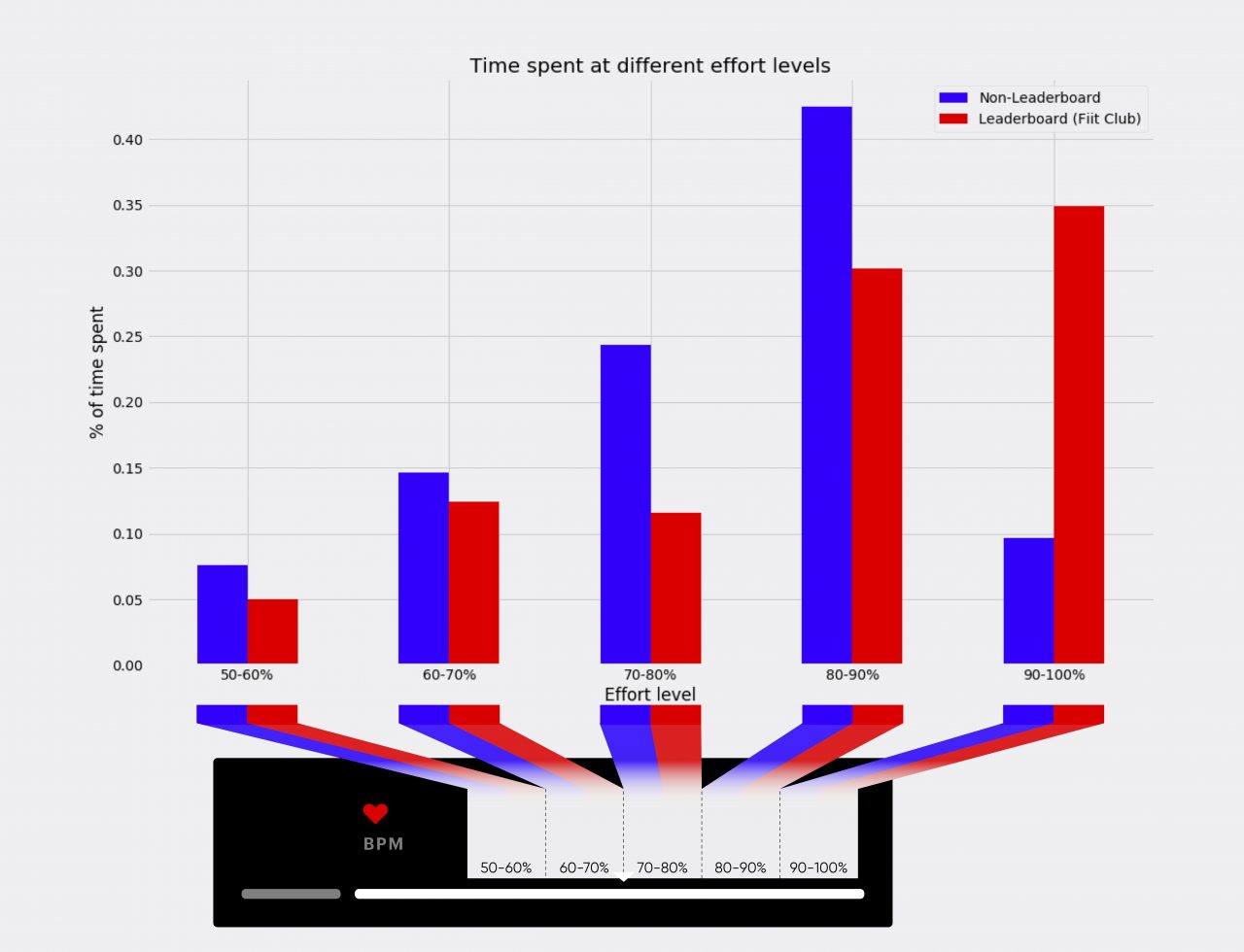 Mastering specific exercises can help you keep good form, and therefore perform moves quicker and increase your heart rate. If you're new to a move, particularly plyometric (jumping) movements, you may want to follow the easy / intermediate moves in the class until you feel ready to take on advanced moves. Doing strength and power yoga classes will also help you build good form and learn fundamental movements.
All Fiit Club classes are designed to be tough but some may have slightly less intense moves than others. In these classes you may find it harder to stay in the top end of the zone — but so will everyone else.
Your heart rate will naturally drop with floor exercises, as your heart doesn't have to work against gravity. Floor exercises work other muscle groups, give you rest from impact and time to recharge before going hard again.
If you're concerned that your heart rate / BPM isn't as high as other people in the class, remember it's where your heart rate is within your zone that matters. The higher in your zone you are, the more points you'll score.
Is it harder to win if you're fitter?
Since we launched Fiit Club we've been analysing the leaderboard data and the results show that on average you're just as likely to win whether you are entry level or advanced. Our effort-based points system ensures it's an even playing field.
We believe in rest. It's a crucial part of effective training. To incentivise you to recover, you can't score points in the rest periods. If you're fitter, it's possible that your heart rate may drop quicker in the rest periods than those less fit, however you will be able to work to your max for longer — and therefore score more points in the work phase of the class.
Also, because you can't score in the rest periods, it removes any advantage people with a lower fitness level to you would have — as their heart rate would typically take longer to drop. Our analysis of results show that there's no advantage for those with a lower fitness level.
Is it easier to win if you haven't done many classes before?
After you've taken one class — whether it's cardio, strength or rebalance — we have an accurate understanding of your resting and max heart rate, and continue to refine this with the more classes you do. So your ability to score points will be equal to those who have already taken loads of classes.
Is calorie burn a better way of tracking progress than Fiit Points?
Tracking your calorie burn will compare the amount of work you've done in each class but it doesn't allow you to compare with other people. This is because calorie burn depends on factors such as age, gender, weight and height. Calorie burn also does not take into account dynamic zones, so it's not an accurate way to track progress for someone with changing fitness levels.
Fiit Points measure your effort in every class, and are therefore a more accurate way of tracking your progress over time, as well as enabling you to compete on the leaderboard.
Why is my average BPM is always so low?
The average BPM you see at the end of a class includes your BPM during the warm up and cool down, so it's not a reflection of the effort given during the work phase of the class.
If people have already exercised before a class would they have an advantage with a higher heart rate?
As it takes people different amounts of time to warm up, we've built the scoring system so there are no points during warm up, and less points available during the first 90 seconds of the workout section of the class. This means that people who have increased their heart rate before a class starts won't have an advantage and score more points. Provided you follow the warm up properly, you have an equal chance of scoring points (and will probably be able to push harder to the end of the class).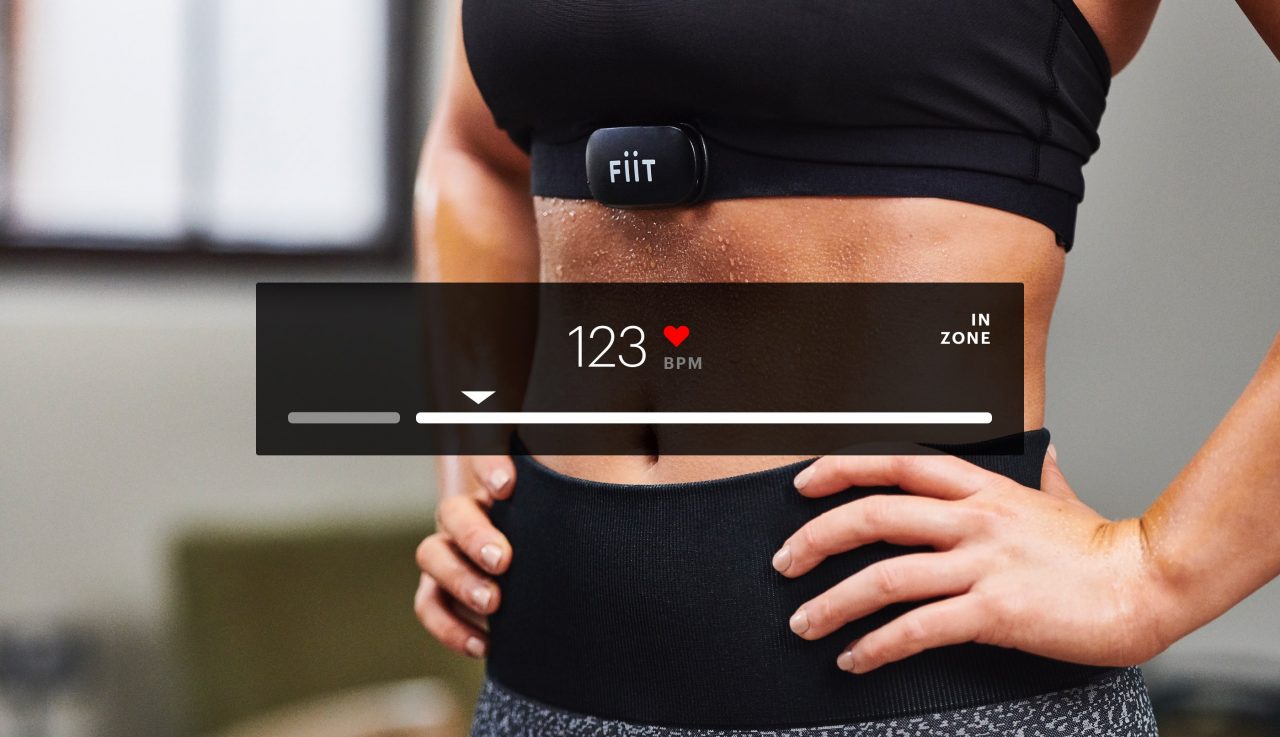 Do we look at heart rate acceleration and deceleration?
No we don't. We look at your heart rate at each moment during the class but don't take into account how fast your heart rate recovers after exertion.
How can I win when there are people with a higher max heart rate than me?
Everyone in the class will have a different max heart rate. A higher heart rate doesn't make it any easier or harder to score points. If you're working in the top end of your personal zone — to your own max heart rate — then you can score higher on the leaderboard.
Will Fiit be introducing sub-groups on the leaderboard?
This is an interesting idea! We may look at creating groups based on age brackets but we don't have confirmed plans to build this just yet.
Are Fiit Points tracked more accurately depending on whether you're using your iPhone, iPad or TV?
It doesn't make a difference what device you're playing a class on, your Fiit Points will be tracked the same.
Can I have the upper limit of my cardio zone extended? I like to push myself harder.
Our model is continually predicting what your max heart rate is, so your zone will adjust over time. It's not physically possible to exceed your upper limit — so there's always more room to score points.
Is it safe to work at 85% of your heart rate reserve?
Because HIIT workouts involve varied exercises and coordination, you're never going to be working at your max for the entire class. Workouts are designed to take your heart rate high and low at different points during the class. If you follow the workout correctly, it's a safe way to train for healthy individuals (unless you are pregnant, have an underlying heart condition or your doctor has advised against HIIT). Our classes include warm ups to ease your body into work and cool downs to help you recover.
Because of the competitive nature of the leaderboard, you're likely to see a higher heart rate in Fiit Club classes than in normal cardio classes.
Could you compete against Usain Bolt using this system?
If Usain Bolt was taking a Fiit class and you pushed yourself harder for longer than he did — then you would beat him!
If you have any feedback or questions that are not answered here, we'd love to hear from you!  You can contact us here and the team will get back to you personally.
Share article