Our next generation Fiit tracker is here! It's smaller in design and combines Prevayl's cutting edge technology to bring you deeper, more accurate performance insights. 
ENTER FIIT, POWERED BY PREVAYL
The new Fiit Tracker powered by Prevayl, where fitness and wearable tech meet to create the most accurate way to track progress, offers real-time insights to empower users to level up their performance.
We're giving you the tools you need to monitor and better understand your performance on and off the mat. This is your one-way ticket to level up your workouts. 
TRAIN SMARTER
The new Tracker leverages Prevayl's clinical-grade ECG sensor technology, recently validated against the gold standard of heart rate monitoring by Bournemouth University. 
What does this mean? 
It boasts a best-in-class sampling rate of 512 Hz per second, capturing 1,000 data points per second for optimal accuracy, opening a whole new world of performance insights right in the palm of your hand.
Empowering you to stay motivated, accountable and progressing, you'll also be able to unlock deeper insights via the companion Prevayl App (available on Android and iOS). Essentially, this tracker is everything you need to track your progress in the best possible way.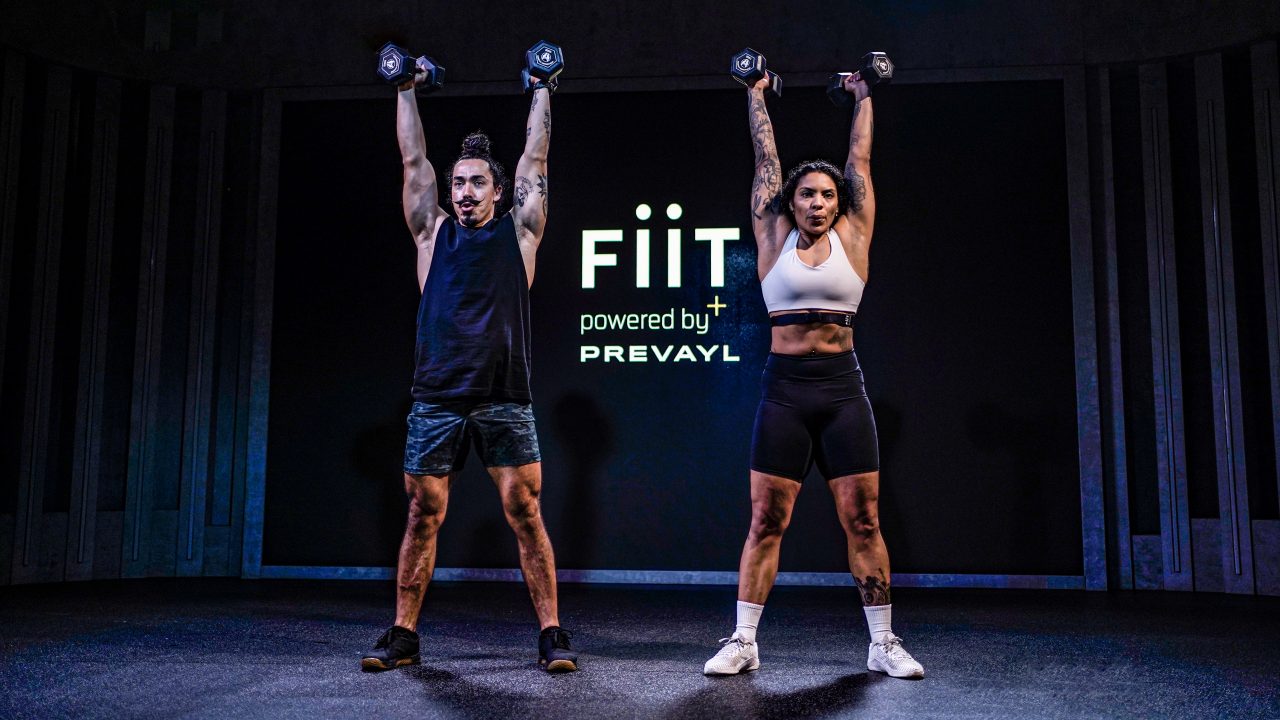 UNDERSTANDING THE STATS
The new tracker is compatible with any workout on Fiit. Plus, you can use it outside of your Fiit workouts and track your runs, bike rides and other activities too. 
It has built-in sensory pads to accurately capture your workout metrics. As ever, we'll then save all the important data so you can see how you're improving week-on-week. 
– Track your reps with a built in accelerometer
– Monitor your progress 
– Understand your training zones 
– Have fun on the leaderboard
– Beat previous personal bests
On top of everything the you loved about the OG tracker (Reps, Calories, Heart Rate) the new tracker has some cool features to help you train with purpose:  
– BodyCheck™ – to evaluate your recovery and readiness to train, allowing you to balance between training and recovery.
– FitnessCheck™ – to accurately determine maximum heart rate recovery to better understand your health and fitness levels.
– Female Athlete – to guide female users through their training in every phase of their menstrual cycle.
– Rechargeable battery – 10 hour battery life when fully charged.
The new Tracker is available in a bundle which includes two components, a Prevayl Sensor and a Fiit x Prevayl Chest Strap. The Sensor is inserted into the Chest Strap to accurately capture data the user's  and translate it into live heart rate through the Fiit app. (Read about why ECG sensors are more accurate than wrist-based devices here)
GETTING STARTED
If you're ready to get started with your tracker, or want to know more about how it works, check out our instructional video.
HEAR IT FROM FIIT 
James Charalambous, Fiit Managing Director, said, "As we continue to evolve our connected hardware ecosystem to enhance  the Fiit experience at home and in the gym, access to this amplified level of data via Prevayl is the next logical step in allowing our members to better understand the connection between recovery and performance – insights previously only reserved for professional athletes."
Prevayl CEO and Founder Adam Crofts echoes the sentiment, "Fiit, for me, have been instrumental in evolving and progressing the fitness industry. In an area that is overdue disruption and innovation, Fiit leads the charge. We are extremely excited to work with Fiit and continue to disrupt the industry by offering unrivalled experiences in connected fitness."


READY TO LEVEL UP YOUR PERFORMANCE?
You can now order the  new tracker from the Fiit shop for £65.00 and if you're not already a Fiit member, join the #FiitFam for access to our workouts and plans. Don't miss out on the fun. 
For media information, please contact [email protected]

Share article