To become a more efficient machine over the next 30 days, you'll need to fuel your body right.
Lucky for you, our friends at Mindful Chef have done the hard part for you. Each week, they'll share two mouthwatering recipes designed by their in-house chefs and nutritionists, to keep you going stronger for longer. And we're kicking off with two of our favourites.
Mexican pinto beans & salsa stuffed avocado
All aboard for a flavour journey to Mexico – this lively dish, stuffed with nutrient-dense legumes, sweet tomatoes, fresh spinach and spices, whisks us away to warmer climes. We throw in a creamy, salsa-stuffed avocado, too.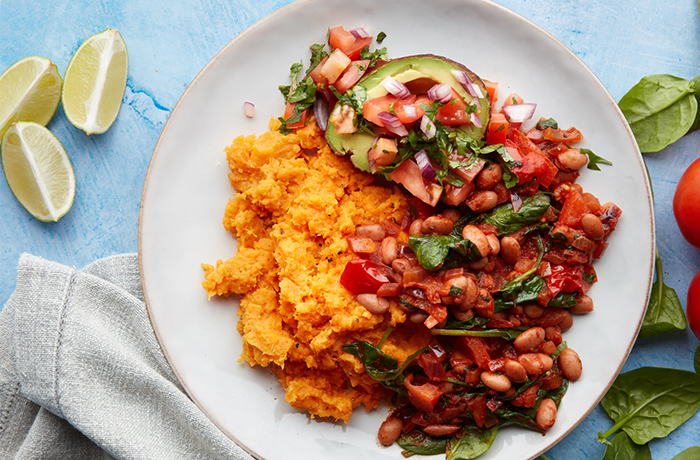 Ingredients 
1 avocado
1 handful of fresh coriander
1 lime
1 tbsp Mindful Chef Mexican spice mix
1 red onion
240g pinto beans (drained)
80g baby spinach
300g sweet potato
2 large tomatoes
4 tbsp tomato puree
Macros
52.17g carbs • 20.27g fat • 17.31g protein
Method (25 minutes)
1. Boil a kettle. Leaving the skin on, cut the sweet potatoes into 2cm cubes. Place in a saucepan, cover with boiling water and add a pinch of sea salt. Simmer for 20 mins until softened.
2. Meanwhile, finely dice the red onion and roughly chop the tomatoes. Roughly chop the coriander leaves.
3. Drain the pinto beans. Heat a medium-sized pan with 1 tbsp oil on a medium heat. Add three-quarters of the onion and cook for 5 mins, until softened. Stir in the Mexican spice mix and cook for 30 seconds. Add 200ml boiling water, the tomato puree, pinto beans, spinach, three- quarters of the tomato and half the coriander and simmer for 5-10 mins to thicken. Season with sea salt and black pepper.
4. Make the salsa-stuffed avocado. In a bowl, mix the remaining onion, tomato and coriander with the juice from the lime (to taste). Peel, cut in half and de-stone the avocado. Stuff each avocado half with the salsa.
5. Drain the sweet potato and roughly crush with a potato masher or the back of a fork.
6. Spoon the crushed sweet potato onto two warm plates alongside the Mexican pinto beans and salsa-stuffed avocado.
Honey harissa chicken & roasted squash salad
If, like us, you think harissa makes the world go around, imagine what it'll do to your taste buds when you add a squirt of honey to the mix. Ready in 40, you can have it for lunch, dinner (heck, have it for breakfast if you're feeling spicy). Just have it.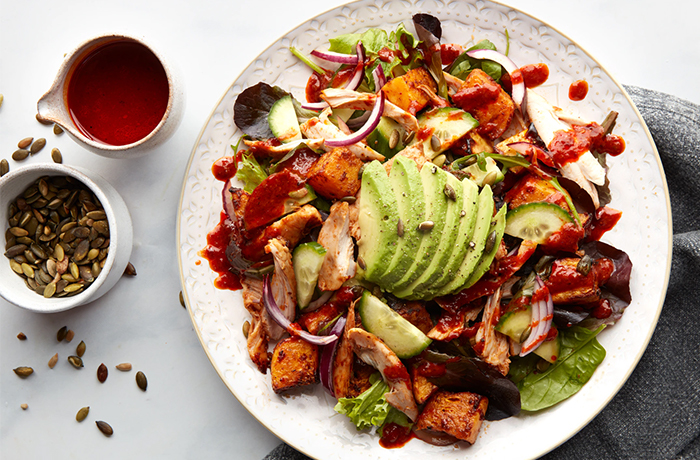 Ingredients 
2 tbsp Belazu apricot harissa paste
1 avocado
400g butternut squash
300g free-range chicken thighs
1 baby cucumber
2 tsp ground cumin
2 tbsp honey (use half)
1 lemon (use half)
1 red onion
2 tsp pumpkin seeds
40g mixed salad leaves
Macros
52.17g carbs • 34.16g fat • 37.47g protein
Method (40 minutes)
1. Preheat the oven to 200C / fan 180C / gas mark 6.
2. Slice the butternut squash into quarters, and remove the seeds with a spoon. Leaving the skin on, cut the squash into 1cm cubes. Place on a baking tray, drizzle with 1 tsp oil, and sprinkle with the cumin, sea salt and black pepper. Mix. Place in the oven for 30 mins, until cooked, turning halfway through.
3. Make the apricot harissa marinade. Add the apricot harissa, 6 tbsp cold water, 1 tsp oil, the honey, and a pinch of sea salt and black pepper into a small bowl. Cut the lemon in half and squeeze in the juice from just one half. Mix all together.
4. Thinly slice the red onion and add just three-quarters to a small ovenproof dish. Place the chicken thighs on top. Pour just half the harissa marinade over the chicken. Place into the oven and roast for 25 mins, until cooked through.
5. Heat a large, dry frying pan on a medium heat. Add the pumpkin seeds and cook for 2 mins, until toasted and starting to make popping sounds. Once toasted, transfer to a plate to cool.
6. Cut the cucumber in half lengthways and thinly slice. Add to a medium-sized bowl followed by the mixed salad leaves, remaining sliced red onion and toasted pumpkin seeds. Mix. Peel, de-stone and slice the avocado.
7. Slice the cooked chicken then coat in the juices from the dish. Divide the salad between two plates. Top with roasted butternut squash, chicken and cooked onion. Place the sliced avocado over the top then drizzle with the remaining harissa dressing.
Share article