She's climbed Mt. Kilimanjaro and achieved her dream of walking onto the pitch at Wembley with a Premier League football team (she was Chelsea and Watford's physiotherapist).
Lilly Sabri is a woman on a mission and she's taking her message of health and wellbeing to empower people globally!
We find out what fuels her…
What gets you out of bed in the morning?
Feeling good and living a healthy, happy life!
Your go-to breakfast?
I tend to mix it up otherwise I get bored. I love smashed avocado on charcoal bread with a poached egg. Another fave is overnight oats. Before I go to bed I'll soak oats in almond milk and flavour with honey, blueberries and vanilla powder. It's easy to prep and saves time in the morning.
What's your fitness mantra?
It's not so much a fitness mantra but I believe you only have one life, so why spend it feeling bad? Take control and make lifestyle choices that make you feel great! It's all about having a positive mindset and doing what works for you, not anyone else.
Who inspires you?
I'm a diehard follower of Gary Vaynerchuk. He's an entrepreneur and motivational speaker — I have all his books and love watching his YouTube videos!
Better working out solo or with a friend?
Both! I love working out with friends as they teach me new things and keep me motivated. When I'm on my own I start with a focused plan so I don't waste time and, most importantly, I make sure I have a really good soundtrack.
Fitness accessory must-have?
My headphones. I lose them all the time though… I leave a trail of headphones wherever I go!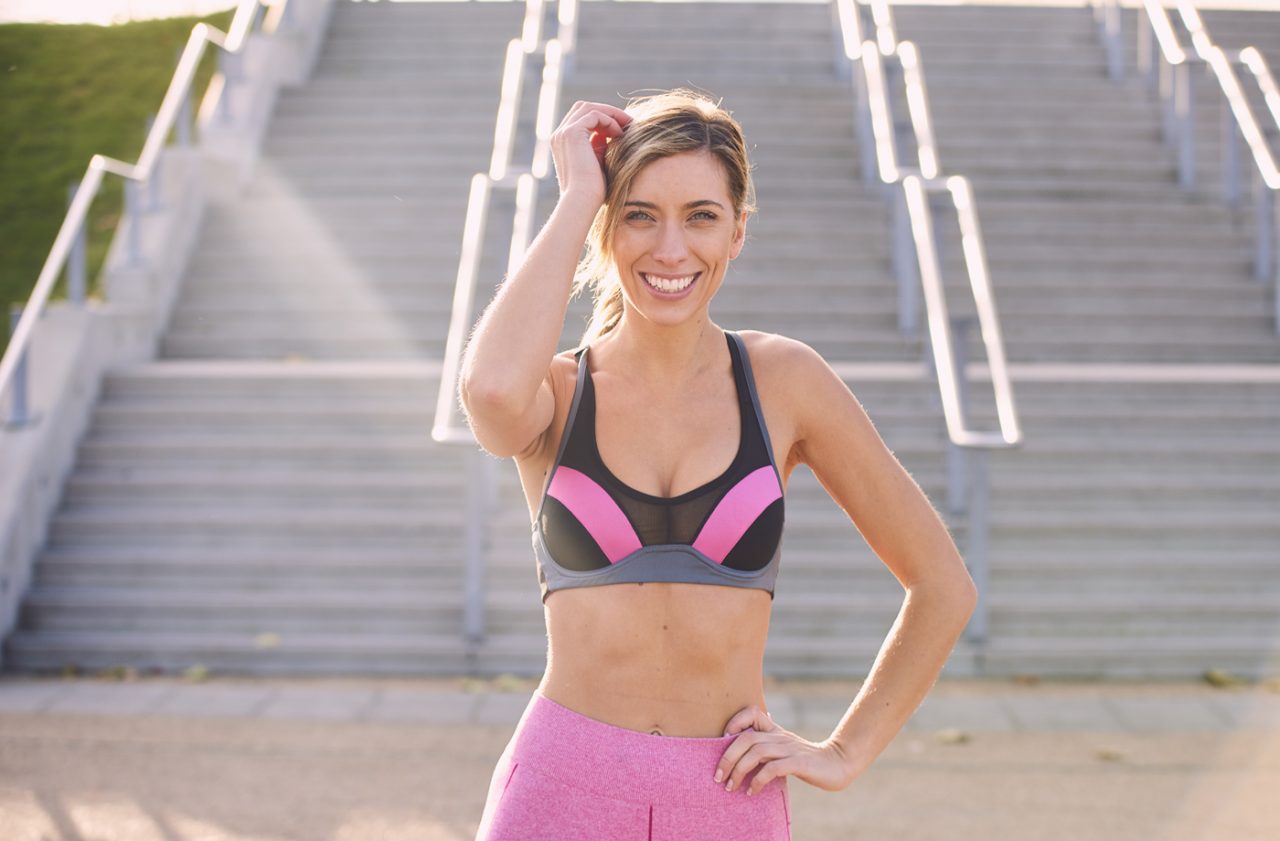 Fave healthy holiday destination?
I don't have one — I love exploring the world so I try not to go to the same place twice. Wherever I go, I bring my healthy lifestyle with me. My mat always comes too.
How do you relax?
I love learning, so in my downtime I watch motivational talks and take in other people's approaches to living healthy, fulfilled lives.
What do you love most about your work?
That I have this amazing opportunity to change hundreds of thousands of lives. I wouldn't be able to do this without social media. As a physiotherapist and pilates teacher, you can only see so many people in a day but with Instagram my reach is infinite. I have the power to help so many people live their best life, and there's no better feeling than that.
If you weren't inspiring hundreds of thousands on social media, you'd be…
Before I took my business online three years ago, I was a Premier League physio, and worked with Chelsea and Watford. I do miss the team environment and working with athletes at the top of their game.
Best thing about Fiit?
It's so accessible — it gives people all over the world access to the best trainers to help them achieve their fitness goals, whatever their level.
Lilly brings her expertise and enthusiasm to our Cardio and Strength studios. Her positivity will motivate you to get moving, whatever your fitness goals!
Who else is in the FiitFam? Meet our trainers!
Share article