Fiit trainer and London-based presenter, Chessie King, won over social media with her infectious energy and message of body confidence.
Known to incorporate her laundry basket into home workouts, she brings a sense of humour along with high energy exercise combos to her classes.
If it's inspiration and motivation you want, you can find Chessie in our Strength and Cardio studios. Whatever your level, she'll make you work. Hard!
We caught up with Chessie in-between filming to discover her fitness secrets and tips for a positive attitude!
What gets you out of bed in the morning? 
The excitement of a new day. Honestly I'm up early purely because I'm excited about life.
Your go-to breakfast?
I always start the morning with a shake. I blend a sachet of protein (30g), a banana, oat milk and ice. It's easy to make and I can drink it before a morning workout as it doesn't sit heavy in my tummy. I tend to work out in the morning, so this is the perfect breakfast. I do love a big breakfast when I'm at home with my family or on holiday! But my normal breakfast routine is a shake.
What's your fitness mantra?
Do it to feel good, not to look good.
Who inspires you?
My mum — because she has had three kids, and gets fitter and fitter each year. She does triathlons and marathons and still is beating her PBs. She's a great role model and I want to be like her in the future. She inspired me to get into fitness and why I strive for life the way I do.
Better working out solo or with a friend?
Occasionally I'm in the mood to work out alone — I stick my headphones in and get on with it. But I also get a lot of energy from other people and bounce off them during workouts. It depends on my mood and the type of workout I'm doing.
Fitness accessory must-have?
A sweat towel — I sweat a lot!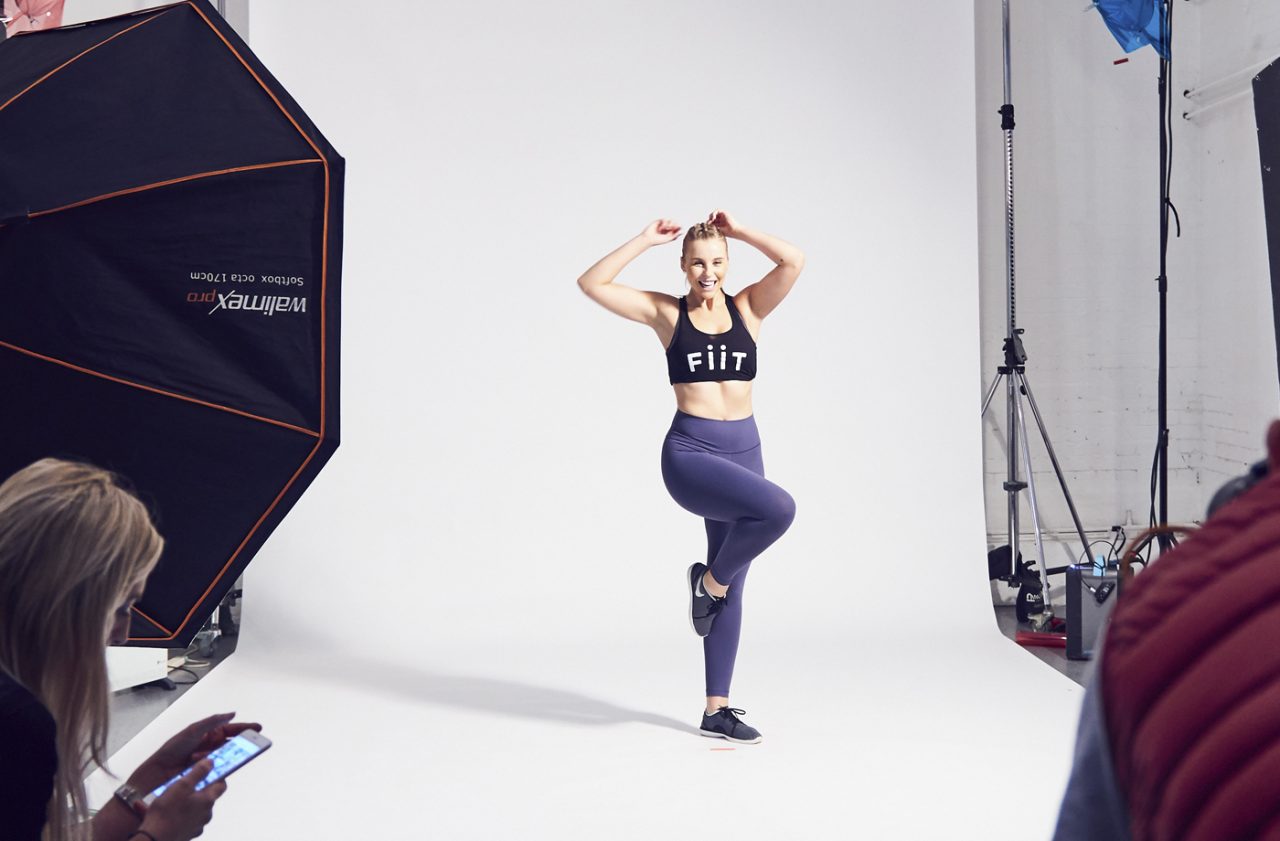 Fave fashion label to sweat in?
LIVE because it is awesome for taller girls.
Fave healthy holiday destination?
America, which may seem strange, but I love healthy eating and it's really easy to find good, healthy fast food in America.
How do you relax?
Yoga and listening to music. I love working and can find it heard to switch off but my boyfriend Matt reminds me to stop working and just relax. He is good at letting me know when I need to chill.
What do you love most about your work?
I love being able to help people, both through social media and offline. I've been through some issues that others might be experiencing too, so I love being able to support them through whatever it might be.
If you weren't infecting the world with positive energy on Instagram, you'd be…
A popcorn maker… filling the world with happiness and popcorn!
Best thing about Fiit?
I love that FIIT is for everyone — for mum's who don't have time for the gym, and for professionals who work late and want to smash out a workout when they get home. It's great for all levels of fitness too and for those who want variety in their schedule. I've loved being apart of it since day one!
Check out Chessie's strength and conditioning tips here:
Who else is in the FiitFam? Meet our trainers!
Share article