These recipes make up my favourite Christmas dishes. They're indulgent while also being full of fruit and veg, so you won't feel like you've overdone it.
The rice stuffed chicken is an amazing alternative to a traditional roast lunch — it's simpler to whip up and more colourful than your usual turkey platter. The galette, is a veg-friendly alternative for anyone who wants to go meat-free this Christmas. Made with a wholegrain spelt and rosemary pastry, you can serve it with the squash salad and crispbreads, for a perfectly balanced meal (that genuinely tastes as good as it looks). 
Of course, no Christmas dinner would be complete without a calorie-packed dessert, so check out my recipe for mince pies. Made with rye flour and a zesty, spiced apple filling, it's classic with a twist — and perfect for anyone who's got a serious sweet tooth. Yum!
Roast chicken with Persian rice stuffing, butternut squash and pomegranate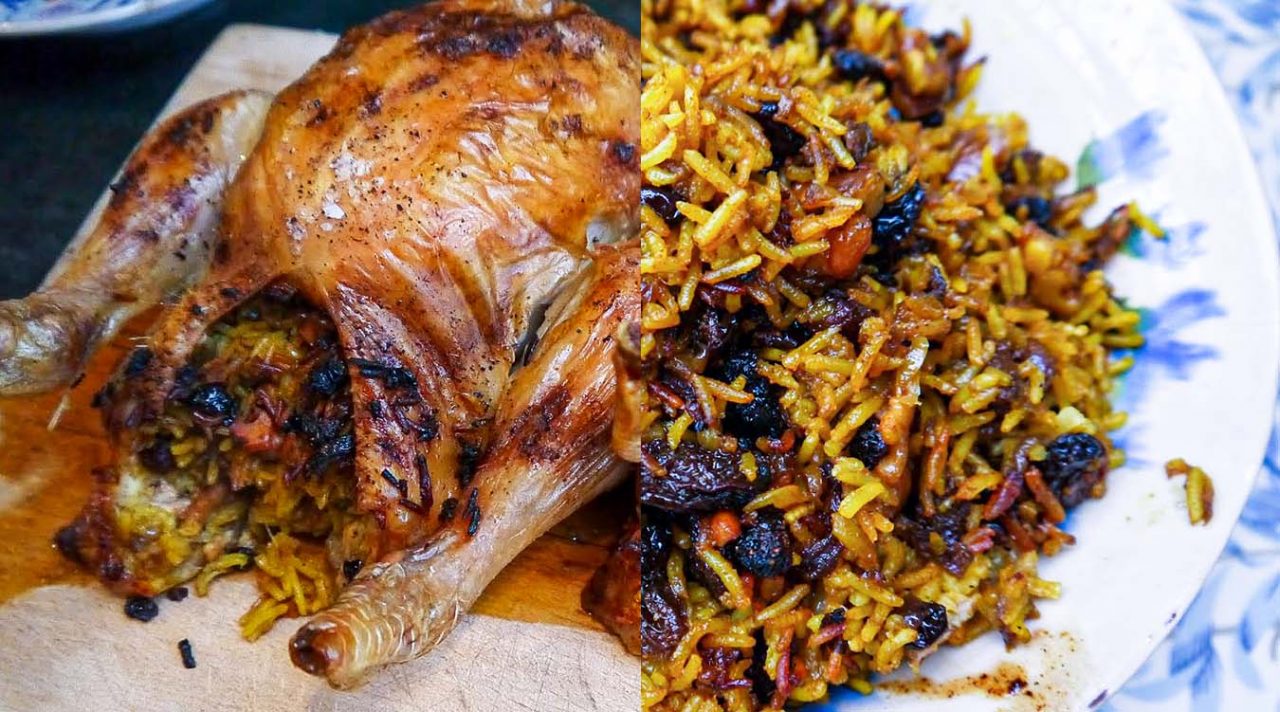 This lemony chicken is stuffed with gently spiced basmati rice, and served with a warm caramelised squash salad. The watercress lends a peppery kick to the sweet roasted squash, flecked with pink pomegranate seeds. 
Ingredients (Serves 4-6)
For the chicken
1.8kg high welfare chicken

150g basmati rice (or brown)

150g butter

2 onions, finely chopped

150g raisins

100g walnuts, coarsely chopped

Juice of 1 lemon

1.5tsp turmeric

1.5tsp cumin

Salt & pepper
For the squash
1 large butternut squash

1 red onion, sliced into eighths

1 pomegranate

1 pack watercress

2 tbsp olive oil 

½ tsp cinnamon

½ tsp allspice

Salt & pepper

Chilli flakes (optional)
Method (Prep time: 25 mins. Cooking time: 60 mins)
1. Preheat the oven to 190°C.
2. Boil the basmati rice in lightly salted water for 5 minutes (or until it retains some bite), then drain thoroughly. 
3. Melt 110g butter in a pan, then fry the onion in it over a medium heat, until soft and golden. Stir in the raisins, walnuts, turmeric and cumin. Fry for a further minute then stir in the rice and take off the heat. Season well. 
4. Wipe the chicken inside and out with some kitchen roll. Pour half the lemon juice into the cavity. Stuff the rice mix into the chicken and place in a roasting tin. Put any remaining stuffing into a porcelain dish and set aside. Make sure you don't overstuff the chicken, there must be at least a 2cm gap between the stuffing and the top of the cavity of the chicken to allow the heat to penetrate. 
5. Pour the remaining lemon juice over the chicken and sprinkle with salt. Spread the remaining butter over the breast. Roast for 60-90 minutes, or until cooked through. You can always check your chicken with a meat thermometer — just insert it at the thickest part and make sure it reaches 75°C.
6. Meanwhile, peel and slice the squash into 1.5 cm slices. Coat lightly with olive oil, and toss with onion, spices, salt and pepper and chilli. Roast for 40 minutes until soft and caramelised at the edges. Serve sprinkled with the watercress and pomegranate.
7. Serve the squash with the chicken and juice from the pan.
Leek & taleggio galette with herbed spelt pastry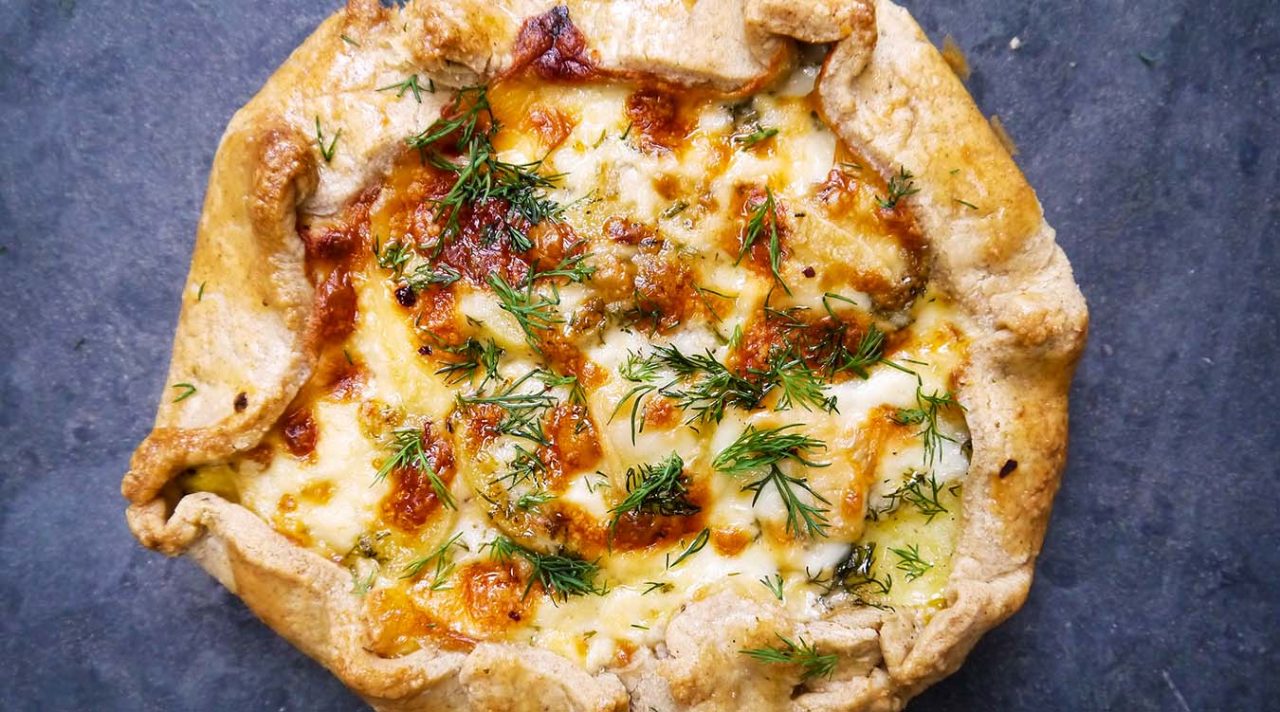 If melted cheese makes your heart sing, this veggie main course is for you. Great for any celebratory dinner, it goes really well alongside the squash salad above.
Ingredients (Serves 6) 
For pastry:
250g spelt flour

125g unsalted butter

Pinch salt

1tsp chopped rosemary

2 tbsp water
For the filling: 
2 medium leeks

Olive oil

Salt & pepper

6tbsp double cream

6 new potatoes

1 clove garlic

200g Taleggio cheese or goats cheese log

30g dill, chopped

1 egg, mixed

Sour cream to serve.
Method (Prep time: 45 mins. Cooking time: 30 mins)
1. Add the flour, salt and butter in a food processor and blend until it looks like breadcrumbs. Add the rosemary and pulse. Then pour in cold water until the dough comes together. Roll into a ball and refrigerate.
2. Preheat the oven to 200°C.
3. Cut the leeks lengthways and finely slice across the grain. Heat a pan with 1tbsp olive oil, then cook the leeks with a pinch of salt for 10 minutes, or until soft and caramelised. Add the cream, bubble for another couple of minutes and leave to cool. 
4. Finely slice the potatoes and toss with garlic, 1tbsp olive oil, salt and pepper.
5. Cut the pastry into four. Roll one piece into a round shape, until 0.5 cm thick and spread the leek mixture over the bottom, leaving an inch around the edge of the pastry. Top with one layer of potato slices and sprinkle with dill. Then top with the Taleggio cheese or goats cheese, and season well. Fold up the edges of the pastry to partly cover the filling. 
6. Repeat with the remaining 3 pieces of pastry, then brush the pastry with egg and bake for around half an hour, until golden. Sprinkle with olive oil and dill, and serve with sour cream.
Rosemary & almond crispbread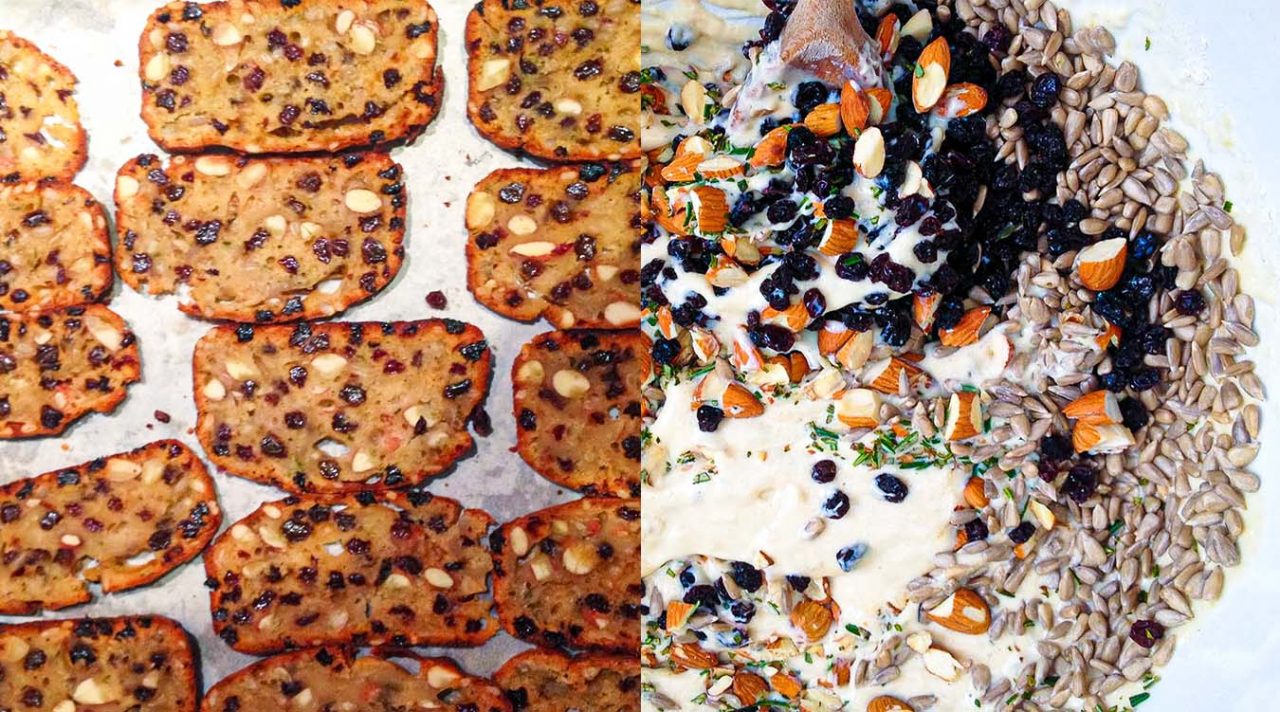 Topped with blue cheese and sliced pear, these little crispbreads are incredibly moreish. Whether you're looking for the perfect Christmas party canapé or home-made present (wrapped in cellophane and tied with ribbon), they always go down a treat. 
I use almonds, currants and sunflower seeds, but you can use any combination of fruit and nuts you like. Pecan, pumpkin seed and cranberry or chopped dried figs and hazelnuts would be a great substitute too. 
Ingredients (Makes about 20 crispbreads) 
300g plain flour (can also use 50/50 plain/wholemeal)

2 tsp bicarbonate of soda

½ tsp salt

500 ml buttermilk

2 tsp brown sugar

2 tsp honey

200g currants

200g skin on almonds (chopped)

50g sunflower seeds

1 1/2 tbsp chopped fresh rosemary

3 tbsp extra virgin olive oil
Method (Prep time: 20 mins. Cooking time: 65 mins)
1. Preheat the oven to 180°C.
2. Sift the flour, bicarbonate of soda and salt into a large bowl. 
3. Add the buttermilk, sugar, honey, olive oil and mix until combined. Then stir through the dried fruit, nuts and rosemary until evenly distributed. 
4. Pour the batter into two lined and greased bread tins (the wider the tin, the thinner the biscuits will be). Bake for around 40 minutes, or until golden and springy to the touch. Then leave to cool on a wire rack. Once cool, slice the loaves as thinly as possible.
5. Reduce the oven temperature to 150°C. Lay out the slices on a baking tray and bake for another 15 minutes. Turn the slices over and bake for a further 10 minutes, or until crisp and browned. 
Healthier Mince Pies with Orange Rye Pastry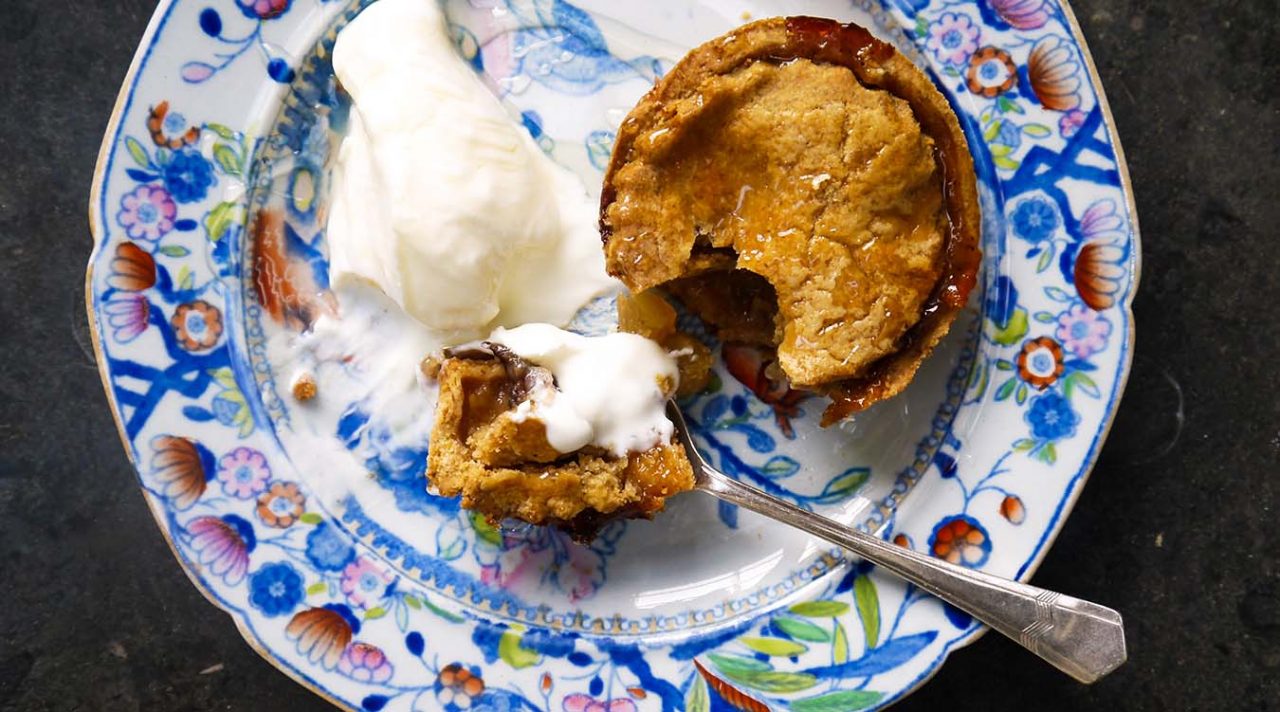 I prefer a mince pie with more buttery pastry than most. So, I came up with this shortbread pastry made with rye flour, to add a nutty flavour.
You can fill it with anything you like, but in this instance I've used spiced apples (which are lower in sugar), but you could always substitute with good quality mincemeat.
Ingredients (Makes 1 tray of mince pies) 
For the pastry:
100g rye flour 

100g plain flour

100g butter

50g unrefined sugar 

2 egg yolks

Zest of one unwaxed orange
For the filling:
2 eating apples

2 Bramley apples

25g currants

1 tbsp honey

1 tsp mixed spice

Zest and juice of 1 orange
Method (Prep time: 45 mins. Cooking time: 20 mins)
1. Rub the butter into the flour until it resembles breadcrumbs. Then, stir in the sugar and orange zest, add egg yolks and knead lightly until it comes together. If it's still dry, add a splash of cold water. Wrap in cling film and chill in the fridge for 30 minutes.
2. Meanwhile, peel and chop the apples into small cubes, cook in a small pan with the remaining ingredients for about 15 mins, or until soft. Make sure there is no excess liquid in the pan. If there is, drain it out with a sieve. Then leave to cool.

3. Preheat the oven to 200°C.
4. Roll out the pastry and cut into circles that are just wider than the cupcake tin holes. Line the tin with the rounds, then spoon in the apple filling. With the remaining pastry, cut out stars or rounds to top the mini pies.
5. Beat an egg and brush the top of each pie with it. Cut a small hole in the top of each pie and bake for 20 minutes, or until golden. Leave to cool for 5 minutes and then remove from the tin. 
6. Serve with a blob of greek yoghurt.
If you try and like these recipes, share your plates with me on Instagram and via the Fiit community. I'd love to know how you get on! If you want more, check out these three healthy salads you can make all year round.
Share article