Welcome to week 2 of Real Strength!
If you're into strength training, you've no doubt heard about macros (short for macronutrients) and meal timings in relation to building muscle. If you're confused about this area then stick here and we'll talk you through. Let's start with the basics…
Carbs
Carbs are the body's number one fuel and are stored in the body as glycogen. If you don't have enough glycogen stored for when the body needs it, the body can start to break down muscle to use as energy. This is why carbs are essential in strength training.
There are different types of carbs: sugars, starches and fibre. Both sugars and starches are used as described above, but fibre is not. There are two forms of fibre: soluble and insoluble. Soluble fibre helps to create healthy gut bacteria and insoluble fibre plays a really important role in digestion. 
We want to be focusing on the fibre and starches (more complex carbohydrates) rather than the sugars. The fibre and starches will provide more sustained energy, they're richer in micronutrients and will help to support your gut.
Fats
You probably know that there are different types of fats: unsaturated and saturated fats being just two of them.
Unsaturated fats are needed to absorb and store vitamins A, D, E and K. They're also really important for a healthy gut, heart, hormone function and skin, and energy levels too. Fish, nuts, seeds, eggs and unrefined oils are good sources. 
So what's the deal with the saturated fats? We used to think that saturated fat raised cholesterol which caused heart disease. But it's not quite that simple. There are two main types of cholesterol (or two we really need to know about): HDL (aka good cholesterol) and LDL (aka bad cholesterol). HDL lowers LDL. Still with us? So saturated fats raise cholesterol but because they raise both the good and the bad this isn't to say they're all bad. We know that high levels of LDL aren't great for our risk of heart disease but high levels of HDL can be protective.
So where does this leave us? Basically neither unsaturated or saturated fats should be feared.
Saturated fats are important for providing us with energy, our immune health and help absorb fat soluble nutrients (vitamins A, D, E and K). We advise consuming in moderation. An average person should consume between 60-70g of fat per day (with no more than 20-30g coming from saturated fats). Whole food sources are best e.g. eggs, avocados, coconut, fish and poultry, good quality oils, nut and seed butters, high quality dairy and small amounts of high quality red meat.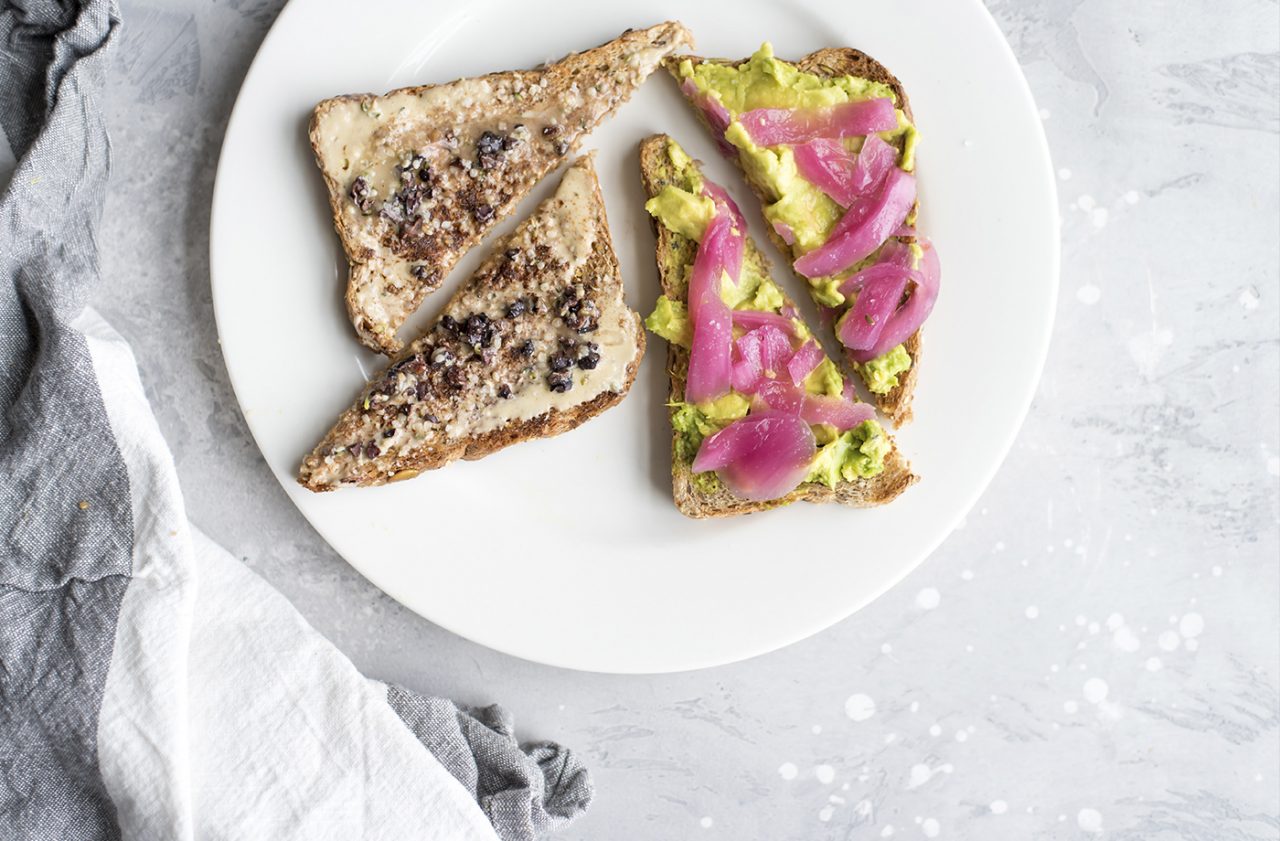 Proteins
Proteins are super important. We need them for our immune system, cell health and repair, and for most reactions in the body. Without them our skin, hair, nails, muscles, tissues and organs wouldn't function properly. There are 20 types of amino acids (these are the building blocks of protein). 9 of these are essential, and we need to get them from our diet. An easy way to do this is mix up your protein sources. Think animal sources (meat, fish, eggs and dairy) and plant sources (nuts, seeds, beans, peas, legumes and soy products).
It can be confusing knowing exactly how much protein you need but if you're on the Real Strength plan, try aiming for 1.2-1.5g protein per kg body weight.  So a 70kg person would need around 84-105g a day.
When to eat
You should always eat at least an hour before working out to allow enough time for digestion. Think about fuelling up on complex carbs and protein before a workout — try peanut butter or smashed banana on rye toast, or porridge with almond butter. 
After your sweat sesh you can pack in the proteins. We recommend a salmon and soya bean salad or a feta and tomato omelette.
Don't get hung up on myths such as 'no carbs after 6pm'. When it comes to meal timings try spacing them out evenly throughout the day and allow yourself some time to digest in the evening before you hit the hay. If you're home late, go for something lighter like the salmon and soya bean salad or the feta and tomato omelette as these can be digested more easily than a heavier meal.
Let us know how you get on in the Facebook group and feel free to share your own recipes there too!
Share article