We have BIG news team. Olympic weightlifter Chloe Whylie AKA Whylie has joined the squad — and we are so excited for you to try her legendary workouts!
With the Commonwealth Games just around the corner, Whylie took a break from her busy schedule to give us a sneak peek into her training routine, fave moves and the mantra that builds elite athletes.
You're in for a treat.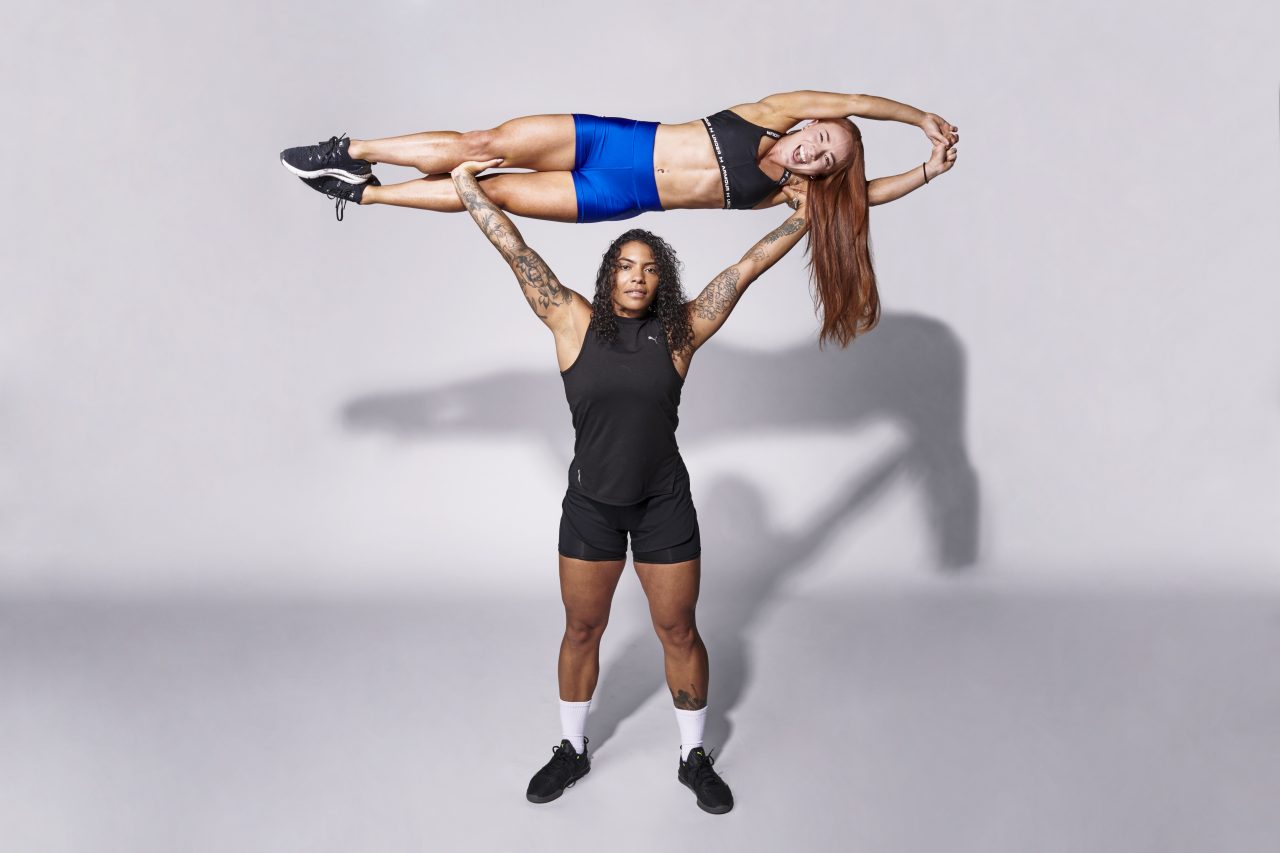 So Whylie, tell us about your fitness journey and how you got into lifting.
My fitness journey started young — I played football from the age of four with my older cousins and brothers, and at nine I took up mixed martial arts, which included boxing, kung fu and kickboxing. Then from 11 to 18 I did track and field and I was a competitive sprinter for South West England.
I've been a coach and personal trainer for over ten years, and about five years ago I started bodybuilding training and kinda fell into lifting. I became an elite powerlifter and competed in the European championships, but I always wanted to be an Olympic lifter. But first, I had to get over the fear that I wouldn't be good at it!
What does a typical training session look like for you?
Right now I'm prepping for the Commonwealth Games. So I'm focused on lifts; snatching, cleaning and jerks. In a separate session I'll work on strength and conditioning for all round fitness and stability for those lifts — to ensure I'm moving safely and staying injury free. That includes things like reverse lunges, curtsy lunges and rounds of abs work. It's so important to work the body as a whole.
Any fave moves? Or exercises you love to hate?
Ha! Well it depends on what day of the week and how I'm feeling! I have a love hate relationship with split squats and lunges — they get to my quads so quickly and burn. But at the same time I love it as I know I'm isolating and working those muscles. We have to do them and make sure we're challenging ourselves!
My ultimate fave move is the squat — it works everything! It's not just legs but upper body too. It's great for strengthening and when you can do it correctly, you can move a lot of weight.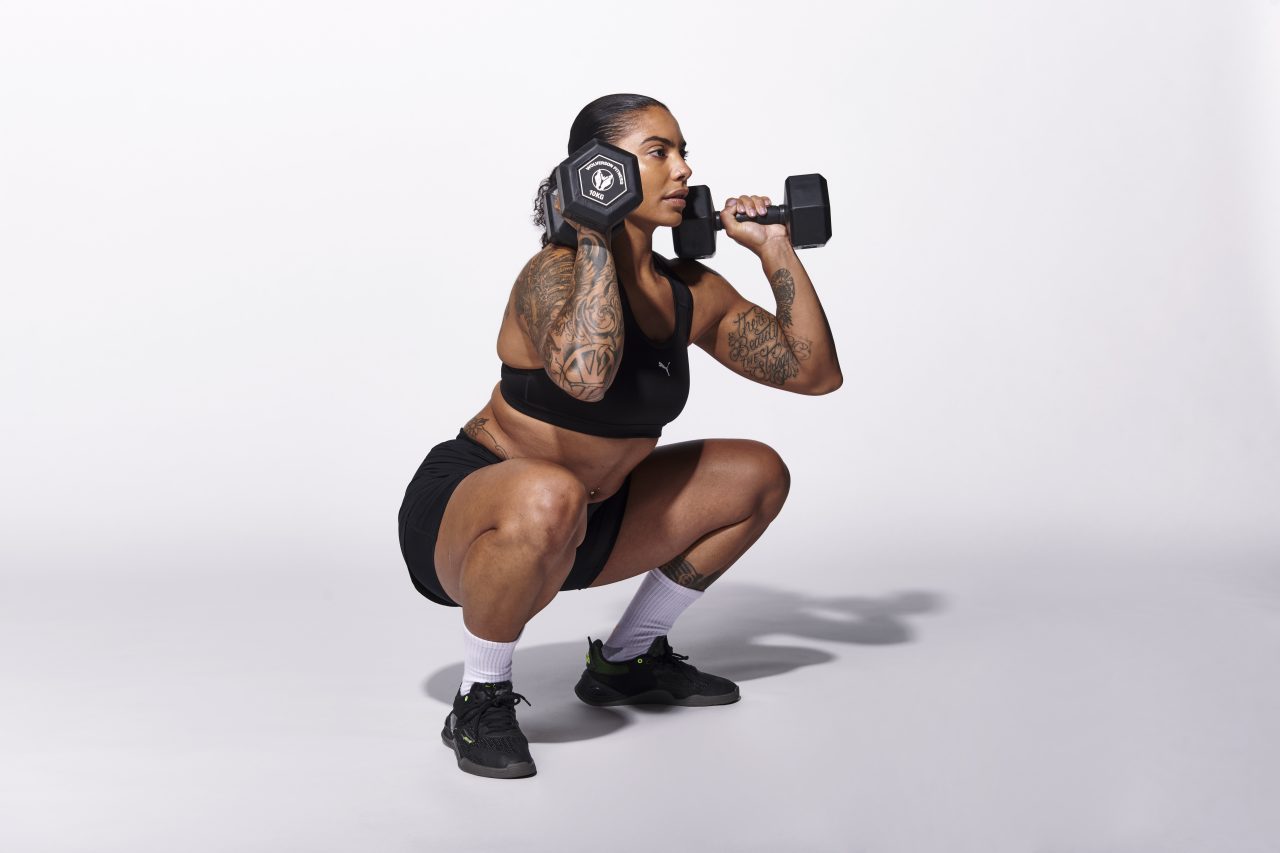 What motivates you?
I get asked this one a lot! I always say motivation is a moment — so you can't rely on motivation. I made a choice and a commitment. 
I made a choice to be an athlete and I made a commitment to go as far as I can with it. 
You have to embed routine and you have to be consistent. That's what's going to get you results. I stay consistent and that's how I got here. 
What challenges have you faced and how did you overcome them?
My biggest challenge so far was definitely having two serious injuries back to back. I broke my hand and wrist then eight weeks later lost the use of my left leg when my S1 nerve shut down. I had drop foot for 18 months.
I had to come to terms that I wasn't able to be the athlete I was before at that time. But I'm stubborn and didn't give up, even though I was advised to retire. I had to keep moving, doing my rehab and doing the work. I had to keep my commitment — and I believed I could achieve what I set out to.
I learned the power of meditation and healing. I'm a huge advocate of meditation. It's not just sitting in a room humming — it's breathwork, it's writing or whatever helps you understand what's going on within. 
Do you have a mantra?
Yes I do! I'm strong, abundant and worthy. 
I say these words as I'm walking to the bar to lift. I say them when I'm feeling nervous. They tell me I'm strong not just physically but emotionally. Abundance is about being full of love, and I can achieve anything I want because I'm abundant. And worthy… I'm worth the challenge I'm facing. I'm worth the end result.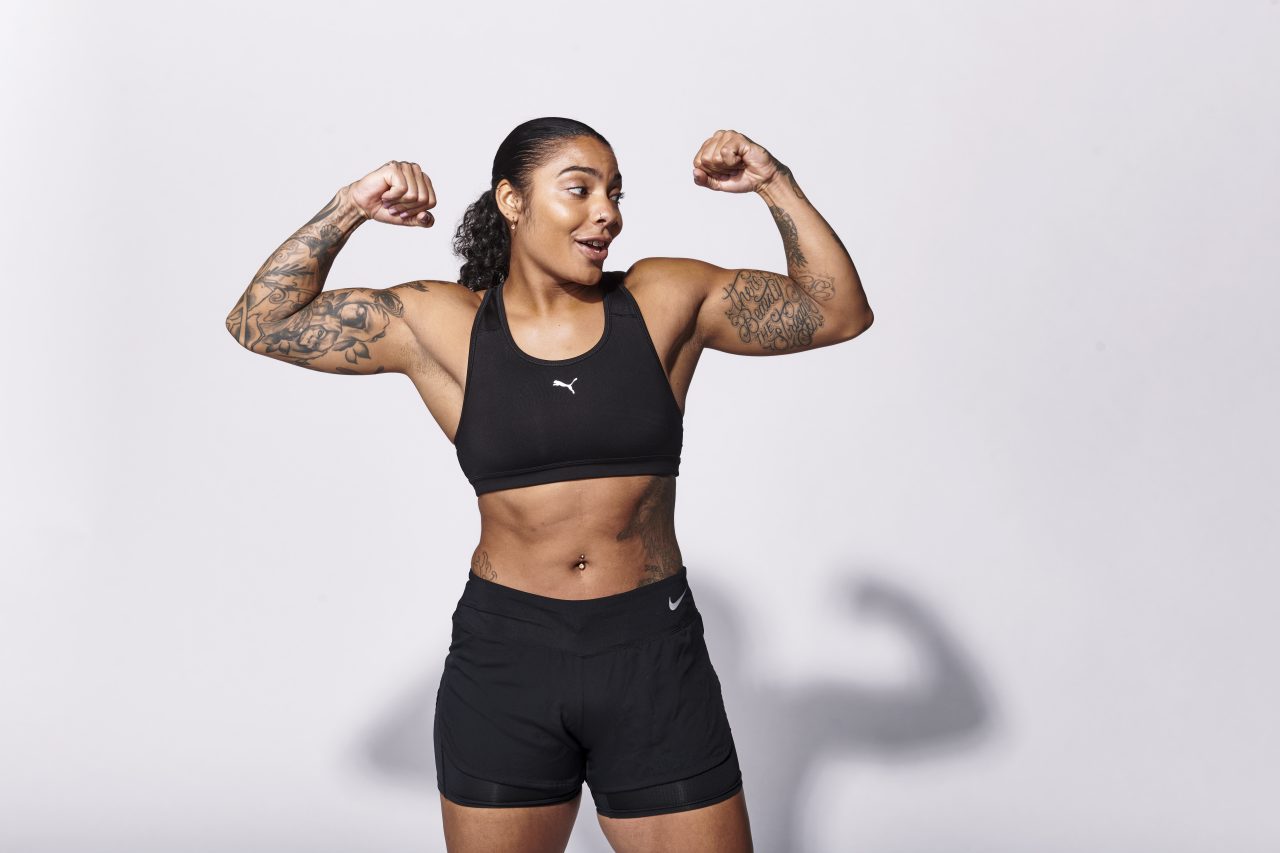 What's your proudest moment so far?
Competing for Team Jamaica. It's an absolute dream come true, an honour, a legacy — it's everything! I speak a lot about Black British history and how it's impacted me and the second generation of the Black community in Britain. The fact that I get to represent my motherland is everything. 
I'm representing Jamaica at the Commonwealth Games in August and then in December at the World Championships. It means everything to wear the kit with pride and execute everything I said I would do. I want to make my Jamaican and Caribbean community proud, and the Black British community proud. Knowing I have all of these amazing people behind me makes it so much more worth it.
It's a feeling I can't describe — just turning up every day and knowing I'm living my ultimate dream.
You're also a spoken word artist — can you tell us a bit more about that?
I come from a theatre background, I've worked for National Youth Theatre and RSC, and I've been doing spoken word for many, many moons! I put it to the side for a while but it re-entered my life when I was injured and again during the pandemic. Everything has unfolded again and it's super exciting!
I'm working with a production company on a visual album, which you should see in the next few months. Spoken word is a lot about the other side of me and the storyteller that's in me. 
So, what can we expect from your workouts on Fiit?
A lot of burpees – ha, joking! You'll get a lot more than burpees. Expect lots of technical cues. I've been coaching for over 10 year and am a specialist in strength and conditioning work. As a professional lifter, it's all about moving correctly. 
I've got dumbbell and AirBike workouts for you — and will show you how you can get stronger and work on endurance at the same time.
Most of all, you'll be coached by an elite athlete on how to lift. So if there are any moves you're not understanding, it's alright – I got you! We'll move together and progress together.
Whylie's workouts are available in the app now. Not on Fiit? Download and start your free trial today.

Share article