Go hard or go home? There is a better way.
Our Mindful Flow series, led by our zen master Richie Norton, is made up of 25 minute classes. Richie will teach you to control your breathing in tune with your movement, discover the power of the mind-body connection and find your flow – something that's often neglected when exercising.
"The benefits for all abilities are huge," says Richie. "Slowing the pace of the practice means you can tune into your body's natural feedback when moving and start exploring the playful element of 'free flow'."
"Not only is this powerful on a physical level, but these classes will help you emotionally and mentally unwind so you can decompress, declutter and de-stress your mind."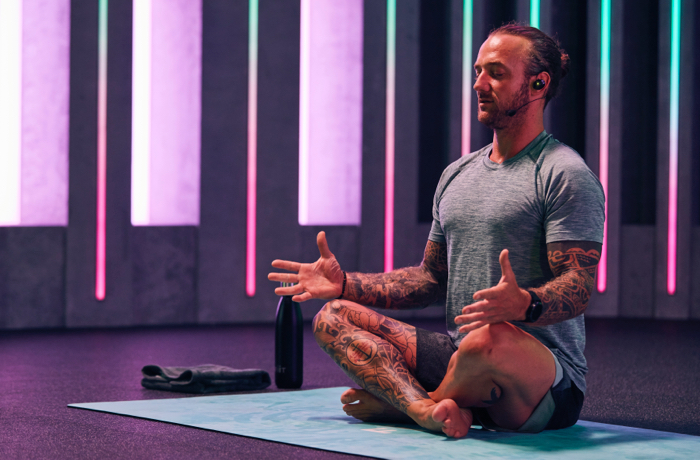 The Mindful Flow Series: what to expect
You'll notice these classes start slow, giving your mind and body time to relax and rebalance.
"From the beginning we slow the pace down to help you tune into your breathing rhythm and tempo," explains Richie.
"This trains you to focus on the mindful element of your movement and harness the power of your breath. It helps unlock deeper ranges of mobility and flexibility while harnessing improved strength and stability.
"Just remember to be patient. Build up slowly and let it happen."
Unlock your full potential
These classes will help you achieve a healthy, happy mind and body, free from pain and stress – something we believe is as important as developing unbridled strength and stamina.
And the skills you learn will help you better tune into your movement and breathing in our Strength and Cardio studios, as well as in your everyday life.
As a result you'll improve your range of motion, reduce your risk of injury, become more aware of your posture and learn how to unlock your body's full potential.
Go with the flow
Try the classes today. Go slow, let your breath set the pace and reap the rejuvenating rewards.
Share article