If you do one thing for your mental wellbeing over the next few weeks, let it be this.
Fearne Cotton. Richie Norton. 1 training plan. 12 Feel Good flows. 
We've brought in the big guns to create a four-week yoga plan designed to calm the mind, reduce anxiety, improve your sleep and promote recovery post-workout. Whether you're new to the practice or a dedicated zen master, this all levels plan will take you through the foundations of yoga — and leave you feeling good after every single class. 
Come play with Fearne and Richie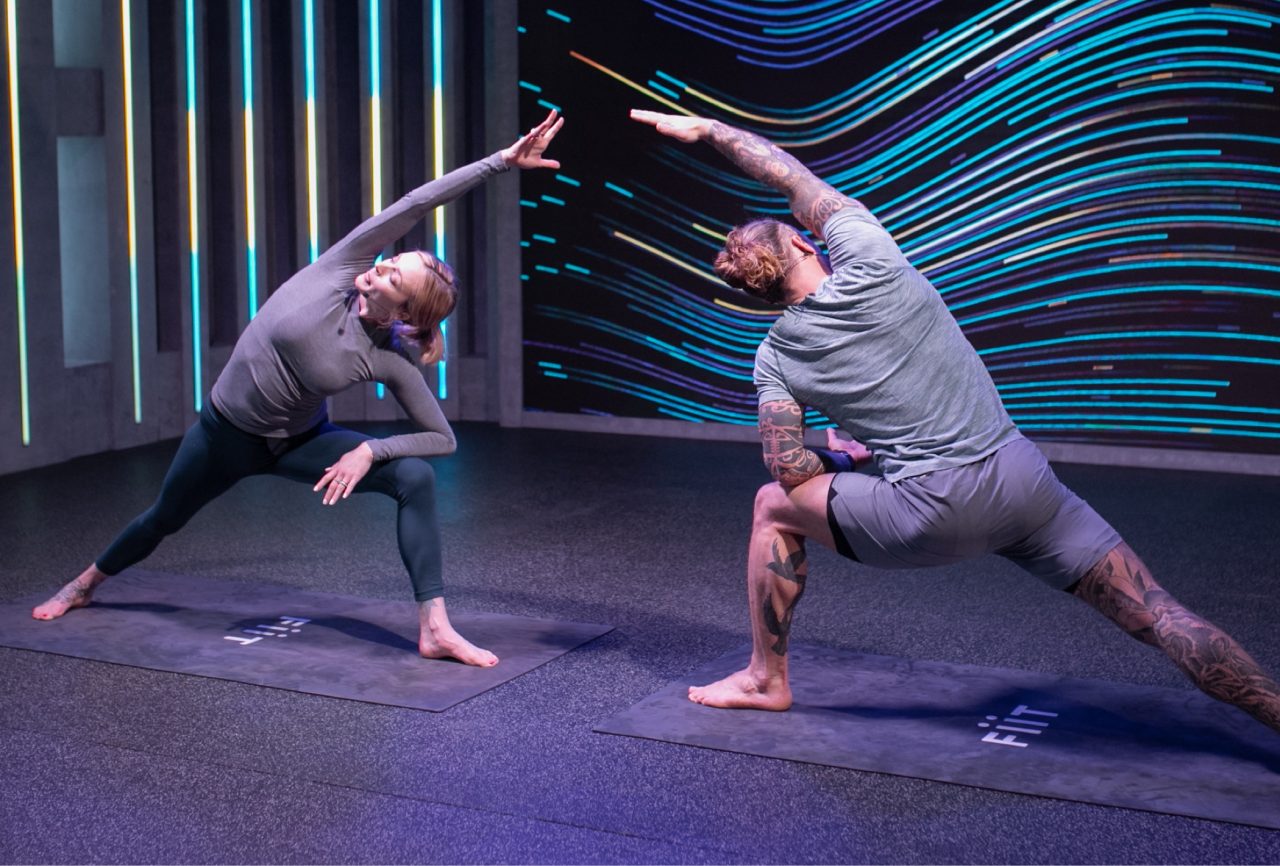 After a busy day filming in the Fiit studio, we caught up with Fearne and Richie to find out more about the Feel Good flows and why you need them in your life right now.
Why did you create this plan?
Richie: We wanted to make something for everyone. A plan that lifts your vibe and helps you reset mentally. Something that works on your mobility, your flexibility and your strength. 
Fearne: I get asked a lot about what the best way to get into yoga is. So I wanted to create a plan that eases you in but also speaks to anyone who's done yoga for a long time. I mean it's always good to go back and learn the proper moves and get in touch with how they feel. 
What's the most exciting thing about it?
Fearne: For me, it's getting new people to try yoga and showing them how to fall in love with it. Because it can be instant, but sometimes it takes a while. So I think this series will get you to understand what yoga feels like and how it can benefit you physically and mentally. 
Richie: Yeah, this plan will be a nice refresher. For a yogi that's already into the practice, this will let them mix it up with new movement patterns, take on challenging postures and switch off from the outside world. No matter where you're coming from, the more you practice it, the more you're going to find your rhythm within it. 
Are you hoping to bring more men onto the mat?
Richie: There's definitely a big focus on men. As an ex-rugby player, yoga was never on my radar. But now I see it as so much more than just a practice. It's a chance to work on my headspace, and switch off from having a really busy monkey-mind. I mean, guys need this just as much as girls. And there's loads of parts in the plan that help with stretching and mobilisation which will improve your overall training, so you can prepare for a workout and recover afterwards.
Fearne: Yeah, and if you've not done yoga before, it can look quite scary or unattainable. So this plan is definitely one you can start with.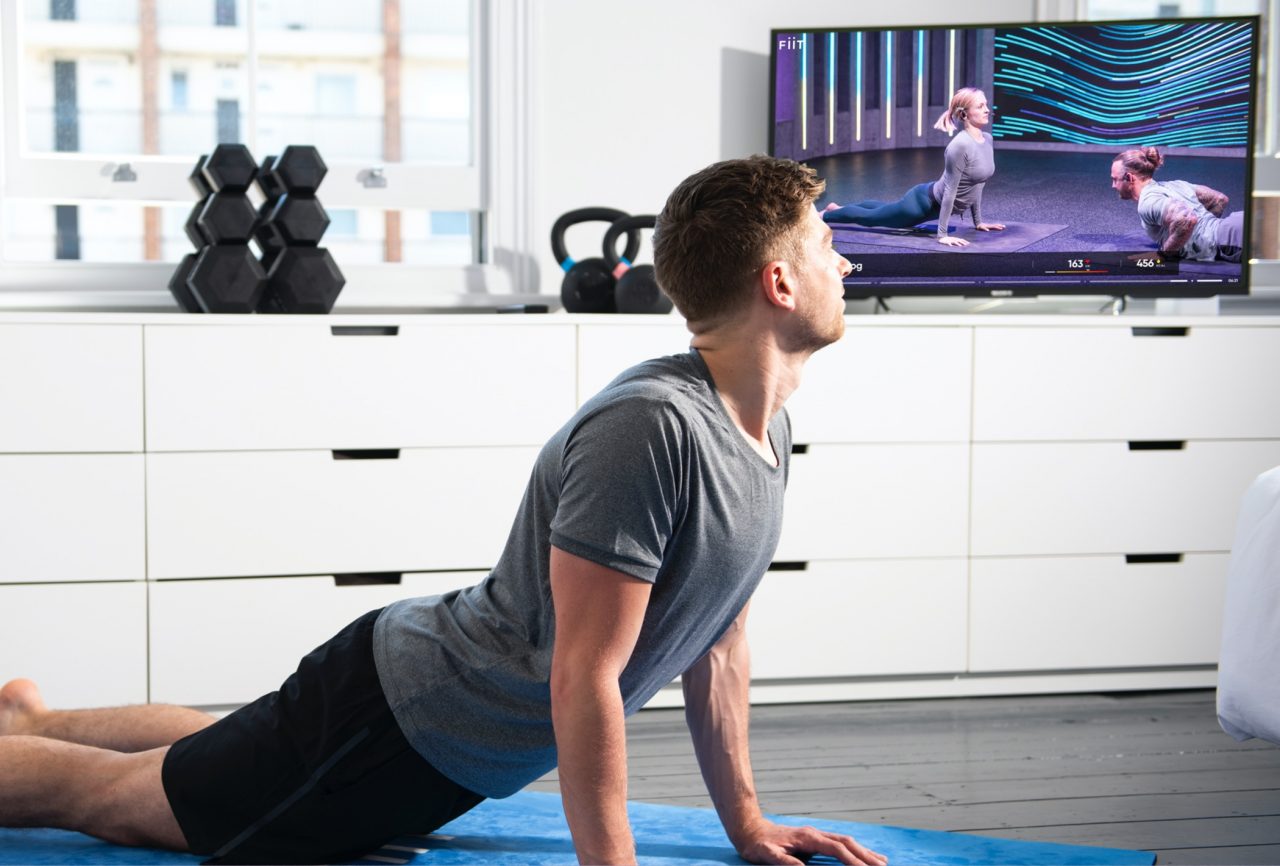 So you don't have to be a yoga lover to start it?
Fearne: You do not have to be a yoga lover to start it. We will make you love yoga!
Richie: Yeah, it took me five years of trying various yoga classes to eventually find a teacher I connected with — and he broke it down for me. Just like we've broken it down in Feel Good with Fearne. So everyone can focus on the body parts they want to work on, and start to find their own personal flow. 
Fearne: Don't give up. Don't think 'Oh, that's not for me'. Do stick with the plan, and go back and do the same classes, because that's how you start to really get it. Like Richie, it took me a while to get it. I was very much into the gym, and that first year of trying it, I could see how it could be brilliant but I wasn't feeling it. And now I feel it. I feel every bit and it's so nice.
What are the mental benefits for you?
Fearne: The mental benefits of yoga are endless. As soon as you're sat on your mat, you're already giving yourself the time and space to explore things that are going on for you or to just leave them for a bit and have a break. So it is just about finding clarity and also doing something nice for yourself in a busy world. And you know, it's all about breathing — we underestimate the power of breathwork and how just breathing properly can help you in a physiological sense but also in a cerebral sense.
Richie: The mental benefits were definitely one of the things that shifted my interest and made me go deeper into my own freestyle practice. 
You've curated your own playlist. What will we be flowing to?
Fearne: The music has got to be calm. I don't want to hear hectic anything when I do yoga. At all. You just want it to be peaceful, and you want it to align with what you're doing physically. So anything that makes you feel like you're in a Tibetan lodge somewhere, or a beautiful forest. Anything that helps you relax into that space is good.
Richie: The music is cool because it helps you unwind as you start. And then we lift the tempo a bit and take you on a journey and you might get lost in the music (which actually helps take your mind away from the trickier poses) and then we wind it down at the end so you can tune out and enjoy your down time.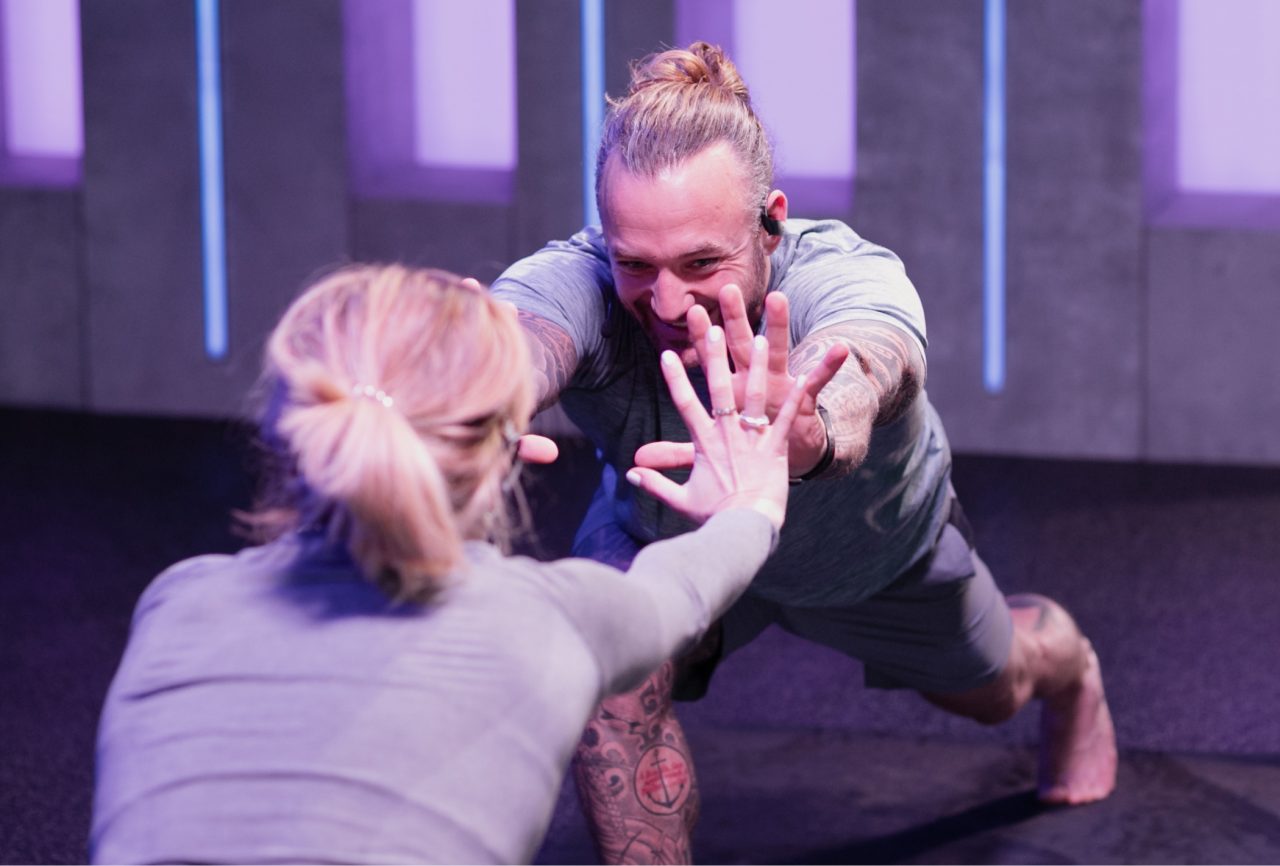 Fearne how long have you been practising with Richie? 
Fearne: So I was actually introduced to Richie by my husband, who is Richie's number one fan. I'm not exaggerating. He only does Richie's classes on the Fiit app. If you looked at his Profile it would just say '100% yoga with Richie Norton'. 
So I started doing Richie's classes on Fiit with Jesse, which we both just loved. It's been beautiful doing this training plan and just really getting to grips with those basic moves that I sometimes take for granted. And not being so strict and structured. That's what I like about how Richie teaches. When I'm in a certain position, he encourages me to find different spaces within it. So that's definitely within this plan.
You're actually a bit of a Fiit power user now. How many classes are you on?
Fearne: I've done 264, thank you! I mean that's across the year but it's still quite good. Fiit has definitely been a game-changer for me and my husband. Before getting the app I would try and get to a class or try and make time to go for a run. And more often than not, especially with kids and a very strange work schedule which my husband also has (neither of us have set times or days), it can be a bit stressful. Whereas now I just get it done. There's no travelling anywhere. I just do it. Put a sports bra on. Mat. Go. 
What are your go to classes?
Fearne: Anything. I love just picking a class and being quite leisurely about it, and also picking the class that's right for me that day. Because some days you do have low energy and there's nothing wrong with that. You want to do a really slow paced, nice, chilled out yoga class and other days you might have drunk a lot of coffee and be really up for it. So you do a really hardcore cardio class. So I love that there's that choice and it's very instant. That for me is ideal.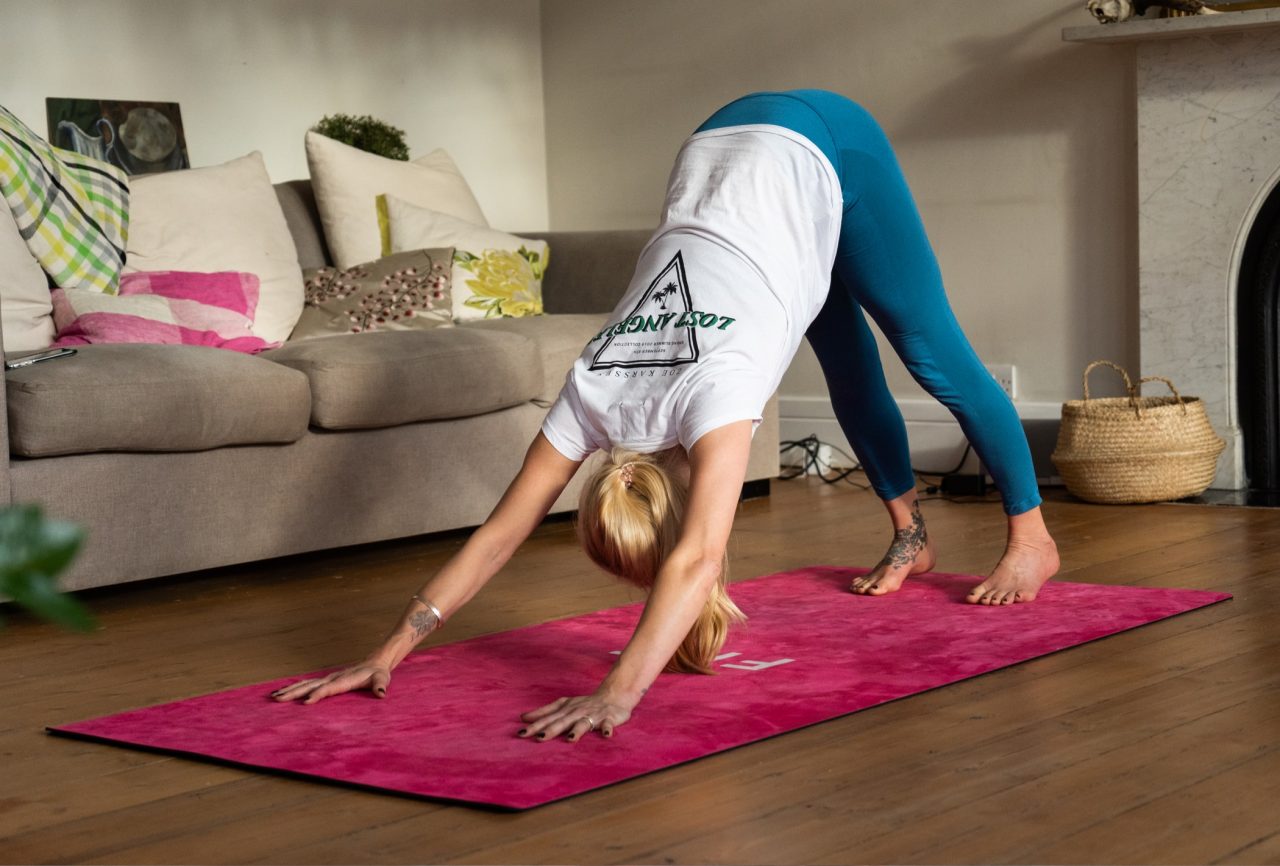 Okay, back to yoga! What's your favourite pose?
Richie: Personally, I like the poses that really challenge me. Because I like getting a bit of a shake on. But also ones that really help open up my hips and body, like crescent lunges and warrior variations. They make you feel really powerful. I also love plank variations where you crunch your knee into your elbow and really have to engage your core. They're my favourite.
Fearne: I do love a pigeon — which you all will see in this plan. Pigeon is always good, especially if you run or walk or do any exercise really. It just gets all these muscles that you find really hard to stretch. But if I'm feeling really strong, I love bird of paradise. I like getting into the pose, I like the discipline of having to balance moving into it. It's great.
Richie: And when you've done this plan, you'll have built the foundations to go onto harder poses — like bird of paradise. So maybe that's the future.
Any advice for anyone who's thinking of starting the Feel Good flows?
Fearne: Try it! Just try it. If you've never done yoga before, don't be put off. Don't think you have to come in and start ohming and feeling instantly peaceful. Sometimes I find a class really tough and I feel the benefits later that day. So just give yourself the time to try it, and if you don't feel amazing or 'blissed out' after the first class, do keep coming back and trying it because you will 100% get there. 
Richie: I always want to say, have fun! Get in some play time. Try not to get so caught up in the shapes you have to make. Instead just focus on the feeling you get while you're practising them, and that's going to change from day to day. Sometimes you'll get that feeling of release, where you get to check in on yourself. Other times it really is just about being more playful, being less intense and serious, and just going through the motions to find your own rhythm. 
Want to switch off from the chaos? Then come play with Fearne and Richie, and learn something new.

Share article