Want to take your cooking to the next level? We've enlisted the help of veg-centric rad.ish, to teach you a thing or two about expert flavour combinations — so you can turn even the simplest ingredients into restaurant-quality home comforts.
From peanut noodles to tomato flatbreads, these recipes are simple and delicious. Indulgent yet healthy(ish). Quick to make and easy to store. So let's get cooking.
Peanut noodles with ginger chicken and chilli crisp
A summer classic, noodle salad meets satay chicken on a plate. The chilli crisp drizzled on top is optional, but worth doing. If you make extra, keep it in a jam jar and use it as a topper on everything from eggs to rice. 
If you're vegan, simply skip the chicken or replace it with grilled tofu.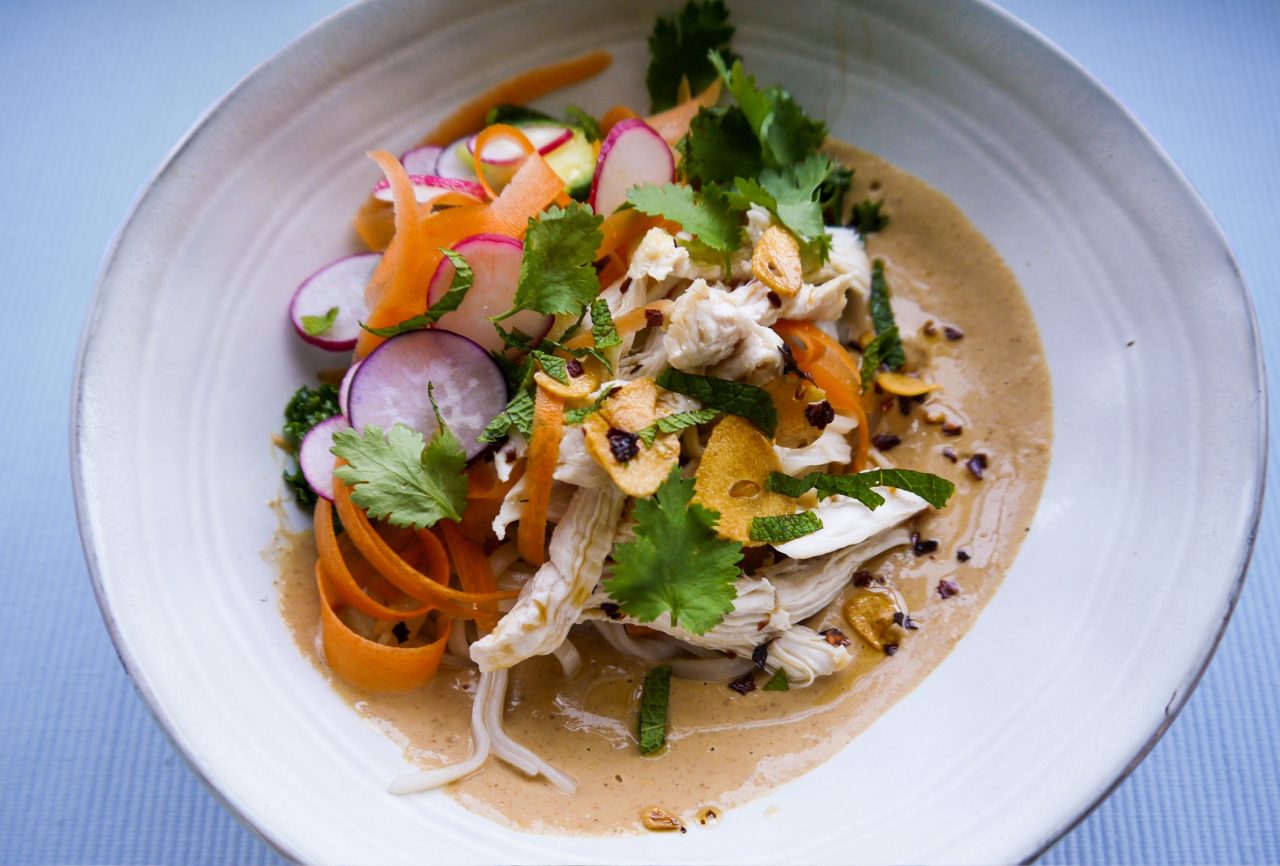 Ingredients (serves 4)
For the peanut sauce
250g peanut butter (the runnier the better, such as Pip & Nut)

¼ – ½  fresh chilli 

Small clove garlic (crushed)

Juice of 2 limes

2 tbsp soy sauce

100ml water

1 tsp sesame oil

1 thumb sized piece ginger (grated)
For the salad
4 carrots

1 cucumber

250g kale

5 radishes

20g soft herbs (like coriander and mint)

225g flat rice noodles 

1 lime

1 tbsp olive oil
For chicken
4 chicken breasts

1 thumb ginger
For chilli crisp (optional)
100ml light olive oil or flavourless oil

2 tsp chilli flakes

3 large garlic cloves
Method (Prep time: 45 minutes. Cooking time: 15 minutes)
1. Pour 1 litre of water into a bowl and mix in 3.5 tbsp fine sea salt. Add your chicken breasts and leave to brine for 30 minutes to 1 hour (or overnight). This will ensure your chicken stays tender.
2. To make the sauce, add all ingredients to a blender and pulse until smooth — or mix by hand in a bowl. If your sauce seizes up, add water until you achieve a smooth consistency.
3. Cook the noodles according to package instructions. Then drizzle a little soy sauce over the top to stop them from sticking.
4. Once brined, add the chicken breasts to a pan and cover with water and sliced ginger. Slowly bring it up to a simmer and cook very gently for 10-15 minutes. Drain and rest for another 10 minutes, before shredding.
5. Prepare the chilli crisp by thinly slicing your garlic. Add it to a pan, along with chilli flakes and a splash of olive oil. Cook on the lowest heat for about 5 minutes until the garlic starts to colour and crisp. Be careful not to take this too far, as overcooked garlic turns bitter. Set aside and leave to cool.
6. Peel your cucumber, deseed it, then slice into thin half moons. Peel and finely slice your carrot (this is easier on a mandoline but you can use a peeler). Then finely slice your radish and chop the kale. Toss this mixture into a bowl with a tablespoon of oil, pinch of salt and lime juice. Massage the kale with your fingers to soften it up. 
7. When you're ready to plate up, put the sauce in a bowl and sit the noodles on top. Add the crunchy veg and chicken, then drizzle over the chilli crisp. Garnish with mint or coriander to finish.
Slow roasted tomato flatbreads 
Homemade flatbreads may sound daunting, but they're actually very simple to make (and so much better than store bought). You need to leave enough time for them to rise, but other than that there's not much work involved.
You can top with anything you like, but this simple combo of slow roast tomatoes, greek yoghurt and za'atar is a winning combination.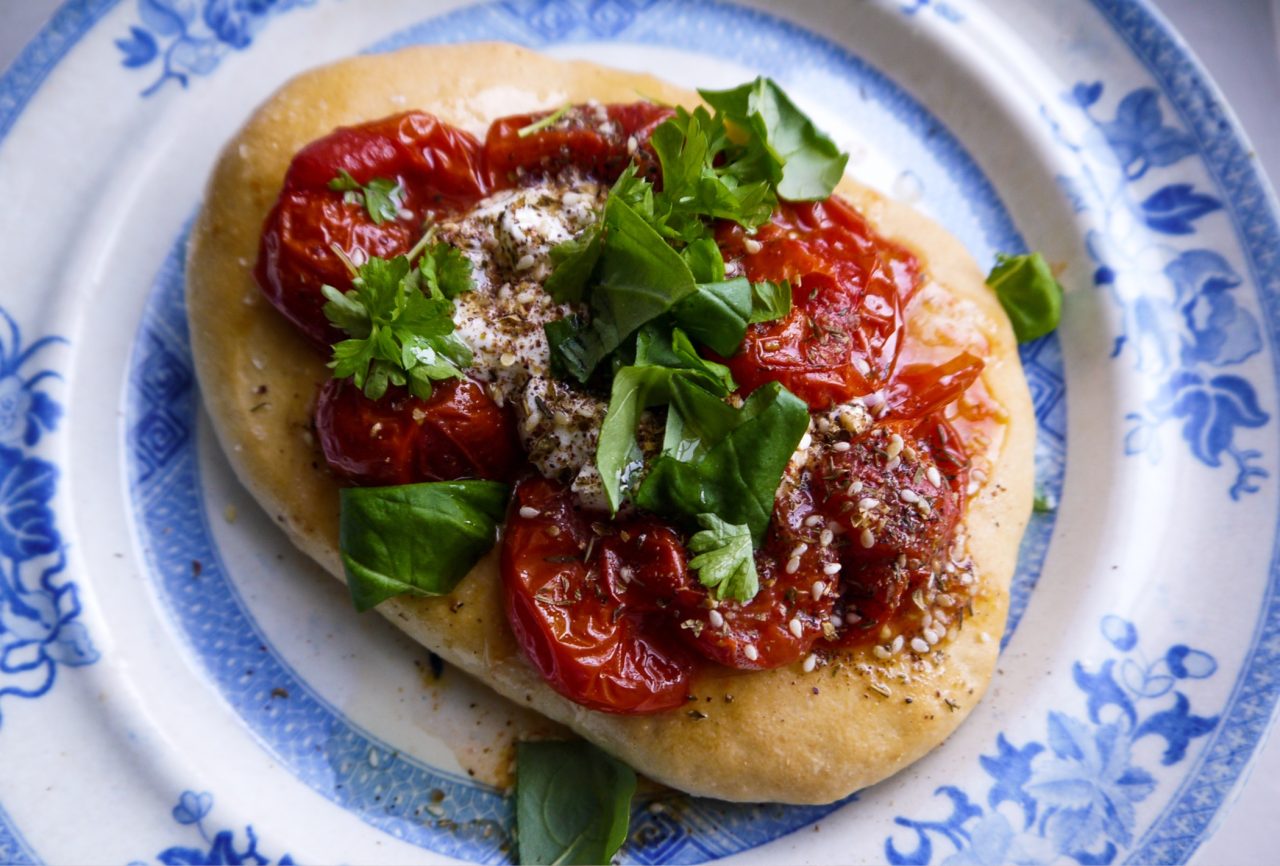 Ingredients (Serves 4)
For the flatbreads:
375g strong white bread flour

7g salt

7g instant yeast

2 tbsp olive oil

200-250ml water 
For the tomatoes:
300g cherry tomatoes 

2 tbsp olive oil

2 cloves of garlic

Salt and pepper
For the toppings
4 tbsp greek yoghurt (or coconut if you're vegan)

Za'atar

Olive oil

Soft herbs (parsley, basil, dill, mint and oregano would work well)
Method (Prep time: 15 minutes. Proving time: 1 hour. Cooking time: 1 hour)
1. Preheat the oven to 160°C.
2. For the dough, mix the flour and salt in a bowl. Then mix in the yeast. 
3. Measure the water and olive oil in a jug (you can use warm water here, but not too warm or it will kill the yeast). Slowly stir the liquid into the bowl until you have a soft dough. It should be a bit sticky, but easy enough to knead.
4. Tip onto a clean surface, with a sprinkle of olive oil, and knead for 5-8 minutes. If your dough is too sticky add flour — but don't overdo it. Moist dough makes for better bread so don't dry it out.
5. Once your dough is smooth and springs back when pressed, put it back in your bowl. Cover it with cling film and leave it to rise somewhere warm for an hour.
6. Meanwhile, bash the whole garlic cloves with the palm of your hand to break them open. Place them and your cherry tomatoes on a baking tray. Toss with olive oil, salt and pepper, then roast in the preheated oven for 1-1.5 hours — until they are soft and caramelised but still juicy. 
7. After an hour take your dough out of the bowl, and divide into 6-8 pieces. Tuck the outside edges into the centre, flip over, and roll out into rough ovals. They should be around ½ cm thick. If they spring back, let them rest for 10 minutes and try again. Place on a lined baking sheet, and leave to rise for 10-15 mins in a warm place.
8. Once the tomatoes are roasted, set them aside and increase the oven temperature to 220°C. 
9. Wait 10-15 minutes, then drizzle the flatbreads with olive oil and a sprinkle of sea salt. Place in the oven for approximately 15 minutes, until golden.
10. Remove from the oven, top with some tomatoes, a spoon of greek yoghurt, sprinkle of za'atar, some torn herbs and drizzle of olive oil. Enjoy them while they're hot!
Peanut butter and chocolate blondies
Get the best of both worlds with this gooey, chewy brownie-cookie combo, with swirls of peanut butter and chocolate running through.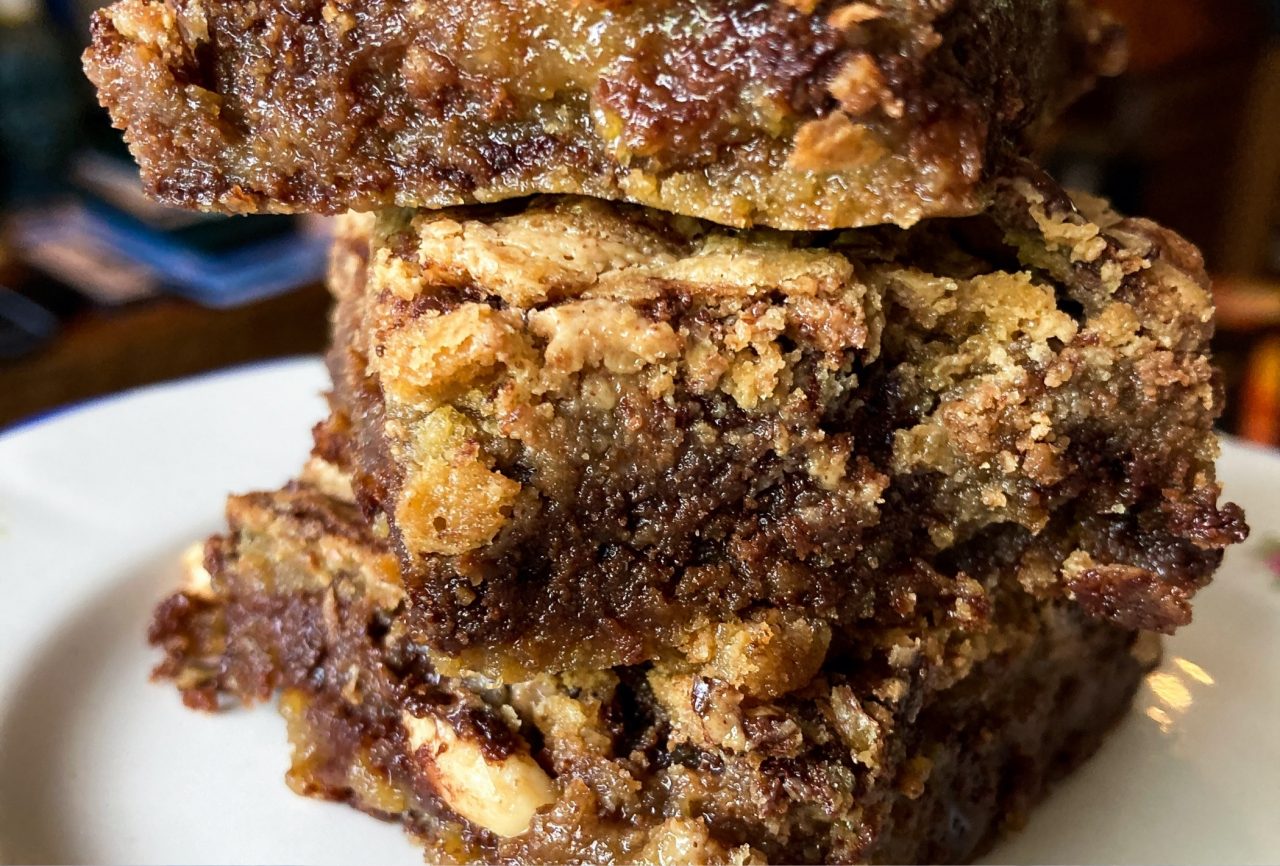 Ingredients (Makes 12)
250g unsalted butter

330g soft brown sugar

120g golden caster sugar

2 eggs

4 egg yolks

4 tsp vanilla essence

½ tsp baking powder

½ tsp fine sea salt

300g plain flour

250g good quality dark chocolate 
For the peanut butter swirls
25g coconut oil (melted)

100g smooth, runny peanut butter (like Pip & Nut)

40g icing sugar

Handful peanuts (optional)

Pinch of flaked salt to sprinkle on top (optional)
Method (Prep time: 30 minutes. Cooking time: 30 minutes)
1. Preheat the oven to 180°C. Warm a 20-25cm baking pan in the oven. 
2. Meanwhile, melt the butter in another pan until it starts to brown and smell nutty. This will take a few minutes. Then leave to cool. 
3. Melt the coconut oil and mix with peanut butter and icing sugar. Set aside.
4. Mix the sugar, cooled butter, eggs and vanilla essence in one bowl. Measure the flour, salt and baking powder, then combine the flour mixture with the rest.
5. Chop your dark chocolate into small pieces, and stir through the blondie mixture. Then remove your hot baking pan, and put a square of greaseproof paper on top. 
6. Pour your blondie mixture into the warm pan (it will melt the chocolate slightly, but that's what you want). Then drizzle spoonfuls of the peanut butter mixture on top of the blondie mixture. Use your spoon to swirl it all together. 
7. Sprinkle a handful of peanuts and flaked sea salt on top.
8. Place in the oven for 30 minutes, until still soft and gooey in the middle. Cool slightly, cut into squares and tuck in.
Strawberry and peanut butter cups
Crunchy, buttery shortbread with a peanut butter filling and homemade jam. There's a reason peanut butter jelly is a classic! If you don't want to make the jam, just use good-quality store bought (but this version uses less sugar and is a bit more tart). 
You'll need a cupcake tip for baking.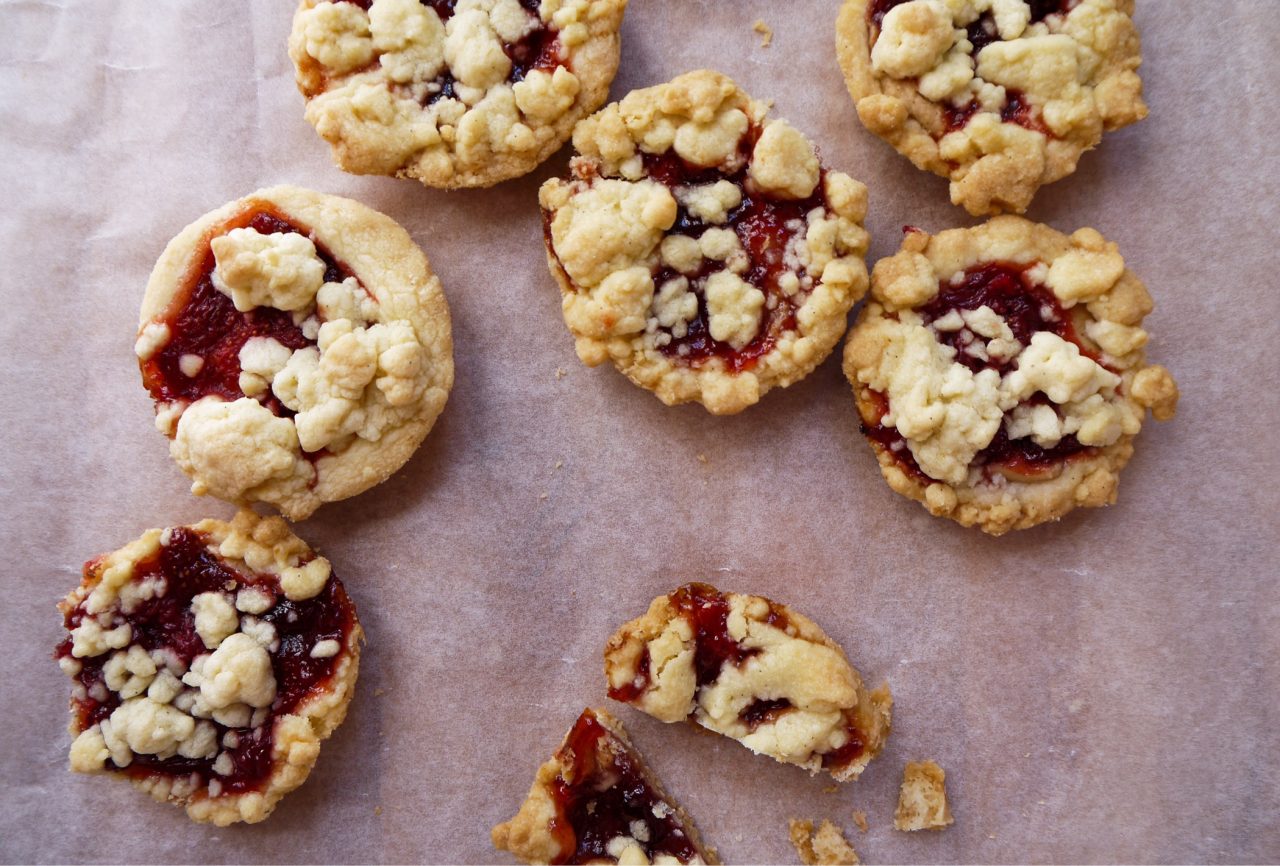 For the jam:
300g strawberries

50g caster sugar

20ml water
For the peanut butter filling:
25g coconut oil

75g peanut butter (we use Pip & Nut)

100g Icing sugar

Pinch fine salt 
For the shortbread:
150g plain flour

100g butter

50g caster sugar

¼ tsp fine salt
Method (Prep time: 30 minutes. Cooking time: 20 minutes)
1. Cut the strawberries into quarters and place in a pan with the sugar and splash of water. Simmer on a low heat for 25 minutes, or until sticky. 
2. Preheat the oven to 180°C.
3. Make the peanut butter filling by melting the coconut oil, mixing into the peanut butter and then sifting in the icing sugar and salt. You should have a smooth, paste-like consistency. If it's too runny, add extra icing sugar.
4. Make the shortbread by creaming the butter and sugar (you can use a blender, an electric whisk or just a wooden spoon). Once fluffy and well-mixed, sift in the flour and salt and gently mix again. 
5. Set ¼ of the mixture aside (to use as crumble topping). 
6. If your cupcake tin is not non-stick, grease it with some butter or a cooking spray. Then, press a walnut sized ball of the shortbread mixture into the base of each cupcake hole. Press down hard to create an indentation in the centre of the base with your thumb. 
7. Fill it with a ball of the peanut butter filling. Then spread a teaspoon of your jam over the top. 
8. Finally, sprinkle some of the crumble topping on top of the jam — and repeat for all the cupcake holes. If you don't have a cupcake tin, you can just use a baking tray (just spread the shortbread over the surface and press some holes over the top to put in the peanut butter).
9. Bake for 20 minutes, rest for 10, then pop them out of each hole. These are best served cool so avoid the temptation of tucking in straight away — trust me, it's worth it.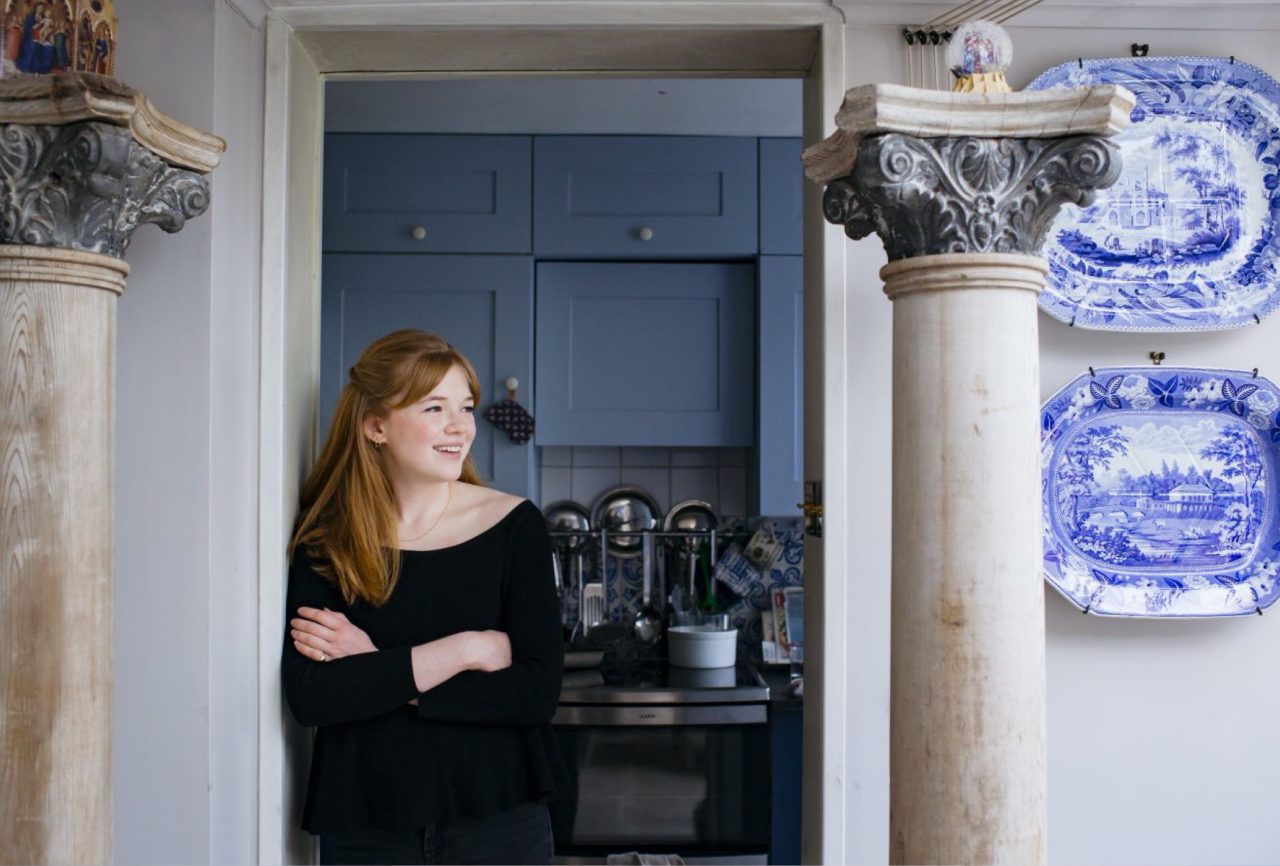 For more rad.ish, check out these simple store cupboard recipes and best pre and post-workout meals.  

Share article