"The most underrated value of a PT is empathy. My classes will always be a judgment-free zone, so you feel empowered and ready to perform at your best from start to finish." — Laura Biceps
Fitness coach, sportswoman, best-selling author and podcast host, Laura 'Biceps' Hoggins has joined the Fiit ranks. A passionate advocate of weight training for women (and supporter of This Girl Can) she's brought her expertise to our Strength studio — and we couldn't be more excited.
Meet the legend who will help you build functional strength so you can lift like a pro and walk like a boss.
Laura, have you always been into sports?
Yes. As a young Laura Biceps, I was very much into every single sport a girl "shouldn't do". Football, basketball, rugby, judo, canoeing (even chess). I loved team sports! I'm an only child, so I wanted to get my energy from the people around me.
I went on to play for Chelsea's under 17's when I got a bit older. It was difficult to find a girls team back then. I had to spend my time training with the lads. But the older you get, the trickier it is. You start becoming more conscious of your gender and that's tough.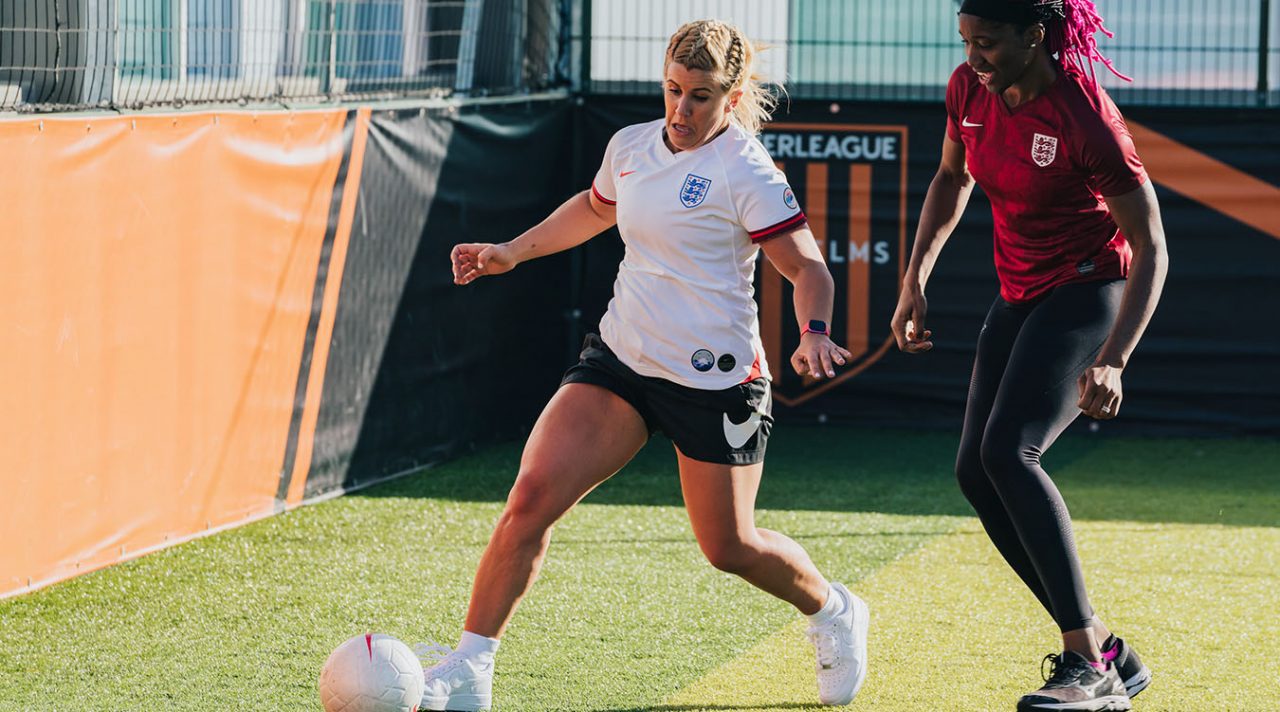 Is that why you didn't start your career in the fitness industry?
Yes, I decided to go to Portsmouth university to study Marketing and Business. I wanted to be a professional footballer but at the time I couldn't find any careers for women in sport. So I got myself a corporate job. 
Where was that?
I worked in the marketing department at Unilever. My first brand was Ben & Jerry's.  
Did you get free samples?
Yeah, I sat next to the freezer.
Great. How did you go from marketing to fitness guru?
I was at Unilever for 5 years and then I took some time out and moved to the Cayman Islands. It was a completely different lifestyle for me. I started working on jet skis and catamarans — and I rediscovered my passion for moving. I really found myself again. 
Also not being stuck at a desk for hours on end meant I lost a lot of weight. I didn't set out to lose it and I definitely wasn't killing myself in the gym, I just found a type of movement I was actually passionate about and enjoyed.
I came back to London a year later and took up a job for L'Oréal in sales and marketing. 
How was that?
It was amazing, I learned so much. But at the end of the day, I realised that instead of making money for other people, I could actually focus on my passion.
Fitness?
Fitness and coaching. I hadn't done it before because I wasn't sure if I was right for it. But then about five years ago, I stopped running and doing bullsh**t marathons. I started doing CrossFit and weight-lifting instead. 
Why?
I used to run to lose weight. I thought running would make me skinny — and that would mean I was better and I'd be more loved. But in reality it killed me. Reaching my goal weight didn't bring me happiness. 
Lifting on the other hand, made me very, very happy. So I thought of bringing my marketing background and love of CrossFit together, and became a weight-lifting coach for beginners.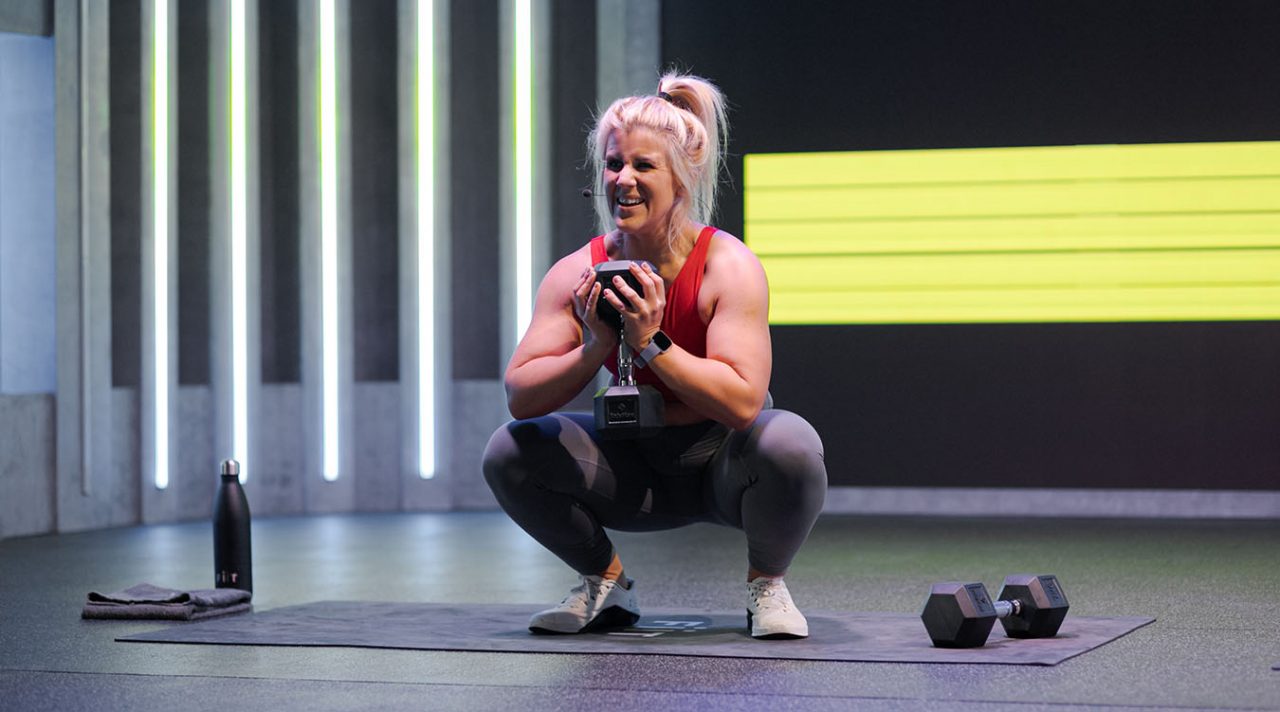 Were you destined for the fitness industry?
100%. I was either going to be a footballer, a physio or a fitness instructor. I've always wanted to do it but I stopped myself because I don't look like a PT, and I don't look like Kate Moss!
Then my mum was diagnosed with breast cancer, and I realised how short life is. So I quit my job and approached lifting as a way to 'lift yourself up' and become the best you physically can be. I trademarked it and started a class in my local CrossFit box (at the well-known peak time of 2pm). 
At first, I only had a handful of people. But the more I shared my classes on Instagram, the more they grew in popularity. 
Eventually I became a coach at The Foundry, doing strongman training. Have you seen the big lads pulling buses? It's basically functional training that you can apply to daily life. You lift sandbags, big logs, wheels — that kind of thing. Really empowering stuff.
So you stopped running completely?
For a while. On Instagram I had this strong woman persona, and eventually I decided I didn't want to be pigeon-holed. So I signed up to another marathon. Just so I could prove that you can be both strong and fast.
Running is all about landing with impact, repeated 60,000 times. So you need to be strong to do it for the long-haul, and I had something to prove. Unfortunately I suffered a calf injury while I was training, about a month before the marathon (but it was never going to stop me).
How did you do?
I beat my previous record by 90 seconds. 
That must've felt amazing. Why do you think you were able to beat your best?
Well, I used to run for all the wrong reasons. When I broke up with my boyfriend, I decided I needed to be skinnier. To weigh less. And it was so nice to go back to running at a heavier weight — and kill it.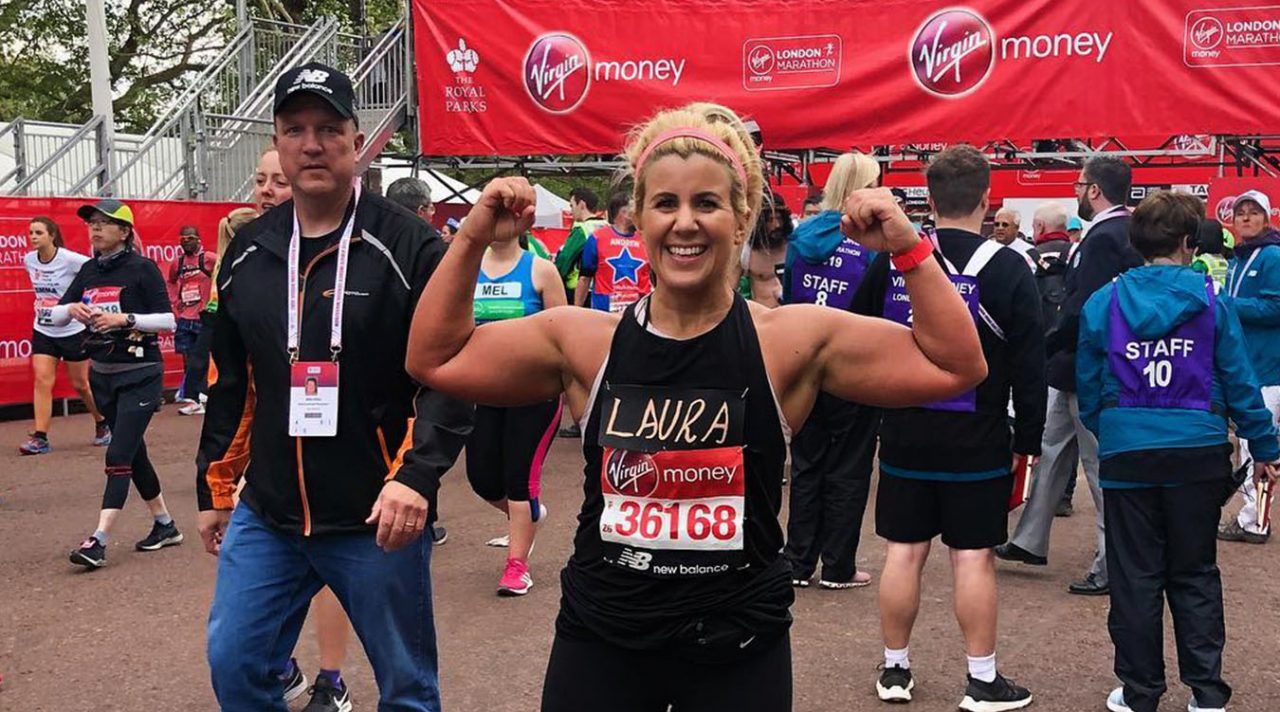 What's your training style like?
I like to empower people when I train. I think the most underrated quality of a PT is empathy. You can know the physiology and biomechanics of training inside out, but if you don't understand how to get the best out of people, you're not a great coach. 
I like to make people feel comfortable in my classes. It's not in me to shout at you to do "more, more, more!" And there's definitely more skill in hitting your goals with less stimulus from the PT. I like to create an energy that works for both beginners and pros. 
What's your biggest bugbear as a PT?
That the fitness industry always assumes you want to lose weight all the time. I used to want to lose weight, but only because that's what I was told I needed to do.
People assume being smaller is the ultimate goal, but actually I'm here, and I'm trying to be bigger, stronger, more. That's not to say I'll train you to be like me. I'm just going to enthuse you with lifting.
Trust me, there's nothing more empowering than managing to hit PBs with a couple more reps at an increased weight. 
Are you an advocate of body confidence or neutrality?
Tough for me to say. As much as I'm happy with my body, there are days when my confidence isn't as high. But that's natural, so I strive to pop those days in the bin. 
Normally they happen when I'm sleep deprived and feeling less positive. But being in the gym, sleeping, eating well and managing my stress and social life is what gives me confidence.
I do like body neutrality. I'm most confident when I'm not thinking about my body.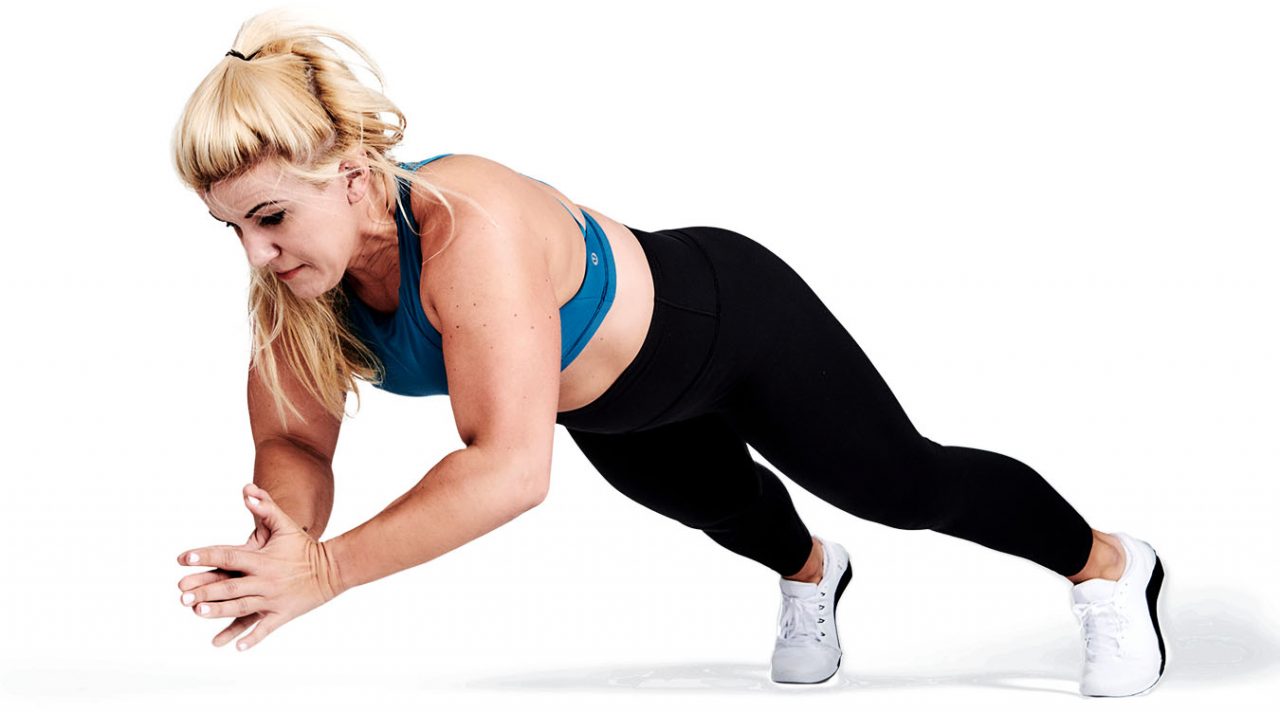 Let's talk food. How do you fuel your body before lifting? 
I burn about 3500 calories a day so I can't not eat, or I'd lose all my muscles. The ones I've worked so hard to get. 
Saying that, I'm a diabolical cook, so I work with Fresh Fitness Food and they send me my meals. For me, proteins are essential but as a pescatarian who doesn't like fish, it's not as straightforward as you might think. So they give me protein balls or weird and wonderful things.
Yesterday, they sent me a cauliflower brownie (which doesn't make sense) but it was delicious.
Can you be a bodybuilding vegan?
Yes absolutely! You can make it work, you just have to find the right things. Don't be too humble to take a protein supplement. I have a protein shake every day, with Optimum Nutrition vegan protein and a bit of oatmeal.
What can we expect from your classes?
Simple and effective strength training. I focus on effective compound movements so you can hit multiple muscle groups at the same time. You'll need to focus on your form and get as much range as possible. 
You cannot rush getting strong — good things take time! So slowing down will be a real skill in my classes. 
Do you think people level up too quickly? 
Social media has you thinking people are hitting PBs every week. But it's a highlight reel and it never shows you all the times those people failed their lifts. I'm really honest on Instagram — which Sean always laughs at me for. But I think it's important to show the good and the bad.
What would we be surprised to learn about you?
I've been to ibiza 20 times. I actually love a rave (house, drum & bass, garage, grime all the way!) I'm also absolutely obsessed with Loose Women. I record it during the day and then I come home and unwind to it. Just for an hour.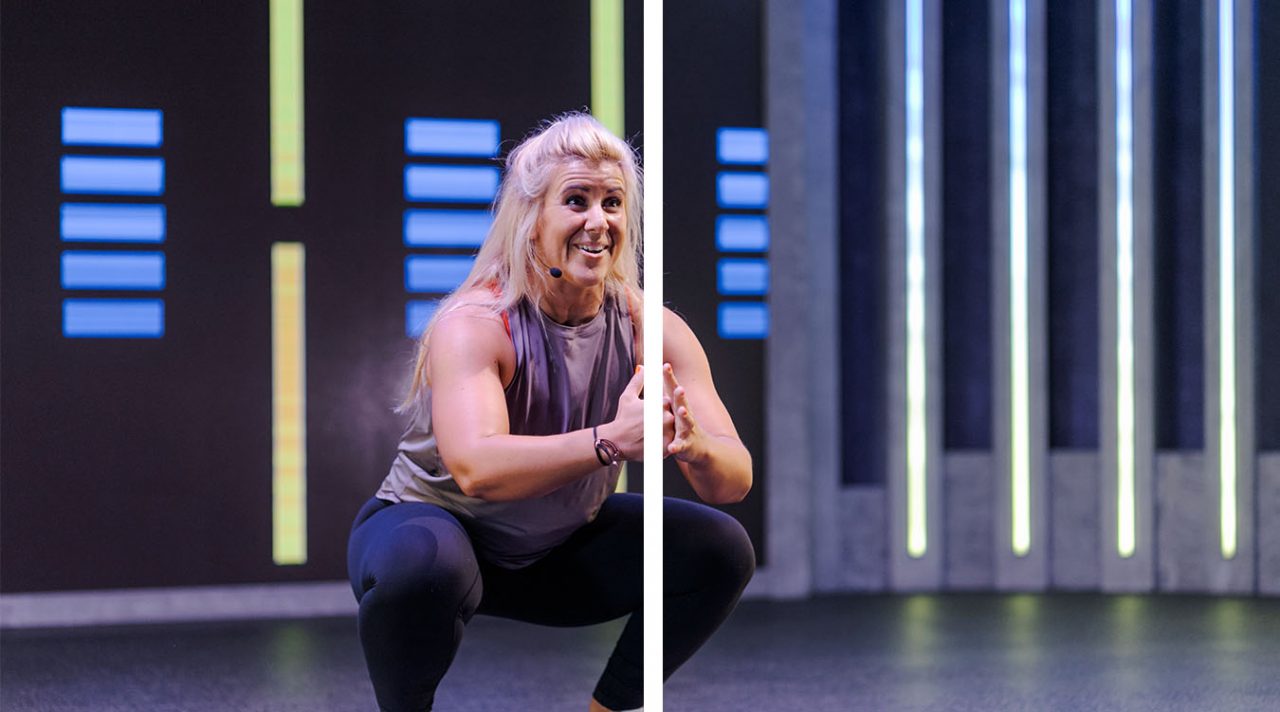 I can't let you go without asking — should more women lift?
Absolutely! I fundamentally believe every woman should lift if she wants to. It may not be for everyone, but I wouldn't want anyone to avoid lifting out of fear. That's why I'm so passionate about working with Fiit, because there's only so many people I can train in a day. 
My best friend just had a baby boy and she can't join me in the gym anymore. But thanks to Fiit, she now trains with me in her living room (and you should too!)
*If you want to power up with Laura, browse by 'Newest' in app. Not a member? Tap below to start your free 14 day trial on the #1 rated fitness app.
Share article