What motivates you? What drives you to keep showing up and giving it your all?
We love reading your stories. And seeing your progress and commitment — even when life happens. We all have different goals, and sometimes the results are surprising. Here are our favourite stories so far. Want to share yours? Join our Facebook group or contact us at [email protected].
Abigail Blake
I've been part of Fiit for one year. 175 classes in and I've seen changes a lot of people wouldn't maybe class as achievements. Weight gain — 10lbs. BMI from 17.9 to 20.1. Clothes that no longer fit me (too small). The weight I've gained is muscle (muscle weighs more than fat). My BMI is now classed as normal as opposed to underweight and the clothes that no longer fit me are because I've got more shape, definition and muscle around my abs and legs than I did before!
I won't ever look in the mirror and love everything about me but I am starting to really accept and love what my body is capable of. Fiit has helped me achieve what I didn't think possible.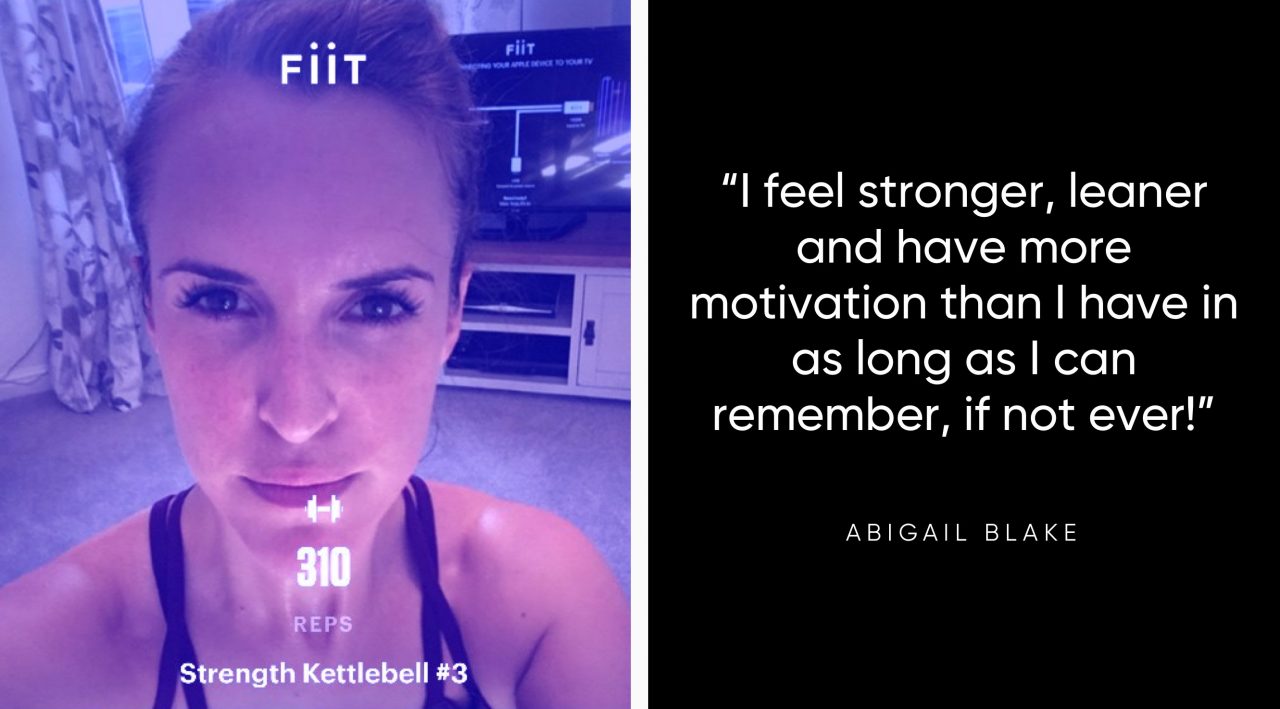 Abigail's tips
I work out in the evening after work. Straight home, gym kit on! I work full time, so just make the time round that. I want to see improvements in overall fitness, tone and flexibility so I've made my own training plan with a mixture of cardio, strength (with and without dumbbells, kettlebells and bands) and rebalance. I usually do four workouts a week.
Ariel Rokoszewski
I started my adventure with Fiit seven months ago. My goal was to lose weight and improve my physical activity. I found it difficult at the beginning but I didn't give up. I work night shifts so I do exercises in the afternoon. On weekends I exercise in the morning because it gives me energy all day. I started with the beginner 30 Day Plan, then Super Fiit and Total Burn plans. In May, I levelled up to the Intermediate level. I'm proud of myself because I was able to achieve my goals.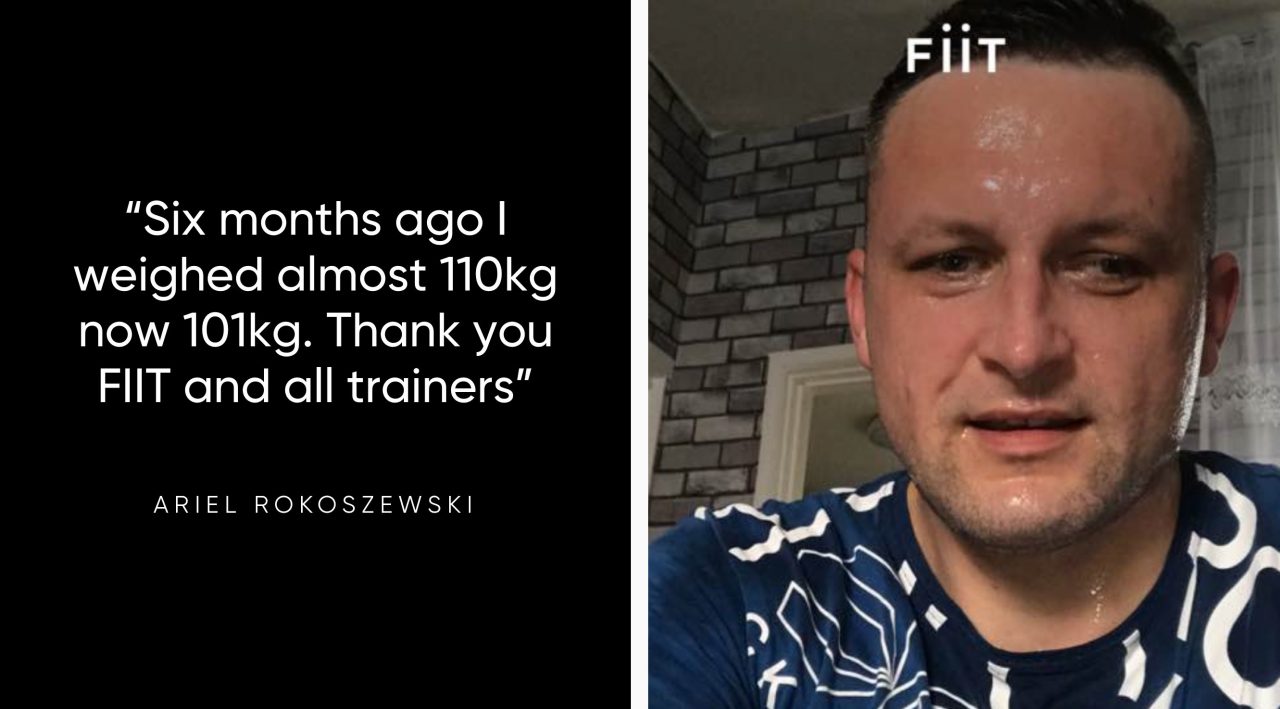 Kelly Dullaghan-Stone
I've just finished the Lift training plan and loved it. This plan was a great way of mixing cardio with weights and I can definitely see a difference in muscle tone in my arms. I feel physically stronger and was able to carry my poorly four year old around on holiday much easier. My upper body strength has really improved!
I turned 40 in November and joined fit around the same time. I'm now pushing hard to get to 200 classes done (I'm at around 170). I've set myself an extra little goal that I will treat myself to a Fiit mat when I hit 200. I started 14 Days of Cardio this morning as I'm trying to shift a couple of pounds before my holiday at the end of the month. I am definitely making it stick and have my own mantra of #fitterinmy40sthanmy20s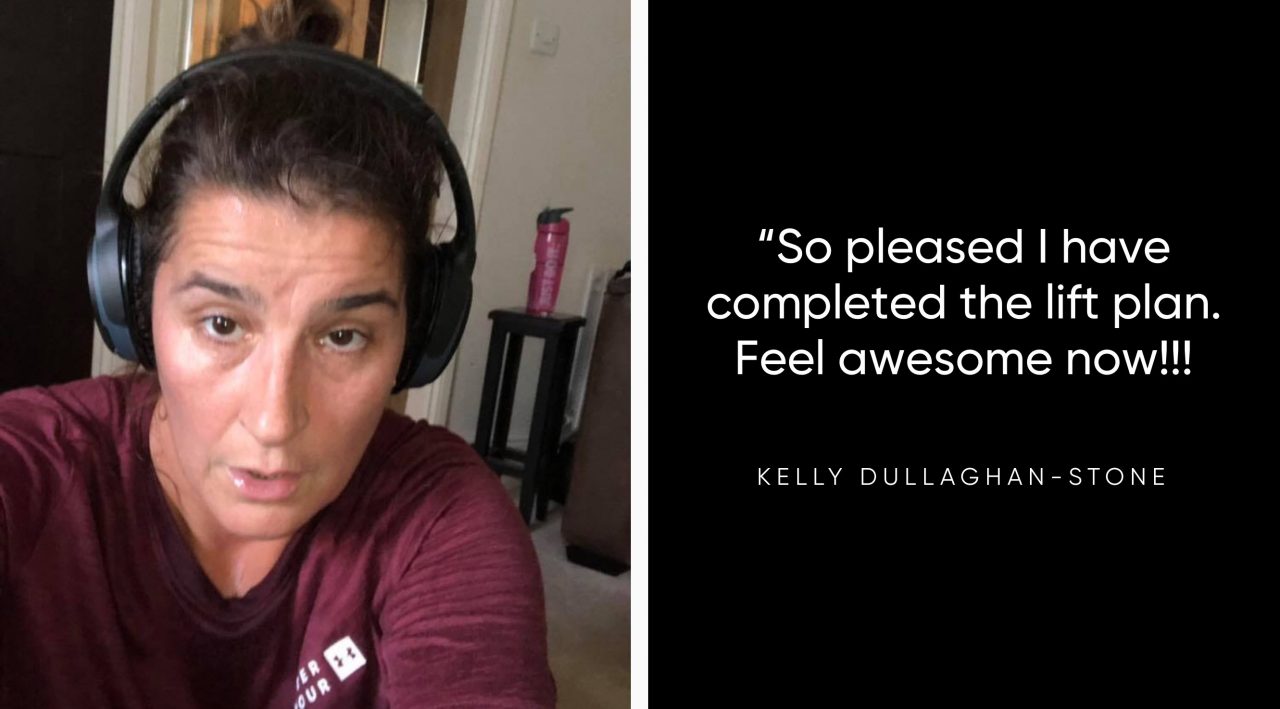 Kelly's tips
I'm a full time working mum of two. Both school age. I am fortunate to work from home four days a week so I put 30/45 minutes in my diary in the mornings for me time (I encourage my team to do the same as it is SO important for health and well being). I drop the kids at school and then come home and do my work out. It sets me up for the day right.
Claire Gradwell
I joined Fiit on 1st January because I'd been feeling low in confidence and not very mentally strong, following a lengthy period of post-natal depression. The idea of going to a gym or group class just scared me and I'd built up so many reasons not to exercise. I signed up with a yearly membership for accountability (plus it was the best deal and this mum loves a bargain). In eight months, I've done over 240 workouts with an even split of my favourite studios, Cardio and Rebalance.
When I started, I could hardly lift my legs from the floor in a leg lift even once. To do a series of squats or a power yoga flow seemed impossible. I completed the entry-level then beginner level 30 Day Plans. After that I progressed through the Movement Master and Pilates Plans. After five months, I levelled up to intermediate Total Burn. The plans were ideal for building my confidence.
Today, I think I'm actually fitter now than in my 20s. I have so much more energy and vitality. I've regained flexibility, tone and strength. My body confidence is like it's never been. The positive effects are spilling out into all areas of my life. The woman who used to go back to bed following the school run and sleep away the middle part of the day, has gone. I'm winning at mum life and Fiit life now.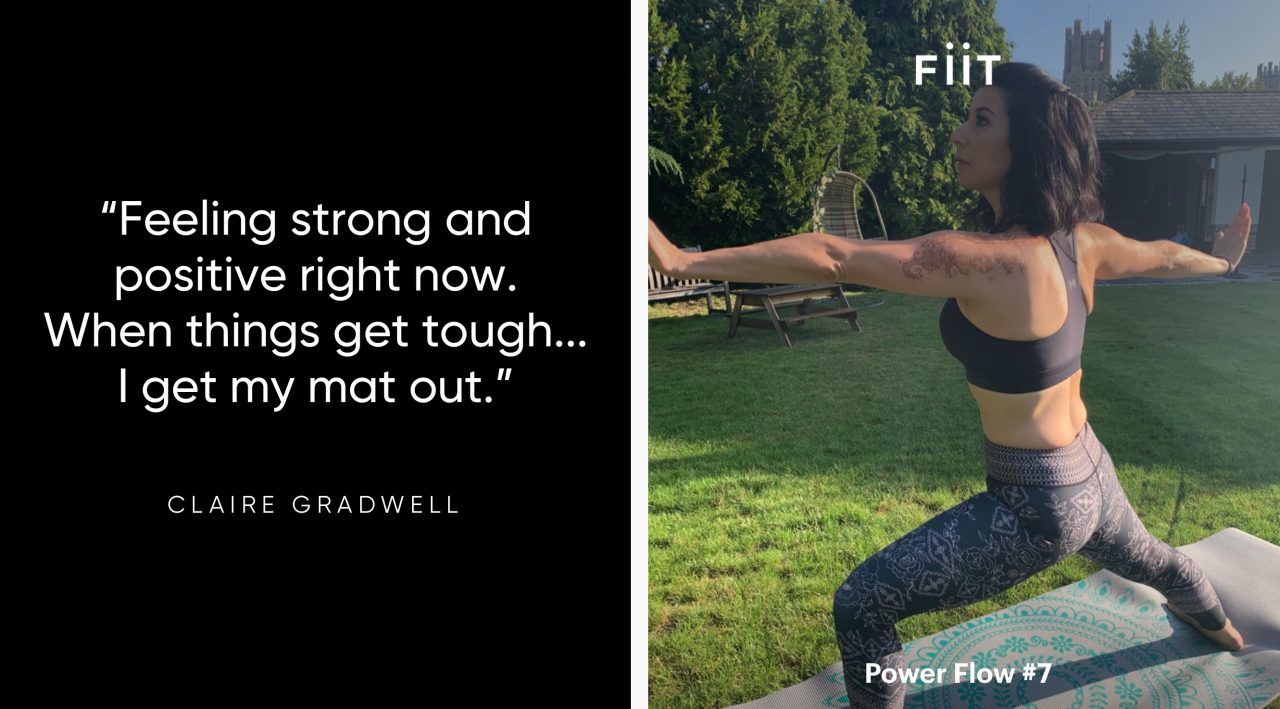 Claire's tips
Start slow and steady, be gentle on yourself and allow yourself to be a beginner. Burning out, won't get you far at all. Enjoy the journey and share it with others. Celebrating milestones, personal bests and achievements will help you stay motivated. Explore the Rebalance studio. and partner or alternate your higher impact workouts with mobility or yoga classes. Your body is amazing, celebrate it and treat it well. Join Fiit's Facebook community to buddy up and support each other. The community has been a major player in keeping me going and I've forged some strong friendships.
For more inspiration, join the community in our Facebook group.
Share article