We know that weight training helps you tone up and build muscle. It's also widely recognised as one of the most efficient training methods for burning fat.
But lifting does so much more for your body and mind than it does for your appearance.
From reversing the ageing process, warding off osteoporosis and reducing the risk of heart disease to increasing resting metabolic rate (RMR) and bone density, lifting has a greater effect on your athletic performance than any other dynamic exercise — including running, walking or cycling. 
According to research by the University of Limerick, weight training also produces a "significant reduction in depressive symptoms." The more you lift. The more unstoppable you feel.
Whatever your goal, it's time to level up
Bodyweight classes are a great starting point for anyone new to exercise. We would always recommend you start with these to build strength, endurance and aerobic capacity, without the risk of injury.
But if you're already a seasoned gym-goer, it's time to shake things up.
To date, equipment classes have become some of the most popular workouts on Fiit. That means dumbbells and kettlebells, in both the Cardio and Strength studios.
Trust us when we say, they're no joke. With longer work periods and shorter rests, tougher finishers and the additional load, you'll be burning (and sweating) more than ever before.
Word to the wise: never skip the warm up or cool down. Not only will you increase the risk of injury but you'll also miss out on our trainer's tips. The ones that help you optimise the way you train and ensure your form stays on point from start to finish.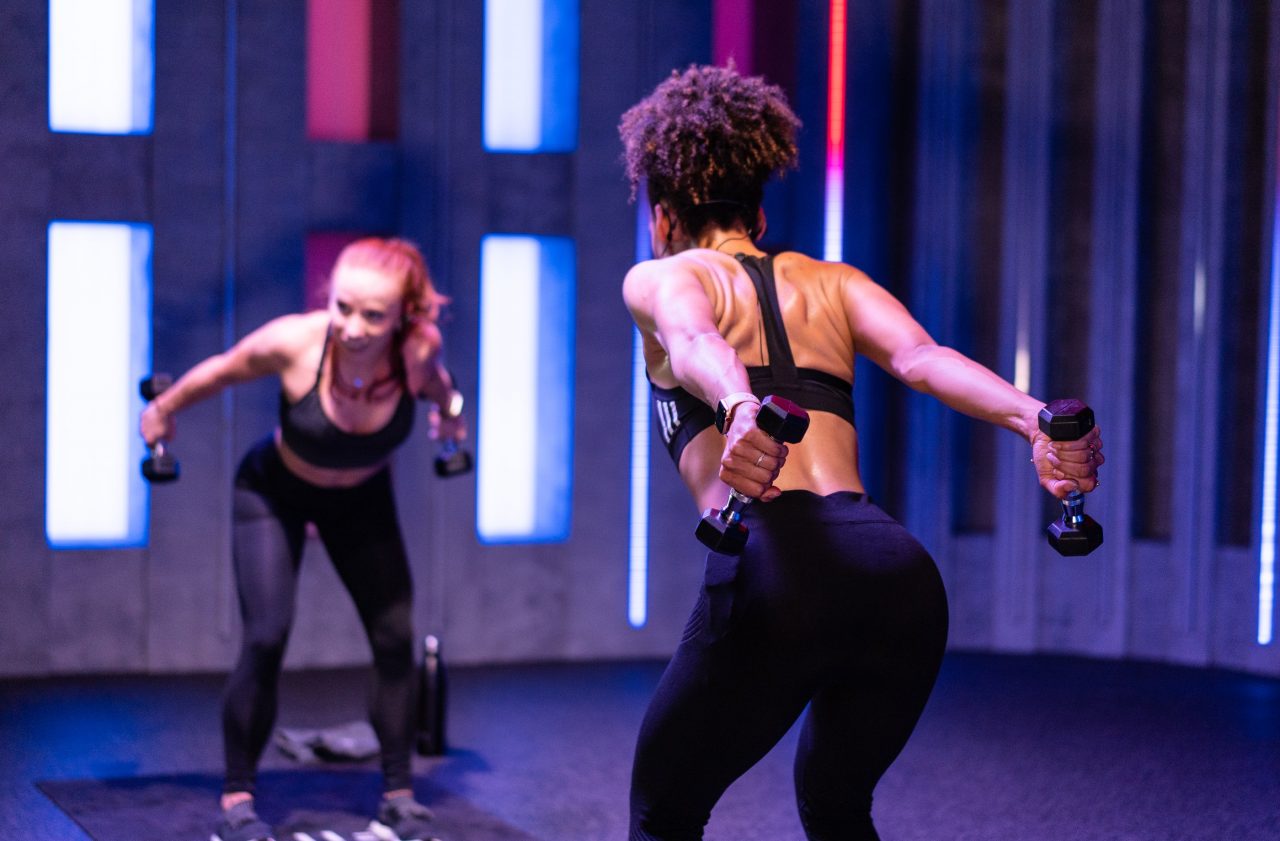 Check your ego at the door
Most classes are aimed at 'all levels' so it's down to you to choose how hard you work. The intensity will be determined by your choice of weight and by how hard you push yourself.
We suggest you start low and build up. Light weight classes may sound easy but don't be fooled — a couple of kilos get heavy very quickly as the reps stack up.
We've also thrown spicy moves into the mix so master those before you lift big. Think kettlebell swings, cossack squats, dumbbell power cleans, one arm overhead presses and renegade rows.
"Strong isn't a look, it's a feeling," says Fiit Trainer Courtney Fearon. "You want to be strong so you can run for the bus… wake up full of energy… play with your kids. Don't be afraid to be strong." 

Where to grab your weights
Our trainers will always advise you at the start of a workout if you need one or two pairs of weights, if you need them to be light, medium or heavy. Just remember, if you're new to all this, start light.
If you only have one pair of weights, you can always make it easier or harder by using one dumbbell at a time or slowing down the tempo of each rep to increase your muscles' time under tension.
Ready to grip it and rip it? Head over to the Fiit Shop where we have a collection of hex dumbbells ranging from 2.5kg all the way up to 20kg.
There you'll also find kettlebells, Fiit mats, Fiit apparel and Fiit Trackers so you can track your calories burned, reps earned and take your place on the leaderboard.

Share article