Let's face the facts. Traditional corporate gym packages don't work anymore. 
No one's using them. They're rigid. And they're usually structured around the office. But, who's planning on going back five days a week? Only 2% of people. That's who…
At Fiit, we think it's time the corporate gym package got with the times and adapted to a hybrid, flexible way of working. 
It's time to Get Fiit for Work – the health and wellness package that works where you do. 
WHAT'S FIIT FOR WORK?
Fiit for Work is our version of the corporate health and wellness package. It's more flexible, inclusive, social, and tailored to you and your work. 
So, how can you convince HR to make the swap to the #1 rated fitness platform?
Well, we've got all the juicy stats and persuasive arguments your People & Culture team need to sell Fiit to the powers that be.
FLEXIBILITY – AND NOT JUST ON THE MAT
The idea of hybrid working isn't new. But now, it's the norm.
85% of people who say they feel productive anywhere say they plan to stay at their company for a long time. This is damn good news for employee retention if employers can get it right.
And with such a strong link between companies that offer employee wellness programs and increased productivity, Fiit for Work becomes the perfect solution – giving something for everyone at home, in the gym, at work, in the park, on holiday – wherever, whenever.

GET EVERYONE INVOLVED – NOT JUST THE GYM RATS
Fiit champions diversity and inclusivity. So, no matter who you work with, we've got their back. 
Beginner? We have classes and training plans designed to help them train safely and steadily. Advanced athlete? You know we'll level up their training. Remote worker? Fiit works wherever – so no matter where your colleagues are, you can all train together.
Plus, Fiit works around the tightest schedules. Even if you only have a spare 10 mins, we have strength, cardio, yoga, and pilates classes to keep your mind and body in check.
COMMUNITY IS CULTURE
Work drinks. Awaydays. Daily coffee club. Culture exists when we're together. 
In the hybrid working world, fostering relationships through exercise, achieving something (and getting competitive), is an awesome way to build community and cultivate mental, physical, and social well-being. 
Group classes. Scheduled team workouts. Company-wide challenges. Beating your CEO on the live leaderboard (my personal favourite). It's all about connection and building healthy relationships through fitness.
MENTAL HEALTH IS PHYSICAL HEALTH
Let's be honest – it's been a terrible time for people's mental health.
We've outlined the positive impact physical health has on the brain before – with researchers suggesting that as little as one hour a week of dynamic exercise can make a massive difference. But right now, it's more important than ever. 
"Modern neuroscience has shown that maybe the most important thing we can do for our brain — and therefore ourselves — is to be physically active." — Dr. Anders Hansen, The Real Happy Pill
DATA-DRIVEN HEALTH
At Fiit, everything we do is backed by data. We're a tech company after all. 
Meaning (and this is something HR will go wild for) we can feedback anonymous and aggregated data to suit the needs of your company. Turning insights into bespoke company challenges, tailored group workouts or customised charitable initiatives are just a few examples.
And the data works! Just look at EY: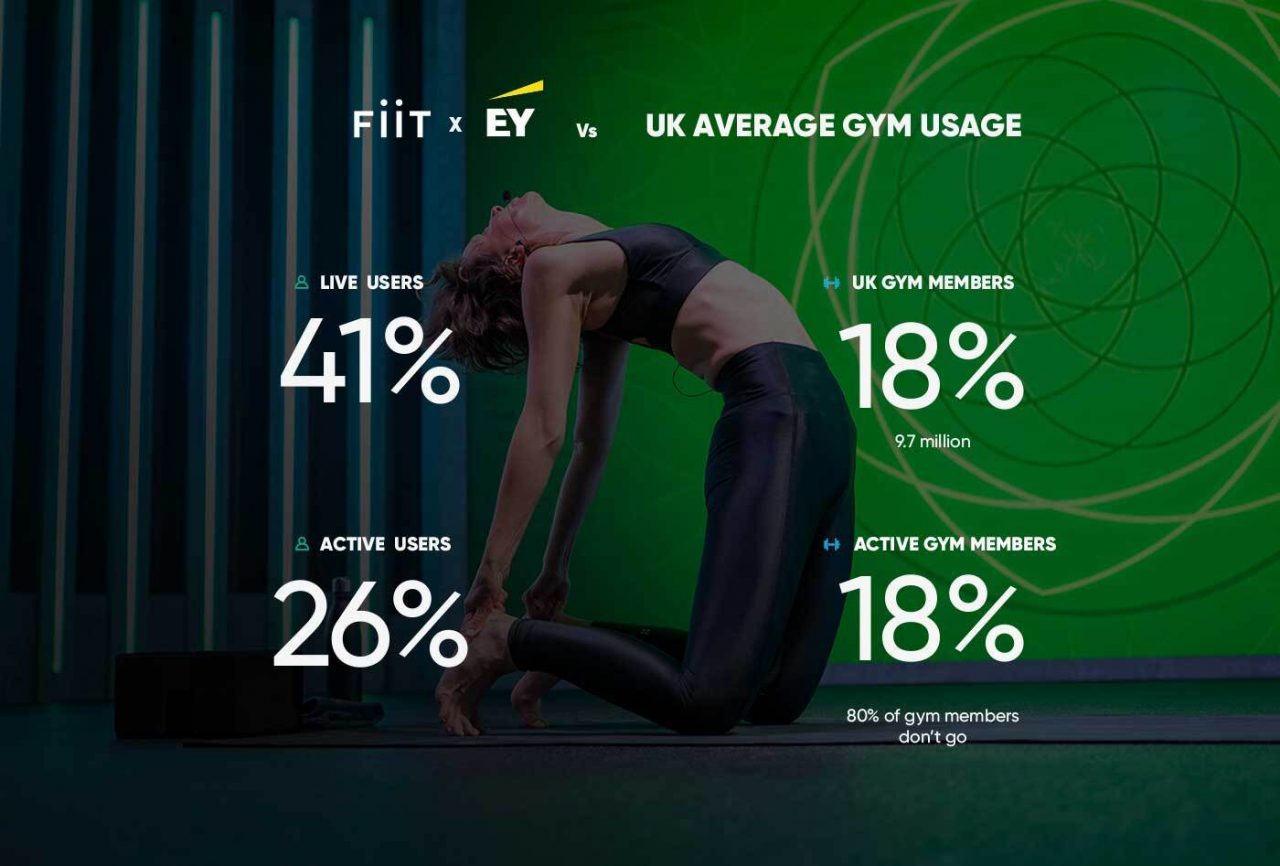 After their first 90 days, over 40% of employees had begun using Fiit – which is more than double average gym usage – and 26% of EY employees had integrated it into their weekly routines.
SO – YOU WANNA GET FIIT FOR WORK?
You know the facts. You have the persuasive arguments. You know we're the #1 rated fitness platform.
Now, all you need to do is copy and paste this URL, email it to your friends in HR and get them to register your company's interest here. We'll even send them a free whitepaper for good measure. 
And who knows – work might be paying for your Fiit membership sooner than you think.

Share article