We tried to keep it a secret. But news this good doesn't stay secret for long! In case you didn't spot her in our recent photo shoot, professional dancer turned personal trainer, Corinne "the Machine" Naomi has officially joined Team Fiit.
Straight from London's leading boutique studios, she brings her unique blend of HIIT, strength training, pilates and barre (more on that soon!) — and we know you're going to love it.
Meet our new resident rule breaker.
How did you get into fitness?
From the minute I could walk, I was jumping up and down around the house, and my parents enrolled me in gymnastics. I started to take dance more seriously in secondary school and I also loved running. I used to be a sprinter but have been inspired recently seeing people do 5 and 10km challenges!
After graduating from the London Contemporary Dance School, I performed on stages all around the world before turning my focus to teaching.
Working in London's top boutique studios such as Blok and Frame opened my eyes to lots of different types of training — such as boxing, free weights and kettlebells. It also inspired me to pursue my teaching qualification in reformer and mat Pilates. And here I am!
Tell us about your training style
My thing is I do a bit of everything. I weave in elements from different disciplines to my classes. Principles of strength and conditioning will apply to pilates, and the calm and centred approach of pilates can be used in strength and conditioning. You'll always find an undertone of something else going on in a class. I like to break rules!
While form and technicality is important in pilates, and classes have a specific structure because there's science behind it, once you've got that down, there's space to explore other movements that make it your own, and make it more fun!

How do you balance HIIT, strength and mobility training?
I train for how I feel. I train to feel good. So it's different day to day, week to week. I know how important it is to combine cardio, strength and mobility work — 360 training is crucial but what I do and when, depends on how I feel. I'm a night owl so I tend to train hard in the evening when I feel alive and energised.
How important is weight training to you?
Aesthetically, if you're looking to shape and sculpt body definition, it's the weights that make the change. But they are also crucial in terms of strength. Especially for running. Squatting and lunges support high intensity exercise, helping you perform better and move with more power.
Although I use dumbbells and kettlebells, I'm also a huge fan of bodyweight strength training — such as calisthenics and gymnastics. The principles are the same as traditional strength training but with a deeper connection to what's going on inside. It's very much about reading the body and control, without the distraction of weights.
What does your morning routine look like?
I always start my day with movement. It wakes me up. Either some mobility work or stretching. If I don't, it takes me longer to wake up!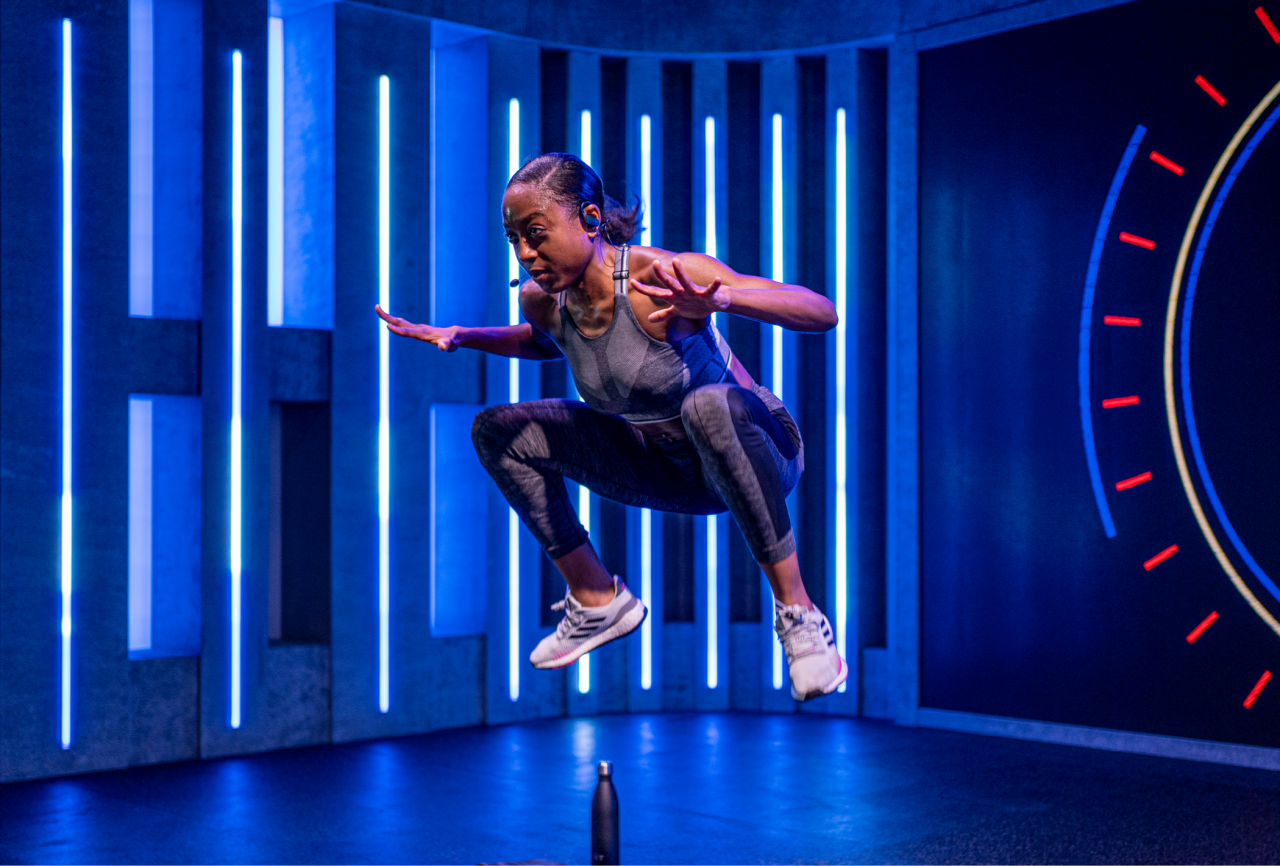 How do you stay motivated?
My family say I'm a bit of a perfectionist. I'm inspired by results so I'm always pushing and exploring. I think that's important but I believe that if you're not feeling it one day, do less. Listen to your body. It's important to move and feel good.
Fitness is a moment to escape and feel present. When you're moving it's really hard to think about other things. It's a chance to forget about everyone else and make time for yourself. When you train, you feel accomplished. You turn up and can feel proud when you've got another class in the bag.
Who inspires you?
Obviously there are many athletes who inspire me but what I find most inspiring are the people that have been knocked down in life but keep showing up. The ones that relentlessly keep coming back and rising above obstacles. They are the real heroes!
What has fitness taught you about life?
I think the journey of fitness is a reflection of life. It's not linear. You might start, progress for a bit but then take a few steps back. You might have a break, but the muscle memory is there. The journey is up and down but if you listen to your body it's generally a positive one. Life has seasons. Fitness has seasons too.
Don't miss your chance to train with Corinne on the Fiit Club leaderboard at 7am, 20th August!  You can find more of her classes in the Outlast Pro training plan.
Not on Fiit? Start a 14 day free trial today!

Share article