You know the saying. Sun's out. Guns out. So what are you waiting for? Roll up your sleeves, head outside and power up the PT in your pocket.
Here are 5 ways Fiit will help you make the most of this glorious British summer.
1. Fiit is tailor-made for the great outdoors
Our interactive fitness classes are designed to be taken anytime, anywhere.
You don't need to beam your next cardio class or yoga flow to your TV to enjoy a world-class workout – everything you need is at your fingertips.
You do, however, need internet connection. Wifi is best but 4G will still work well. On average a 25 minute class will use 500MB of data, depending on the quality of your connection.
2. Our music and trainers will help you find your flow
It can be tricky to find your zen doing sun salutations in a basement flat. It's far easier if you're tuning into Cat's power yoga or Richie's energising flows while the sun is rising overhead.
To get the full 360˚ immersive outdoor experience, plug into your wireless headphones, turn up the volume and let our trainers guide you through each class.
Our music has been carefully curated for every class to enhance your workout. Feel uplifted and energised for Cardio and Strength training or unwind and relax as you recalibrate in our Rebalance studio.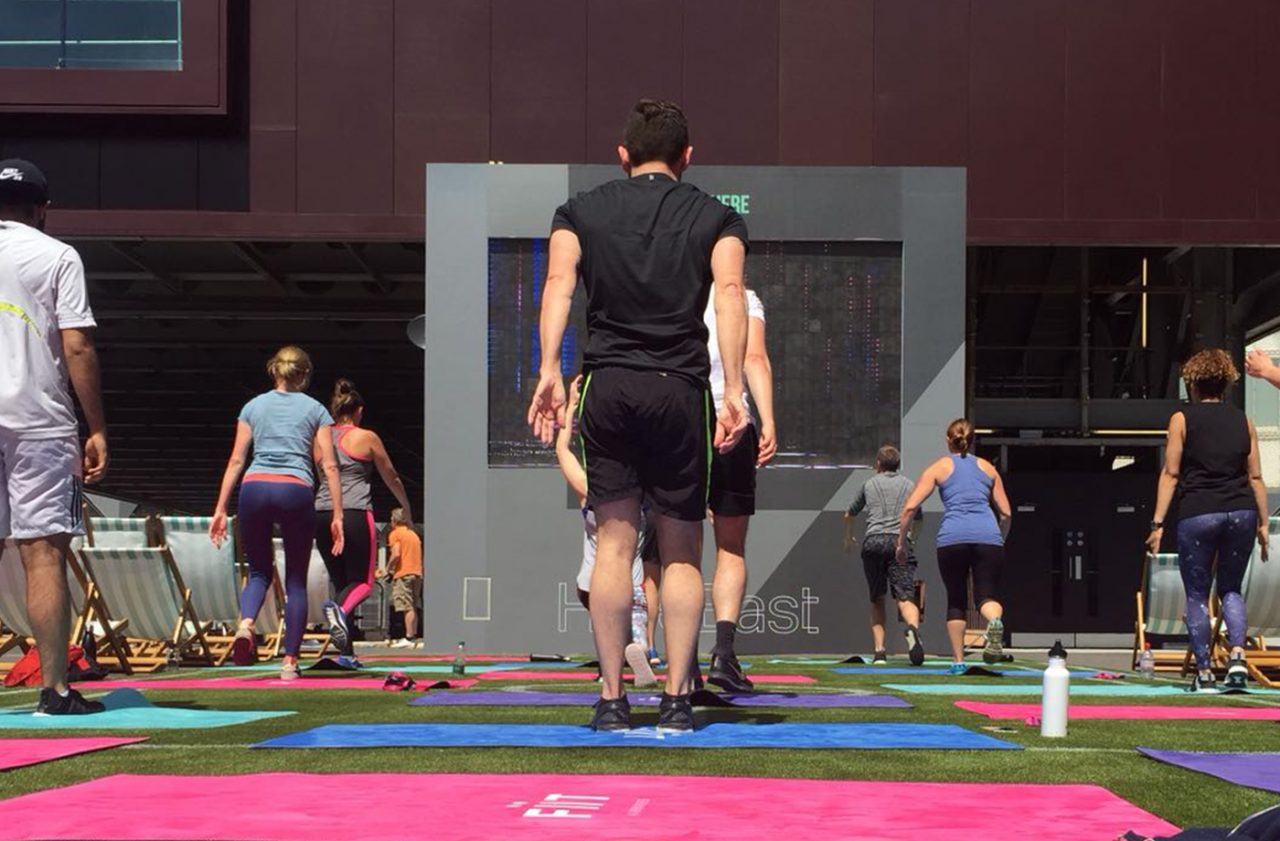 3. We travel light so you'll never miss a class
There's no reason holidays should scupper your fitness plans. With Fiit you can pack the boutique studio experience neatly in your travel bag so you never miss another class, while new workouts and trainers are added every month so you'll never get bored.
Phone? Check. Charger? Check. Fiit device? Check. You're good to go!
4. A park workout with friends will motivate you to get fitter
Fiit doesn't have to be a solo sport. You can introduce your friends to Fiit while enjoying the social benefits of group exercise.
Just like you would with your headphones, pair your phone via Bluetooth with an outdoor speaker and create the bootcamp experience wherever your picnic plans take you.
If wearing your Fiit device, only your stats (not your friends') will be tracked but working out with friends is a great motivational boost. Studies have shown competition and exercising with supportive companions can push you to train more regularly and perform better when you do.
5. It's the perfect excuse to top up your tan – and vitamin D
Vitamin D deficiency – and unflattering T-shirt tans – are chronically common in the UK. In fact, 1 in 5 don't get enough, leading to symptoms ranging from aching bones and weight gain to lack of sleep and regular colds and coughs.
And yet the sun has been serving up an all you can get buffet this summer. A staggering 90% of our daily intake comes from the sun (the rest from our diet).
So dress for the occasion and top up your tan next time you tune in for a Fiit class this summer.
Share article