If you're training regularly, it's important to fuel the tank with delicious, nutrient-rich grub.
Our friends at rad.ish (master grain bowl and salad makers) have shared their top three veggie recipes with you. So you can fill up on the good stuff and jump straight back onto the mat.
Whether you're a culinary genius or complete beginner, these recipes are quick and easy to make. So set up your station and get cooking. You'll thank us later.
1. Harissa tomatoes with cauliflower and halloumi
When you roast tomatoes with harissa, they get sweet and sticky. Top with grilled halloumi and a rich tahini dressing and you have yourself the ultimate crowd pleaser.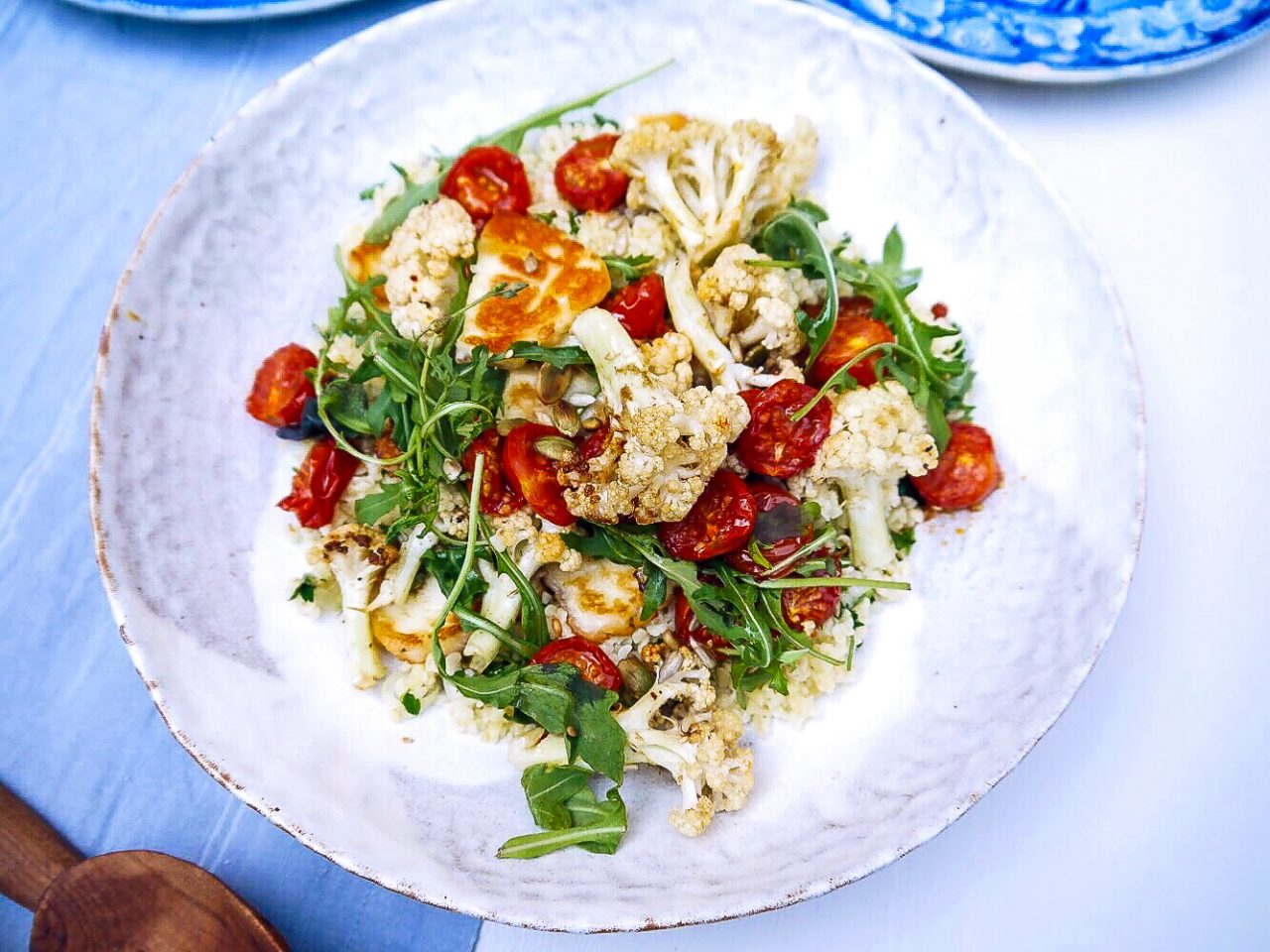 Ingredients (Serves 4)
For the cauliflower: 
1 small cauliflower, separated into florets
1 pack halloumi, sliced 
150g bulgur wheat (or gluten-free alternative) 
2 handfuls rocket
A handful of chopped coriander and parsley
Pumpkin seeds, dry toasted
Olive oil
Salt and pepper
Squeeze of lemon
For the tomatoes:
8 large plum tomatoes or pack of cherry tomatoes
2 tbsp regular olive oil
1 tbsp balsamic vinegar
1 tbsp harissa paste
For the dressing:
Juice of 1 lemon
50g tahini
Salt and pepper
Pinch of chilli flakes
½ clove of garlic 
1tbsp olive oil 
Handful of herbs such coriander, parsley, mint (optional)
Method (Prep time: 30 mins. Cooking time: 40 mins)
1. Preheat the oven to 190°C.
2. Halve the tomatoes lengthways and lay in a single row on a roasting tin or ovenproof dish. Mix the olive oil, balsamic vinegar and harissa and drizzle over the tomatoes. Season with salt and pepper and toss to coat evenly. Turn the tomatoes cut-side-up and roast for 35-40 minutes. 
3. Drizzle the cauliflower florets with olive oil and season with salt and pepper. Pop them in the oven for 20 minutes until golden, but still al dente. Then leave to cool.
4. Simmer the bulgur wheat in salted water for 10-15 minutes until it's just cooked. Drain and set aside.
5. Slice the halloumi and fry with olive oil in a hot pan.
6. For the dressing, blitz all of the ingredients in a blender until smooth. Then season with salt and pepper. If it's too thick, add a splash of water to achieve the right consistency. Don't have a blender? Simply crush the garlic by hand, chop the herbs and whisk together.
7. Dress the bulgur wheat and rocket with olive oil and a squeeze of lemon. Top with the roasted cauliflower, tomatoes and grilled halloumi. Then sprinkle with pumpkin seeds and herbs. Add the dressing — and you're done!
2. Vegan rainbow bowl with miso dressing and crispy tofu
Who said vegan food is boring? This meal is packed with flavour and just about every vegetable under the sun. You might need to stock up your pantry but we know it's worth the effort.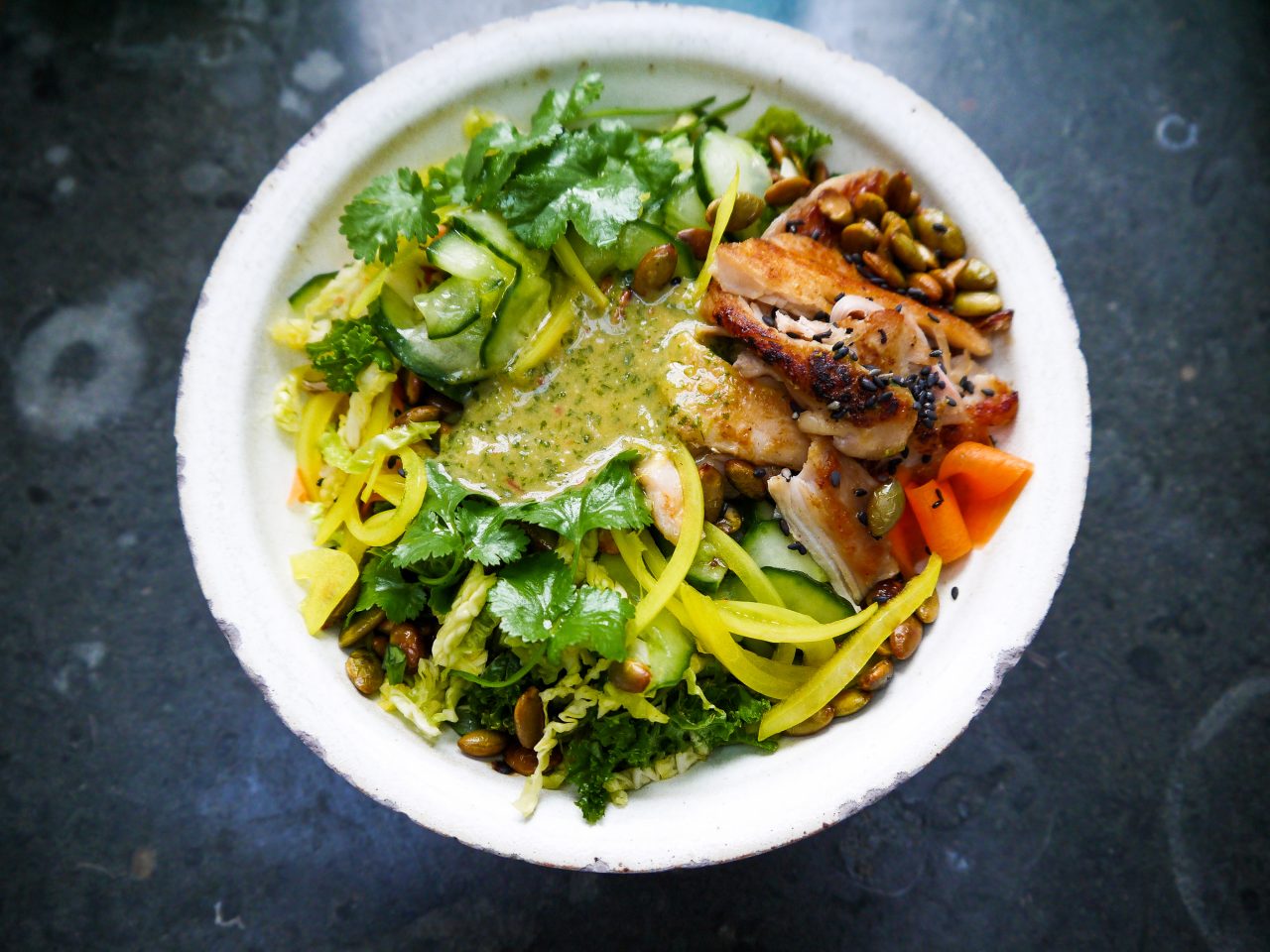 Ingredients (Serves 4)
1 pack Tofoo tofu, unsmoked
1 tbsp olive oil
1 tbsp soy sauce
2 tsp sesame oil
4 spring onions, chopped
Generous handful of coriander, chopped
3 carrots 
½ red cabbage 
1 cucumber 
100g Kale and/or Romaine lettuce, chopped
2 cups of cooked brown short grain rice or wild rice
Salt and pepper
1 avocado, chopped 
For the miso dressing:
3 tbsp white miso 
2 tsp maple syrup
½ red chilli
1 thumb sized piece of ginger, peeled
1 clove garlic
Large handful of coriander, with stems 
2 spring onions, trimmed
Juice of 2 limes
2 tbsp gluten-free soy sauce
2 tbsp rice wine vinegar
1 tsp toasted sesame oil
2 tablespoons light olive oil
For the garnish:
1 lime, sliced into wedges
Toasted sesame seeds
Pickled red onion (optional)
Method (Prep time: 45 mins. Cooking time: 10 mins)
1. Drain the tofu and pat dry with kitchen roll. Dice into 2cm cubes. Then fry on a medium heat in 1tbsp of light olive oil. Once crisp and golden on all sides, remove from heat and drain on kitchen roll. Dress with sesame oil, soy sauce, half the coriander and spring onion. 
2. Peel, deseed and thinly slice the cucumber with a mandolin or by hand. Sprinkle with salt and leave to drain in a sieve. After 15 mins, squeeze out any extra liquid that the salt draws out. 
3. Peel the carrot into ribbons. Shave the red cabbage on a mandolin or slice finely by hand.  
4. Wash, chop and massage the kale with olive oil and salt.
5. To make the dressing, blend the ingredients in a food processor, slowly adding oil to create an emulsion. Add water to thin out the consistency if needed.
6. Assemble the salad. Start with the rice, then layer on your choice of kale and lettuce, red cabbage, cucumber, carrot and avocado. Top with the tofu, remaining coriander, toasted sesame seeds, lime wedges and pickled onion. Enjoy.
3. Purple sprouting broccoli, broad beans & feta
A good salad is textured. And this one has them all — crisp broccoli, seeds with avocado, mint and salty feta. Purple sprouting broccoli might not retain its gorgeous tint, but cooked al dente it adds a crunch to the salad and a better flavour than your everyday broccoli. Give it a try.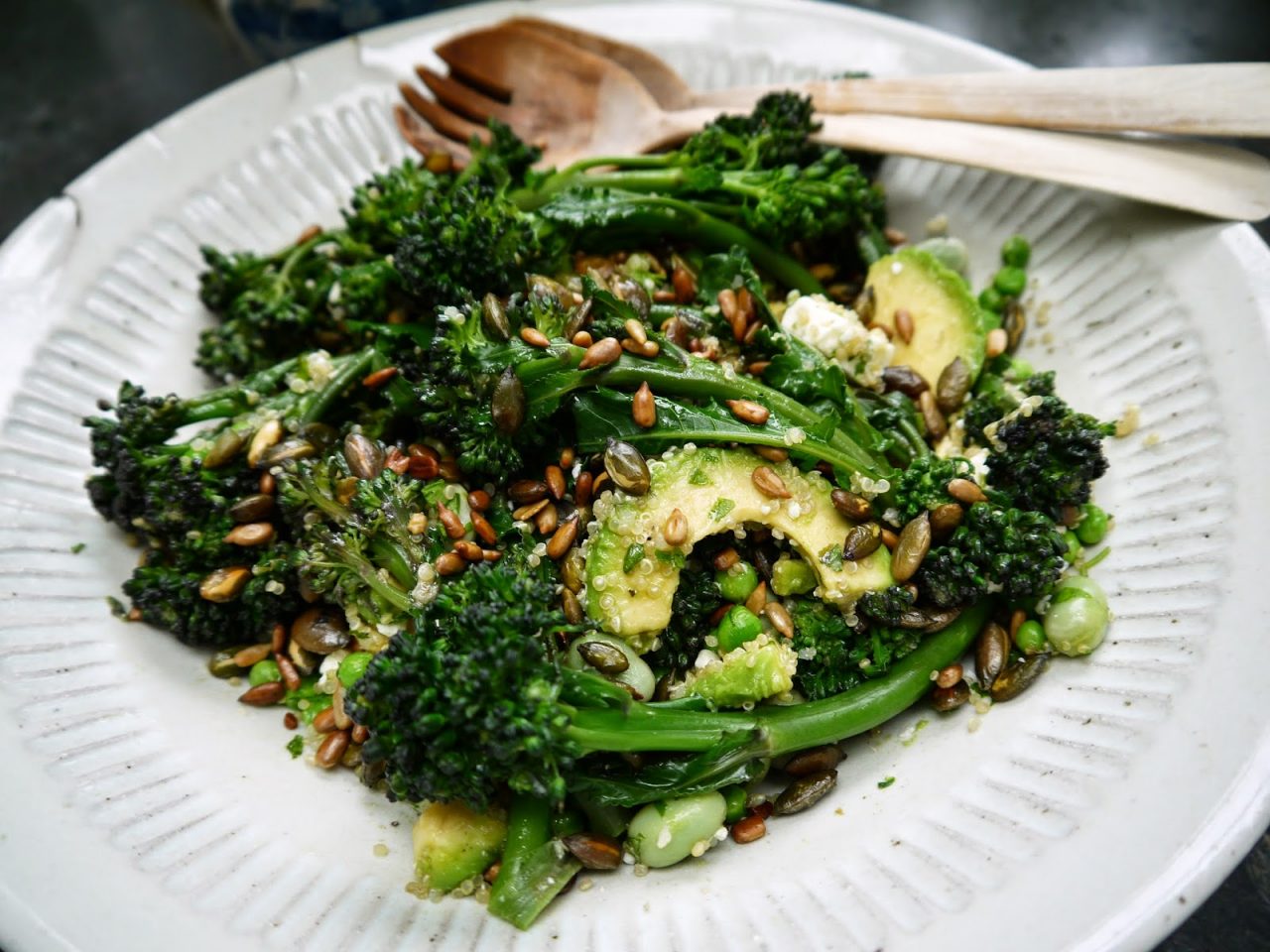 Ingredients (Serves 2)
100g quinoa
200g purple sprouting or tenderstem broccoli
90g frozen petits pois
90g frozen broad beans
1 medium ripe avocado
10g flat leaf parsley
10g mint
100g feta cheese, crumbled
30g mixed seeds (preferably pumpkin and sunflower)
For the dressing:
½ clove garlic, crushed
Zest and juice of 1 lemon
3 tbsp olive oil
Salt and pepper
Method (Prep time: 20 mins. Cooking time: 15 mins)
1. Rinse the quinoa and cook in simmering water for 10 minutes. Drain and spread out on a plate to cool.
2. Steam the broccoli for  2-3 minutes. Plunge into cold water to retain the colour. Then dry in a salad spinner or by hand. 
3. Boil the peas and beans for 1 minute.  Drain and leave to cool. 
4. Finely chop the parsley and mint, peel and slice the avocado and set aside. 
5. Heat a pan with a tablespoon of olive oil and fry the seeds until they pop and start to brown. 1-2 minutes should do the trick. Tip onto kitchen roll and leave to cool.
6. To make the dressing, mix all the ingredients together and season to taste.
7. Mix the peas, beans, quinoa, herbs, avocado and a couple of tablespoons of dressing. Season with salt and pepper. Add the broccoli and sprinkle over the toasted seeds. 
If you love @rad.ish_'s recipes as much as we do, share your plates with the Fiit community. From the mat to the table, we're here to support and celebrate each other's efforts. So let us know how you get on.
Bon appétit, legends.
*rad.ish is a sustainable food delivery company that brings healthy, delicious meals to all of London. If you'd also like to share your expertise on Fiit, contact [email protected] with your proposal.
Share article